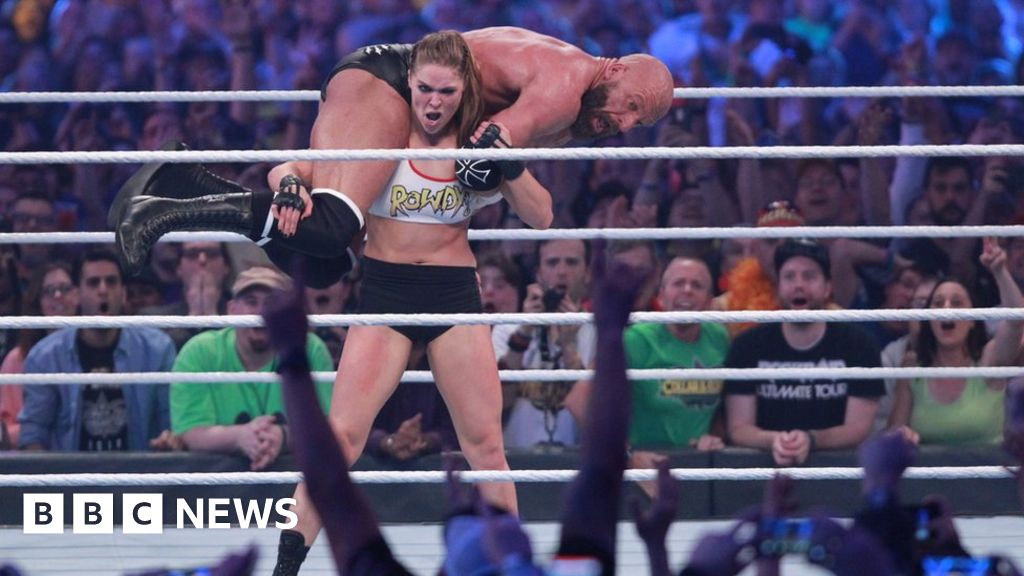 Ronda Rousey has won her full wrestling debut at Wrestlemania 34 after forcing Stephanie McMahon to tap out.
The former UFC champion used the armbar she became famous for in mixed martial arts to win the tag team match against McMahon and Triple H.
The Olympian was welcomed warmly by the crowd, which included UFC chief Dana White.
Elsewhere, The Undertaker defeated John Cena in his big return to the ring.
Ronda Rousey's full professional wrestling debut came after she slammed Triple H through a table when signing her WWE contract in February.
It led to the tag-team match, with Ronda and Kurt Angle teaming up to take on Triple H and his wife Stephanie McMahon.
Fans seemed very impressed by what they saw.
Rowdy Ronda Rousey left the UFC after losing her final two fights, but is credited by many with almost single-handedly building the competition's women's division.
Her old boss Dana White was there to see it too.
The Undertaker's big return
The Deadman retired at last year's Wrestlemania after nearly 27 years, following a defeat to Roman Reign that ended his undefeated Wrestlemania record.
He left his gloves, hat and coat in the middle of the ring, leading to lots of tributes from fans and fellow wrestlers.
John Cena had spent the last few weeks calling Taker out, goading him into a fight at WWE's showpiece event.
Cena had been sat ringside with fans when a referee appeared to let him know that The Undertaker had arrived.
It led to Cena sprinting backstage and unwittingly creating a meme.
And it also led to this.
It took under five minutes for The Undertaker to defeat 16-time WWE champion John Cena, and he did it how he so often used to – with a chokeslam and a tombstone piledriver.
Nicholas: The youngest WWE champion in history
Braun Strowman was told he had to pick a partner for a tag-team match against The Bar – and for weeks that partner had been shrouded in mystery.
In the end Braun walked around the crowd and picked out a boy, Nicholas, said to be 10 years old.
Braun (and Nicholas) won the match eventually, with Nicholas being tagged in once and seemingly not fully enjoying the experience.
So it's official: one of the RAW tag team champions is a 10-year-old boy.
Daniel Bryan returns
After years away from the ring through injuries, Daniel Bryan was finally able to make his wrestling comeback – defeating Kevin Owens and Sami Zayn alongside Shane McMahon.
The match put each wrestler's career on the line, with Sami and KO out of a job as a result of the loss.
But for some the biggest story was Daniel Bryan's much anticipated return to the ring after three years.
And fans were delighted to see him back and performing like he'd never left.
It wasn't all wins for the WWE though.
They may have brought back The Undertaker and helped facilitate Ronda Rousey's dream debut, but not everyone was impressed by the show's main event.
It saw Brock Lesnar take on and defeat Roman Reigns, with complaints that both wrestlers were being "forced down" WWE fans' throats.
And they made their feelings heard.
Some fans are clearly hoping for something more during next year's main event.
Follow Newsbeat on Instagram, Facebook and Twitter.
Listen to Newsbeat live at 12:45 and 17:45 every weekday on BBC Radio 1 and 1Xtra – if you miss us you can listen back here.