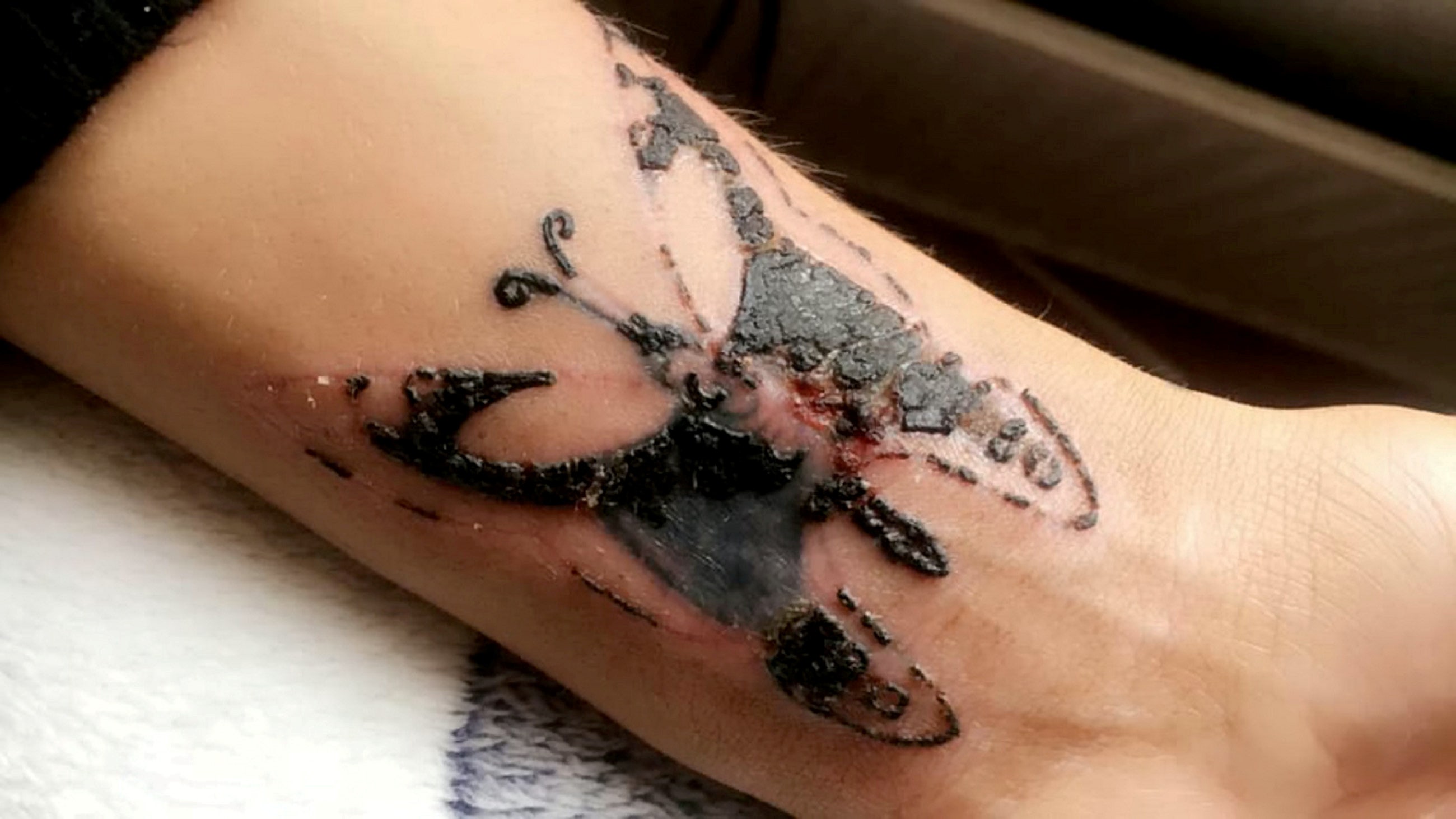 A 20-year-old woman who settled for a cheap tattoo after being told her selected parlor was fully booked said she will always "completely regret it" after she landed in the hospital with a massive infection.
"It's not worth the risk just to save money," Nancy Anderson, of Essex, England, told SWNS. "I've been left with permanent scars and I don't think any professional will be able to fix it."
MAN LET MASSIVE HEAD TUMOR GROW FOR 20 YEARS OVER ALLEGED FEAR OF SURGERY
Anderson, who has six other tattoos, said she messaged the alleged tattoo artist at the suggestion of a friend, and arrived at his house to have her artwork done. She had selected a butterfly tattoo for the inside of her wrist, marking her sixth tattoo. Immediately, she said she could tell something was wrong.
"This was just horrible, I had to get him to stop as it was so bad," she told SWNS.
Anderson said she was sent home without any cling wrap or anything to prevent infection, and that when she woke her doctor told her to immediately go to the emergency room.
OVER 62,000 POUNDS OF RAW BEEF RECALLED OVER E. COLI CONCERNS
"I was immediately put on six different drips in my arm which they said was infected and they needed to stop it reaching my heart," she told SWNS.
The Food and Drug Administration (FDA) warns that consumers can get serious infections for unhygienic practices and equipment that isn't sterile, or from ink that was contaminated with bacteria or mold. Using non-sterile water can also result in infection. Signs of infection can include a rash or fever but can progress to shaking, chills and sweats. Treating infections may require antibiotics or ever surgery.
CLICK HERE TO GET THE FOX NEWS APP
The FDA has voiced concern over "at-home" kits or "do-it-yourself" tattoos due to associated infections or allergic reactions. It advises consumers to check if the tattoo artist and parlor complies with regulations before booking an appointment.