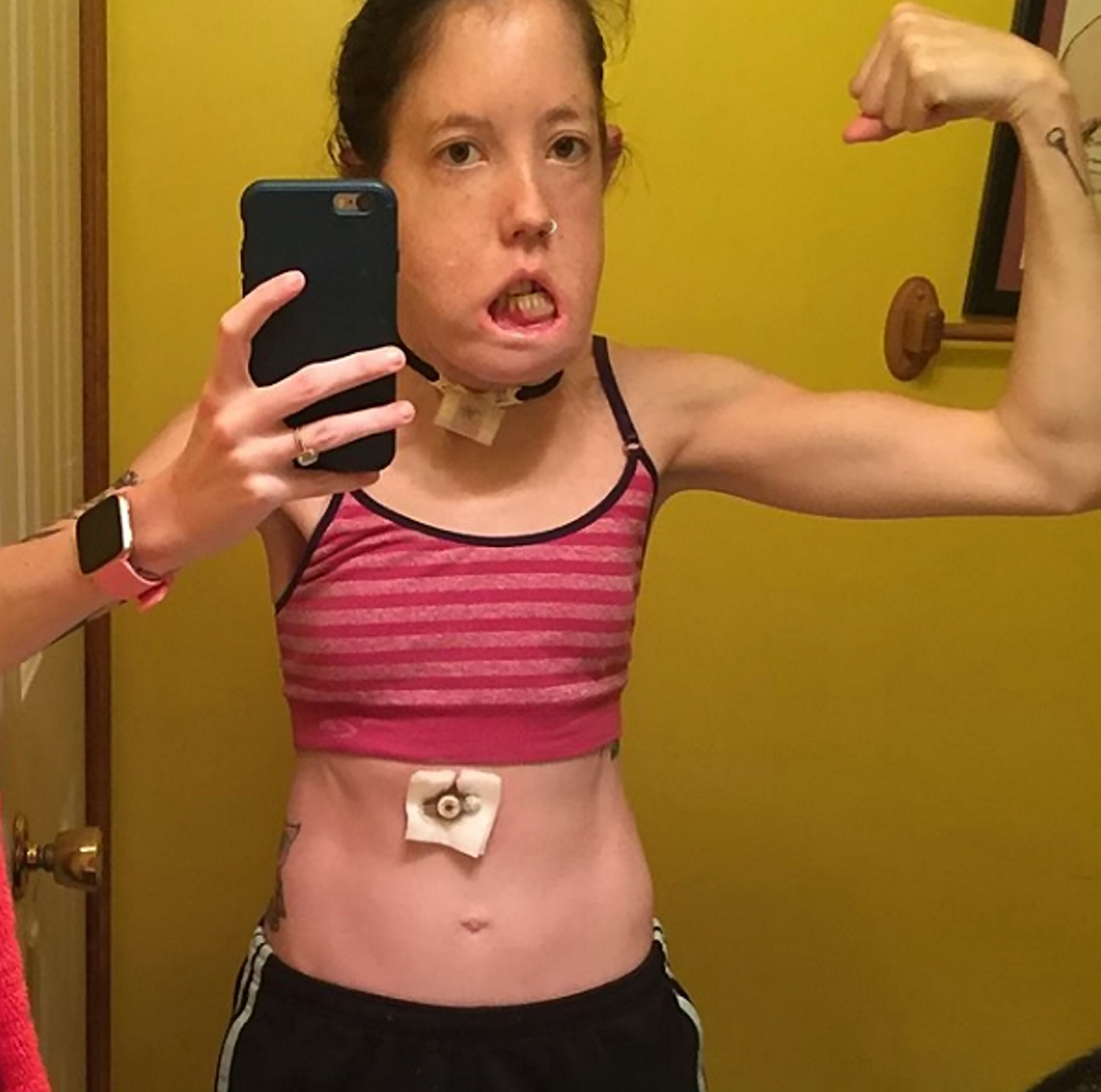 A 28-year-old Virginia woman has defied doctors' expectations to become a disability rights advocate and health and fitness blogger after her parents were allegedly told that she wouldn't survive birth, and if she did, she wouldn't be able to walk or talk.
Hannah Vaughn Setzer has a rare genetic condition, cystic hygroma, that caused her to be born with "thousands" of fluid-filled sacs in her head and neck.
A cystic hygroma can be located anywhere in the body, but is most commonly found in the head or neck area. It may be detected in a fetus during an ultrasound or can be apparent at birth. Symptoms vary depending on size, location and whether there are other underlying genetic conditions.
WOMAN RUNS 18 MILES OF LONDON MARATHON ON BROKEN ANKLE 
According to SWNS, Setzer was left with permanent facial nerve damage after she underwent a procedure to remove some of the cysts as a baby. The damage left her unable to close her eyes and mouth, but she hasn't let it prevent her from pursuing what she loves.
"My eyes just roll back in my head so it seems dark when I sleep," Setzer told SWNS. "It terrifies people that don't anticipate it and I've scared plenty of people that way — oops!"
FISH MUCUS SHOWS PROMISE AS ANTIBIOTICS, EVEN AGAINST SUPERBUGS
Setzer, who married her husband Brandon in 2017 after meeting him online, said she's endured thousands of rude comments from strangers due to her tracheotomy and appearance, but wants to educate others about her condition.
"I can tell you unkind things that were said to me over 10 years ago word-for-word," she told SWNS. "They stick with you, it's hard. Words do have weight and do matter. People are ignorant, say dumb things and are uneducated. I just have to know that for everything thing or unkind person, there are multitudes of people that have my back."
CLICK HERE TO GET THE FOX NEWS APP
Setzer said she had a quiet childhood because her parents, who were allegedly told to abort her, were concerned about her safety. Since she has learned to manage her tracheostomy tube, which includes changing gauze pads up to 20 times per day, she challenged herself to live an active lifestyle.
"I am ridiculously confident in myself," she told SWNS. "I think and know I am beautiful, I like my body, I know I'm smart and I have a lot to offer the world."