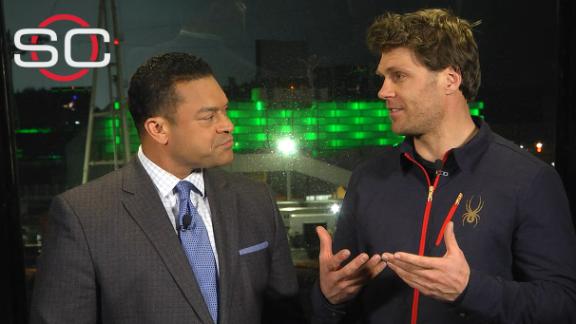 The 2018 Winter Olympics have begun, with events running through Feb. 25. Check back here daily for results, news coverage and stories on the biggest names in Pyeongchang. We already have Nathan Chen, Lindsay Vonn and Chloe Kim covered: See their stories below.
2018 Pyeongchang content and schedule
Dates:?Feb. 9-25
Schedule: Daily events
News and features: ESPN's home for everything Olympics
What to watch for: A look ahead at the big events
Para la cobertura de los Juegos Ol?mpicos de Invierno, visite ESPN Deportes.
Para a cobertura dos Jogos de Inverno em Portugu?s, por favor visite ESPN Brasil.
How to watch the Pyeongchang Games (check local listings)
United States: NBC, NBC Sports and NBC Universal
Africa: Kwes?
Australia: Seven Network
Brazil: Globo and SporTV
United Kingdom: BBC and Eurosport
What to read and watch
Years of mettle by Team USA led to this gold medal: Jocelyne Lamoureux-Davidson scored a dazzling, triple-deke goal in the sixth round of a shootout thriller, and Maddie Rooney stuffed the Canadians to wrap up a 3-2 victory over archrival Canada. Read
USA goaltender Maddie Rooney made 'next time' into this time: Deep into the shootout, Maddie Rooney knew she had just one more shot to stop as one of the world's best players, Canada's Meghan Agosta, skated toward her. Read
No miracle on snow for Lindsey Vonn — and no tears either: Lindsey Vonn led the women's combined after the downhill, but her knees could not bear the strain of the slalom, while U.S. teammate Mikaela Shiffrin ended a roller-coaster Games with another medal. Read
"You're here to create" — A coaching word to Wise delivers gold: After two falls, David Wise was going to tone down his tricks in the third and final run of the ski halfpipe — until his coaches talked him into committing to what would be the best run of his life. Read
A 5-0 shadow, Finland is behind the U.S. and a defining moment is on the horizon: They've waited four years for another opportunity to win the gold medal, and another rematch against Canada. The Americans got it Monday after shutting out Finland in the semifinals, setting up another clash against the rival Canadians. Read
Lindsey Vonn finishes third in the downhill, and it's the end of the snow as we know it: The 33-year-old Vonn raced to downhill bronze in her final Olympics to become the oldest female Alpine skiing medalist in Olympics history. She also is just the third American with three Olympic Alpine skiing medals. Read
Forget the gripes: U.S. men are proud of their Pyeongchang run: While fans were left lamenting a cruel exit at the hands of the Czech Republic in the Olympic quarterfinals, the U.S. men's hockey team reflected on an Olympic journey that has been 'one of the best moments of our careers.' Read
What's the secret to the Russian women's figure skating success?: The Russians are poised for figure skating gold. Not only are Alina Zagitova and Evgenia Medvedeva the best skaters in the world, they also have a strategy that maximizes scoring. Read
Why dog meat became a story at these Olympics and why, culturally, it is slowly changingThe story is a predictable one: Media descend on a region for an event and myopically focus on what's odd to them. This subject, tough for Westerners, is rooted in history and tradition — and with the country's newest generations, is changing. Read
'We're showing people that anyone can do anything': Seun Adigun, Akuoma Omeoga and Ngozi Onwumere are a testament that there's no such thing as impossible. The Nigerian-Americans went from zero knowledge of bobsled to the track in Pyeongchang. Oh, and landing in the record books for Africa. Read
A star reborn: Mirai Nagasu reclaims her Olympic story: Mirai Nagasu was a national champion at 14 and rejected by the sport at 20. Now 24, can the figure skater transcend her past to claim a medal? Read
The unnerving heartbeat of Pyeongchang: When friends, family and fans wait for athletes' results in the spectator area, the tension is punctuated by the 'boom boom' of a heartbeat — but it's not theirs. Read
It's the kids these days: Young players lift U.S. hockey team to quarterfinals: It was the college players who helped the United States beat Slovakia 5-1 in the qualification round to advance and face the Czech Republic in the Olympic quarterfinals. Read
Dreams on ice: The Kenyans who want to play ice hockey in the Winter Olympics Meeting twice a week at an ice rink adjacent to a national park in Nairobi, the Kenya Ice Lions have an Olympic dream, and their visit to Pyeongchang has fueled the fire inside. Read
Band O.A.R. can thank OAR for popularity spike: With the world shortening "Olympic Athlete from Russia" to "OAR," rock band O.A.R. has seen something of a nostalgic resurgence as fans are reminded of the 2000s musical group. Read
The journey, not a medal, is biggest reward for Goepper, Kenworthy: Four years after making history, teammates Nick Goepper and Gus Kenworthy both hit rock bottom. But Sunday, after returning to the Olympic men's ski slopestyle final (where Goepper took silver), both know their success in life outweighs any medal. Read
Question marks gone, there's gold in those mountains for Austria's Marcel Hirscher: The dominant Hirscher is the first man to win gold medals in the combined and the giant slalom at the same Olympics. Hirscher won the giant slalom by 1.27 seconds, the largest margin of victory in the Olympic event since Jean-Claude Killy won it in 1968. Read
Figure skating coach Brian Orser a master of costume changes: Brian Orser has no shortage of jackets in Pyeongchang. As a figure skating coach to Japan's Yuzuru Hanyu, Spain's Javier Fernandez and South Korea's Cha Jun-hwan, he has a jacket for every occasion — and he's used to the quick change. Read
Latest USA-Russia men's hockey clash just like it always was … in the stands: The fans were as expected on Saturday: brash, chippy, frantic. Yes, it was Team USA against the Russians, and in the stands, it felt like it. On the ice, it was something less so. Read
For Nathan Chen, this is not how it was supposed to go: After a horrible short-program performance, Chen is closer to last place in the standings than he is to a gold medal in men's figure skating. Read
The joy — and then disappointment — for Ross Miner: Hours after he placed second at the U.S. Figure Skating Championships — a highlight of his career — Ross Miner got the news that he wasn't going to Pyeongchang. We join him at home as he watches his teammates compete in South Korea. Read
Peaks and valleys take their toll as Shiffrin loses spark in slalom: Mikaela Shiffrin carried form, speed and expectation into the slalom just a day after an "inevitable" gold in the giant slalom. But what was meant to be another coronation turned into a harsh life lesson for the 22-year-old. Read
When they got the call: U.S. players honor Johannson's message: Jim Johannson's message was universal: "It's great to make this call today." With the sudden death of the USA Hockey exec still on their minds, U.S. men's players remember when "JJ" reached out to tell them they were going to Pyeongchang. Read
Quick Study: After a mere four months of training as a speedskater, Erin Jackson somehow beat out veteran racers for a spot on Team USA. Can she now shock the world in Pyeongchang? Read
America's biggest 2018 exports: Planes, cars … winter Olympians Right around 37 athletes from the United States are competing for other flags in Pyeongchang. For example, Charles Flaherty, from Cincinnati? He skis for Puerto Rico. Read
Shaun White captures gold with monster third run: Last October, Shaun White ended up in the hospital with 62 stitches in his face after attempting to learn the cab double cork 1440. On Wednesday, he nailed the trick dubbed YOLO to capture a third Olympic gold in his career and spark wild celebrations. Read
For the sliders in Pyeongchang, they have to work 9 to thrive: It has been a common theme in South Korea that lugers, skeleton racers and bobsledders are concerned about the ninth turn of the Olympic sliding course. Read
Here are a pair of North Korean figure skaters who belong: North Koreans Ryom Tae-ok and Kim Ju-sik, the only athletes from their country to qualify for these Pyeongchang Games on merit, skated the program of their lives and qualified for the free skate. Read
Listen up: Pita 'the Topless Tongan' has a serious message: Eye-catching at not one but two Olympic opening ceremonies with his shirtless flag-bearing, Tonga's Pita Taufatofua has swapped the warmth of Rio for the cold of Pyeongchang with one thing in mind: to be an inspiration to Polynesia. Read
Will the silver spell be broken for U.S. women's hockey? U.S. defenseman Kacey Bellamy doesn't want history to repeat itself on Olympic ice. She and her teammates are working to flip the script in Pyeongchang and stand atop the podium this time. Read
Tale of the Tape: The U.S. vs. Canada in women's hockey: After 20 years of rivalry, if it boils down to these two for the gold medal in Pyeongchang, who will have the edge? Read
Chloe Kim fulfills her golden destiny — from 'baby girl' to full-fledged dragon: The 17-year-old Korean-American — too young to compete in Sochi four years ago — claimed halfpipe gold in near-perfect fashion. It marked a day when a metaphorical version of Korean mythology played out in real life on the Olympic stage. Read
Jordan Greenway on the big screen in Pyeongchang: Greenway is big, really big. The Americans hope to use his size to create havoc around the net in these Olympics. After the Olympics? His hockey future is bright. Read
When Shaun White — or any other snowboarder — scores a 100, it isn't perfection. Let us explain: The 100? Throw out what you know and think of it more as a ranking or a progression that is usually reserved for the contest's final run. Read
A couple of Nicks and a few Susans are hoping to help U.S. Speedskating: The deadlines were moved up, with revolutionary fabric used and tested in wind tunnels. These suits are looking to give the American skaters an edge — and at the very least, make them comfortable. Read
The best ticket at the Pyeongchang Games? It's at the short track: Short-track speedskating's popularity in South Korea is nothing new. But Gangneung Ice Arena is proving to be the mecca of these Games. You come for the celebration and get a bit of religion too. Read
Anderson's secret weapons tame conditions and the field to retain slopestyle gold: On a day that tested snowboarders, and having narrowly avoided another delay of the running of the women's slopestyle event, Jamie Anderson showed all her experience to outsmart the competition and retain her Olympic title. Read
There's now clarity to Adam Rippon's big picture, on and off the ice: Figure skater Adam Rippon is showing that it is possible to be a strong athlete, a strong teammate and a strong advocate, all at the same time. Read
Mark McMorris' journey from coma to Olympic bronze: He suffered a collapsed lung, a ruptured spleen and 17 broken bones and was in a coma. Now, 11 months later, he found himself on an Olympic-medal stand. Read
It's gold in snowboard slopestyle for Red (Gerard), White and Blue: At 17, Gerard becomes the first Winter Olympics gold medalist born in the 2000s — and the third-youngest Winter Games gold medalist in history. Read
Bradie Tennell didn't come from nowhere — she came from determination: Some think Tennell burst onto the figure skating scene, but it was more like a grind back from a vertebrae injury to shine for Team USA in the team skate. Read
The one Olympic sport the U.S. has yet to conquer: Biathlon, a demanding hybrid of cross-country skiing and shooting, is the lone winter Olympic sport missing from the U.S. medal count. Lowell Bailey and Susan Dunklee bring inspired leadership to a team that will take aim at the podium in Pyeongchang. Read
The must-see moments and must-know athletes at the Winter Games: So many athletes and events to follow in the Olympics… Where to start? We've got you covered. Here are the biggest names and biggest storylines playing out in South Korea — and when you can catch them. Read
All that glitters is not necessarily gold at opening ceremonies: The dazzling display of Friday's opening ceremonies was the spectacle one would expect from the Olympics. But much of the night felt like an (excellently choreographed) exercise in hypocrisy, too. Read
Tonga's Pita Taufatofua steals the show, again: What was the biggest question leading into the Opening Ceremony in Pyeongchang? Everyone wanted to know if Tongan Pita Taufatofua would show up shirtless and oiled up. He did not disappoint. Read
Preview content
The Lioness in Winter: A confident Lindsey Vonn enters the Pyeongchang Olympics as the most decorated woman skier in history. Still, there's something more at play for her, and it definitely won't come easy. Read
Quad king Nathan Chen is ready for Olympic gold: Nathan Chen has figure skating's most daring move down cold. Will he take the sport to new heights at the Olympics? Read
An illusion of unity: North and South Korea have agreed to march under a unified flag and combine their women's hockey teams at the Winter Olympics in Pyeongchang. But political divisions and fears still govern the region. Read
Fast tracked: It wasn't so long ago that Seun Adigun, Ngozi Onwumere and Akuoma Omeoga had never set foot in a bobsled. Now the Nigerian-Americans are on their way to the 2018 Olympics to represent Nigeria — a first for the country. Read
Snowboard sensation Chloe Kim is your next Olympic hero: For snowboard star Chloe Kim, dropping into the halfpipe is far less daunting than grasping how to be American and Korean at the Winter Olympics in Pyeongchang. Read
Chloe Kim's rise from X Games to Winter Games: Three years ago, snowboarder Chloe Kim was good enough for the Olympics but not old enough. Now, the teenage phenom will make her Olympic debut in South Korea, her parents' homeland. Watch
Jump Shots: Mikaela Shiffrin, Chloe Kim and their Team USA teammates have a little fun in front of the camera and reflect on their Olympic experiences ahead of the Pyeongchang Games. Look
U.S. women's hockey team, 'This fight is your fight': Last year, the members of the U.S. women's hockey team vowed to boycott the world championships unless USA Hockey did right by them. Now they head to Pyeongchang with unity, higher wages — and their eyes on gold. Read
Olympic hockey FAQ: No NHL players in Pyeongchang, but plenty of on-ice intrigue awaits. Read
The Olympic hockey schedule and how, when and where you can watch: All right, we know. There won't be NHL players in the 2018 Olympics. While we can lament the loss of talent, there are still plenty of reasons to tune in. Here's the ultimate Olympic viewing guide for both the women's and men's tournaments. Read
Confidential: Athletes weigh in on Winter Olympics 2018: In ESPN The Magazine's Gold Rush issue, 105 Olympians weigh in on the Games' biggest issues. Read