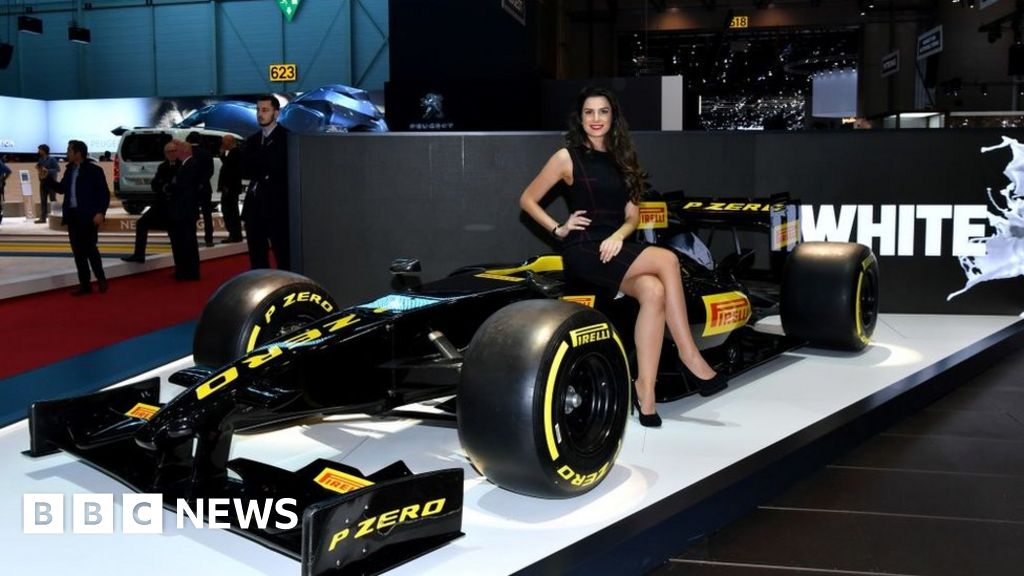 Sex sells. It's an old mantra, but one which the car industry has been wedded to for many years.
Since the 1960s and 70s, it has been common at the major motor shows to see models next to the latest shiny machinery.
Here in Geneva this year, there are perhaps fewer models on the stands than there have been in the past – but they are still very visible.
So in the 21st Century, in the age of #MeToo, what are we to make of such attitudes?
I thought I'd ask some of the women who work at the show.
If you've never been to one of these events before, there are a few things to bear in mind.
Firstly, the clientele on the press and trade days is very masculine. Men in suits are the dominant breed.
That seems to reflect the makeup of an industry in which only two mainstream CEOs are women; Mary Barra at General Motors and Citroen's Linda Jackson.
However, there are lots of women working here. Many of them are hostesses, employed to welcome clients onto the stands, and provide information on the cars to inquisitive passers-by.
Their role is very different to that of the models. Their dress is generally smart, but businesslike, their demeanour is affable – and they are formidably well-informed about the cars they look after.
There are male hosts as well, but they are a lot harder to find.
Wandering around the show, I met Julia – an Italian student, here to earn some money while she works towards a degree in international relations.
Her job at the show is to take pictures of showgoers next to a classic car, in front of an advertising hoarding. I ask her what she thinks of the glamour models.
"It's not a good situation right now to find women like this," she says.
"But at the same time, women are responsible for themselves, they made their choice"
She also told me comfort was important – she thought people should not be asked to wear high heels for long periods, for example.
I'm no expert, but some of the outfits worn by the models here certainly don't look designed for comfort.
A little later, while filming on David Brown Automotive's stand, I speak to Michelle Gay.
She is the marketing director for the company – a specialist manufacturer which creates exquisite designs that hark back to classic cars of the 1960s.
But occasionally customers ask her to pose for photos in front of its products, something she says she does not really appreciate.
Ms Gay thinks people should be looking at beautiful cars, rather than beautiful people – and car companies should use experts to draw attention to their creations.
"Ideally you go for knowledgeable people, people that can talk about the products", she says.
"Everybody's here to see cars. People should be here talking about the cars, and not looking for nice things that are there to look at, that aren't cars!"
But Anna Vinson disagrees. She's a Youtuber – and has come to the show to gather material for her channel, Girl on Swiss Roads.
"I was a glamour model myself, when I was very, very young", she tells me.
"I actually quite like it. I think the cars look beautiful, but I think you need a little bit extra to bring them to life"
Anna thinks it is possible to be just too politically correct.
"It's not about treating women like a piece of meat – I disagree with that. I'm a woman, and I like seeing beautiful women myself", she says.
"I think they add a nice bit of spice".
There's no question that female models do attract a great deal of attention at car shows.
The stands where they are striking poses are invariably surrounded by photographers, in a way that others are not.
For smaller manufacturers and niche operators, that kind of attention can be very valuable.
For mainstream carmakers it's different. It was always hard to see how sitting a supermodel on the bonnet of an uninspiring sedan could hope to improve sales.
This week, the bosses of a handful of major manufacturers told me they no longer had any use for female models on their stands.
But without a doubt, some exotic brands still try to sell a classic masculine fantasy. Get the (very expensive) car, and you'll get the girl.
It seems sexism, for some, can still be very profitable. And it's hard to see that changing.