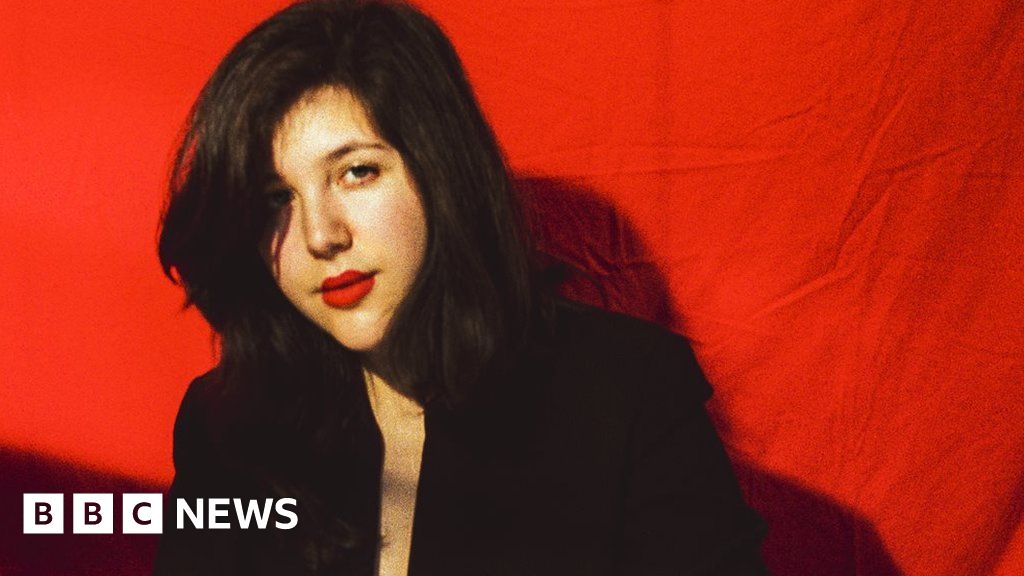 Here's some friendly advice: If you go to see Lucy Dacus in concert, take a tissue.
"It seems like people are getting a good cry out of these shows," tweeted the singer-songwriter earlier this month. "Sorry, not sorry."
Listening to her second album, Historian, it's easy to see why the 22-year-old is making lips quiver and eyes mist over.
The record is a thoughtful, emotionally astute account of loss in all its bittersweet varieties.
On the opening track, Night Shift, she takes extreme steps to avoid an ex-lover, singing: "You got a 9 to 5, so I'll take the night shift/And I'll never see you again if I can help it."
Nonbeliever, on the other hand, discusses her rejection of Christianity, and the impact that had on her family; while Pillar of Truth tackles the death of her paternal grandmother.
Every night, she says, someone gets emotional during a different part of her show.
"It's not nice to make someone cry," says the singer, on the phone from her home in Richmond, Virginia. "But also I understand that it's probably a positive thing that's happening. It's cathartic."
But once the tears start flowing, she has to be careful.
"Once I see someone crying, I can't look in that section of the crowd for the rest of the show, because crying's kind of contagious and I'll start to get emotional.
"But it is ultimately a huge compliment because being affected by music like that is a big deal. I've had a lot of good cries with a soundtrack."
Accidental album
Dacus never intended to become a musician.
She took up guitar as a hobby in her teens, buying her first instrument on Craigslist and dragging it over to a friend's house to "cover songs we liked and write songs to our crushes".
But she was more interested in visual arts and, after leaving school, enrolled on a film studies course while holding down a day job in a photo lab.
It was only when her guitarist friend Jacob Blizard invited her to a recording studio to help with a college project that things started to change.
The singer, who started keeping a diary when she was 10, had been quietly squirreling away songs for years. In the space of 20 hours, Dacus, Blizard and producer Collin Pastore recorded enough of them to make a grungy, lo-fi indie album.
"That was the first time I ever sang with a band," says Dacus. "It was weird but it was totally exciting."
A local record label took interest in the results and released the album, No Burden, in early 2016 – and pretty soon the lead single, I Don't Wanna Be Funny Any More, caught fire.
A smartly satirical account of trying out different roles in a teenage friendship group ("I got a too short skirt, maybe I can be the cute one?/Is there room in the band? I don't need to be the frontman/If not, then I'll be the biggest fan"), it sparked a record label bidding war, with more than a dozen companies pursuing the bewildered young singer.
"It was insane," she recalls. "The first email was insane, then the second, the third, the fourth… Everyone was just like, 'Is this really how it happens?'"
In the end, she signed with the indie label Matador, home to acts like Belle and Sebastian, Cat Power and Queens of the Stone Age.
"Their pitch was to tell me their bad sides!" she laughs. "They were like, 'You should have a full picture of which bands don't work for us. And if you feel you resonate with some of those bands, maybe we aren't the best fit'.
"I just thought that was really honest – but also their track record is impeccable. Yo La Tengo is one of my favourite bands and they've been on that label for, like, 20 years so it seemed like there was a lot of loyalty and consistently good relationships.
"I think that counts for something."
Matador went on to re-release No Burden, generating buzz on influential outlets like Rolling Stone, NPR and Pitchfork.
In concert, too, she was building up a solid (if lachrymose) fanbase. All she had to do was make a follow-up record.
After a false start with a new producer, Dacus reconvened the team behind No Burden and recorded Historian over seven days in Nashville last March.
"It's still a very quick time period, but it felt like a huge luxury to us," says the singer.
"I don't like to waste time in the studio. You can get stuck in a rut quite easily.
"Of course we could add marimba here, or another harmony there – but once the song is doing it's job, I just like to stop."
Not that Historian lacks ambition. Dacus widens out her sound with string sections and horn stabs, while Night Shift suddenly shifts from wistful reminiscence into a rib-shaking kiss-off to her ex.
"The first batch of songs I wrote to play solo," she explains. "I knew that I'd have a band this time around so I'd think, 'Oh, the drums need to come in here,' or, 'This section of the song is about being angry, so there needs to be distortion'."
Although much of the album is about loss, it is permeated by a sense of optimism.
"I think it'd be cruel to look at such dark material and such difficult parts of life without offering a little bit of hope as well," says the singer.
"A lot of the songs are about the parts of life that people get caught under. I would have felt too negative if I couldn't offer some sort of message that tells people they can get out from under those things."
Throughout the album, there's a sense the singer, like many people in their early 20s, is working out what sort of adult she's going to become.
The search for identity has been a lifelong theme for Dacus, who has spoken openly about being adopted.
"From an early age, I was told that my life was chosen, in that my parents chose to have me."
But the singer believes that being forced to confront questions about family and belonging was "ultimately positive".
"I always say I've benefitted from the fact I wasn't related to my family – because I don't just look at them and see myself in the future. I've always been myself.
"My mom is also adopted and so she was a really wonderful guide to me, through my youth.
"She'd say, 'These questions you're asking, I had them too… Here are some of the answers – but you're going to want to find some answers for yourself as well.'
"So, yeah, a lot of these songs are about actively choosing what your life is going to look like, and recognising that you have that power."
The singer's philosophy is summed up in one of Historian's most striking couplets: "I am at peace with my death/I can go back to bed."
Coming to terms with mortality is, she suggests, a liberating feeling.
"When you can admit you're going to die," she told one interviewer, "you can just decide to live".
Ironically, towards the end of our chat, Dacus lets slip that she's conducted the entire interview from her actual bed.
"You were actually my alarm clock today," she laughs. "I'll probably get up and make breakfast next."
The singer doesn't have much time to indulge in home comforts, though. She has just two days in Richmond between the end of her US tour and the start of the European leg – but she's happy to be out on the road.
"I'm really, really excited," she enthuses.
"I like the idea of reaching more people – just because I've seen that the songs matter to people and provide comfort.
"So I do want more and more people to hear it, if it's capable of that."
Just be prepared for the sobbing.
Historian is out now. Lucy Dacus is on tour in the UK until 26 April.
Follow us on Facebook, on Twitter @BBCNewsEnts, or on Instagram at bbcnewsents. If you have a story suggestion email entertainment.news@bbc.co.uk.