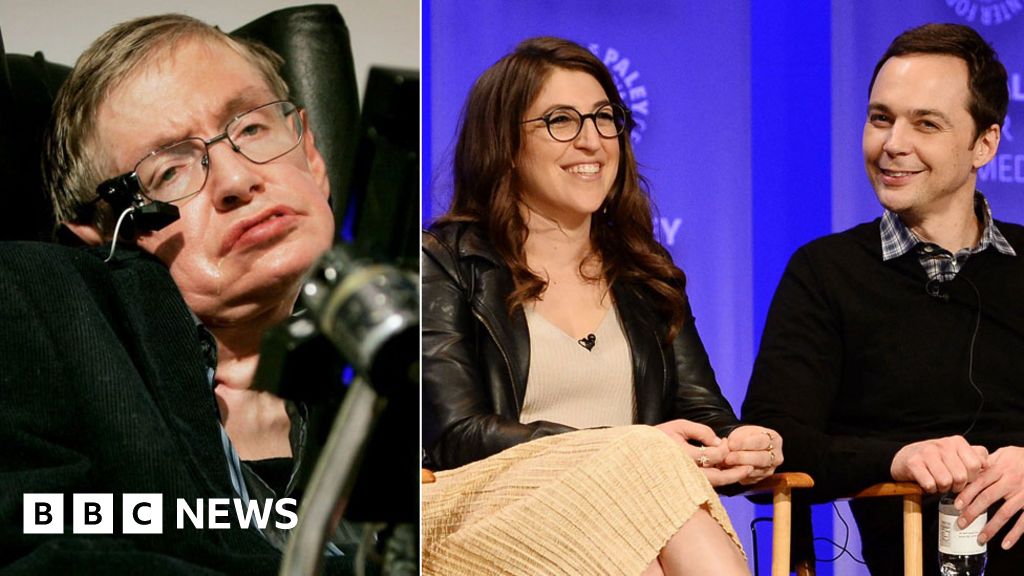 We're not sure if you've noticed, but there's a pretty big wedding taking place this month.
(Not Harry and Meghan.)
Viewers of The Big Bang Theory finally saw Amy (Mayim Bialik) marry Sheldon (Jim Parsons) in Thursday night's season finale.
But for timing reasons, producers had to cut a scene which paid tribute to Stephen Hawking, who died in March.
Producers revealed the scene featured Sheldon receiving a gift of a pocket watch from Hawking that was sent before his death.
But the footage was posted online later on Friday.
Showrunner Steve Holland told The Hollywood Reporter: "When we heard of Hawking's passing, we wanted to do something to honour him but we had already shot the next three episodes.
"It's hard for us to be super timely because we shoot ahead of our airdates so this seemed like a really nice opportunity.
"The wedding was a big episode and it seemed like a good chance to pay some tribute to him. Steve Molaro had this idea that Hawking could have sent a gift before he passed.
"He had had the idea for the gift and for the inscription and we contacted Professor Hawking's family to get their blessing. They were very nice and excited for us to do it. I'm glad it will be somewhere."
Hawking was famed for his work with black holes and relativity, and wrote several popular science books including A Brief History of Time.
The British scientist, who also made cameos in The Simpsons and Star Trek – had appeared in The Big Bang Theory before.
Thursday night's episode marked the end of the show's 11th season.
The finale also featured cameos from Laurie Metcalf, who plays Sheldon's mother, and Mark Hamill, who appeared as himself.
The show is one of the most popular programmes in the US, where it has attracted more than 18 million viewers every year since its sixth season aired in 2012.
The Big Bang Theory has also spawned a spinoff called Young Sheldon.
---
Follow us on Facebook, on Twitter @BBCNewsEnts, or on Instagram at bbcnewsents. If you have a story suggestion email entertainment.news@bbc.co.uk.