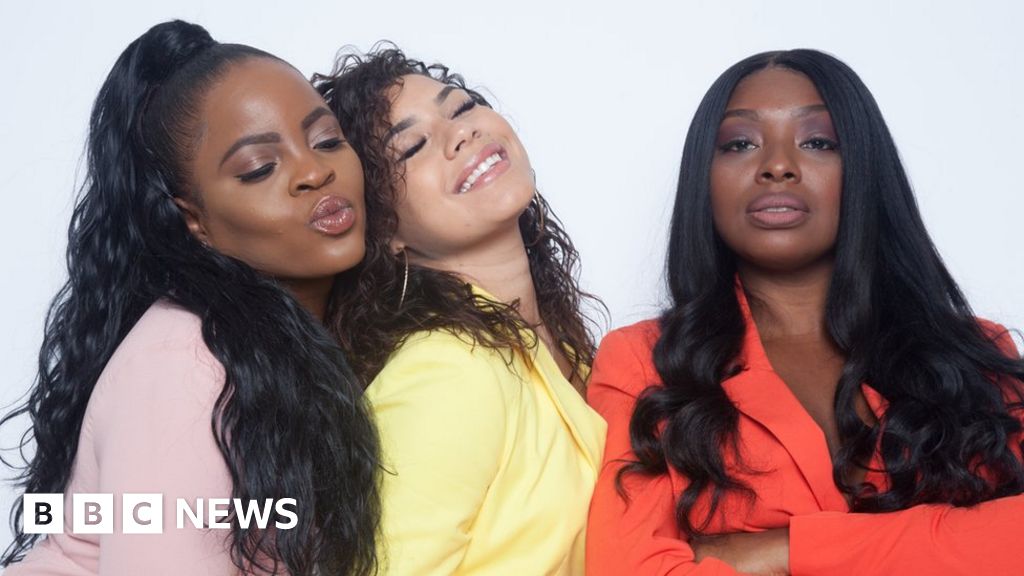 It starts with a topic and a conversation.
Or at least, that's how it began for the individuals behind web series BKChat, The Receipts Podcast and Halfcast Podcast.
In the age of the internet, the opportunity to create and share content has increased rapidly.
This has seen more black faces, more black voices, and a rise in popularity of the chat show format among a young black audience.
It's a demographic British mainstream media has struggled to represent in the past.
Both the BBC and Sky have pledged to increase their diversity in recent years, and Project Diamond was launched in November 2015 as an industry-wide attempt to monitor diversity across the BBC, Channel 4, Channel 5, ITV and Sky.
"I think mainstream media doesn't know how to cover this niche that we have right now. They don't know how to market to them," says Andy Amadi, creator of BKChat LDN and BKChat World.
Andy began the British web series in 2016, where each week a group of predominantly black millennials debate a controversial topic, such as cheating on your partner.
It's since amassed over 30 million views across 100 episodes and figures continue to grow.
"I knew it would be popular," he tells Newsbeat. "I just didn't know how popular it would be."
'When we started there was no one'
Nowadays you could argue there's a podcast or web series for almost every group, interest or topic.
But according to Chuckie of Halfcast podcast, it wasn't always this way, particularly in the UK.
Chuckie started his podcast with his best friend Poet three and a half years ago. It largely discusses urban music culture, but other topics have included knife crime and the porn industry.
Andy says there was an opportunity when he started BKChat.
"I definitely knew there was a gap in the market for a controversial platform that could exist in the UK because we don't have one, especially for black people."
"I felt like there was a huge gap. I didn't know if people were going to take to it, but I had to try."
'It's your group chat come to life'
Having an open and honest conversation is something that all three platforms attribute to their success.
Milena, Tolani and Audrey, who co-host The Receipts Podcast, all agree that the popularity of their show lies in its authenticity and "rawness".
Since launching in 2016, the podcast has amassed two and a half million listens, sold out five live shows and they've recently joined BBC Radio 1Xtra.
"I feel like traditionally, media has been this finished product, whereas when we first started, and still, we're not a finished product," says Tolani.
"There's a realness to it. We're not afraid to laugh at ourselves and I think that's really important," says Milena.
"I think that automatically made us relatable," Audrey adds.
Chuckie agrees that this "no holds barred" approach is so popular because "it's conversations that the audience has too".
"People gravitate to what they find interesting, people that are open, people that have a different perspective and I think that those are some of the things that had been missing on radio and TV.
"Young people now just hear it and they just love it."
'We're all too scared of controversy in the UK'
But being so brutally honest can sometimes lead to controversy, which is something Andy knows well.
His show has been criticised in the past for encouraging misogynoir (prejudice against black women).
"I felt like I was carrying the burden of a lot of young black people, but then I snapped out of it very quickly when I realised a lot of people watching are all opinionated.
"I'm not here to represent black people, even though a lot of the panel are black. I'm a creator, I create content. I'm here to represent people in general."
Andy says he received a lot of messages and threats from people accusing him of making black people "sound stupid", but he argues content by black creators faces a double standard.
"We have The Only Way Is Essex, we have Geordie Shore, these people do so many crazy things and you don't hear 'you're representing white people this way or that way'.
"When it comes to us, I feel like there's a lot of criticism that comes with anything that we do, especially when it's not music."
'Mainstream is missing black and brown voices'
Lenny Henry led the campaign to increase diversity in the media last year, urging British broadcasters to "look beyond what we see on our TV screens and fix the bigger problems lying underneath".
While the word "gets thrown around so much", Tolani says diversity on and off-screen is something mainstream media fails to offer.
"You can't expect an old white man to write TV shows aimed at young people. It's just not gonna work."
It's for this reason that The Receipts co-hosts believe Maya Jama chose to speak to them about the controversy surrounding her old tweets, which mocked dark-skinned black women, rather than a traditional outlet.
"The people that were outraged and upset at what happened are our audience, they are black women," Tolani says.
"It would make no sense to go to the mainstream media when a lot of them are not even hosted by a black host.
"What's the point of talking to people that don't understand what it is?"
Ultimately, Tolani argues that The Receipts offers familiar stories that mainstream media doesn't often bother to tell.
"I don't know how much mainstream media wants to talk to younger people. I mean it says it does, but I don't know how much it actually wants to."
Follow Newsbeat on Instagram, Facebook and Twitter.
Listen to Newsbeat live at 12:45 and 17:45 every weekday on BBC Radio 1 and 1Xtra – if you miss us you can listen back here.
http://platform.twitter.com/widgets.js