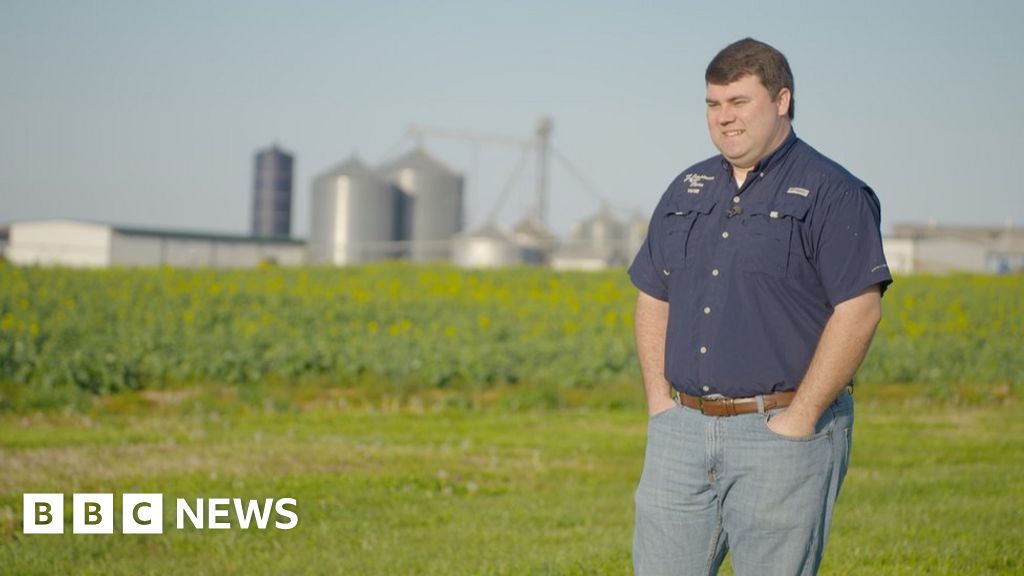 The US-China trade dispute is starting to have consequences.
The US tariffs on foreign steel and aluminium went into effect last month. China's retaliatory duties on more than 100 US imports, including pork, fruit and wine, kicked in soon after.
Further tariffs on $50bn worth of the each country's products are in the offing, as the Trump administration presses China on state subsidies and practices it says encourage intellectual property theft. And the White House has threatened even more.
Economists expect the duelling taxes to have a relatively limited impact on the overall US economy. But they say they will touch most parts of the country and lead to higher prices for everything from televisions to vitamins.
For certain industries like agriculture, aerospace and manufacturing, the effects could be severe.
So how are US companies handling a looming trade war?
Roadtec, manufacturer: 'Unanswered questions'
For some firms, the measures are welcome. Companies such as US Steel announced plans to expand their operations, bringing on hundreds of workers.
Their customers – many of them manufacturers located in the Midwest – are worried, however.
They say US tariffs have already increased demand for domestic steel – which accounts for the majority of the metal's sales in America – driving up prices for firms reliant on steel-based parts.
The proposed tariffs, which include taxes on hundreds of Chinese-made parts and equipment, promise more pain.
At Roadtec, a growing 600-person Tennessee company that makes asphalt paving machines, suppliers are already asking 40% more, says the firm's marketing director, Eric Baker.
He says the firm is still trying to figure out how to best address the higher costs.
"There's a lot of uncertainty right now," he says. "I think the biggest question is how long this is."
Seneca Foods Corp: 'Absorb the cost'
Hundreds of firms have asked the Commerce Department for exemptions from the US steel and aluminium tariffs, including Wisconsin-based Seneca Foods Corp.
The firm, which makes its own cans to support a large fruit and vegetable processing business, started importing coils of tin-plated steel just a few years ago, after domestic supply became uncertain.
Leon Lindsay, Seneca's vice president for sourcing, says he is not sure where he will order new coils to support that part of the business, given the uncertainty about how the US tariffs will affect other markets such as Europe.
In the meantime, a Chinese shipment from an order of 11,000 metric tons, placed last summer, is due in port in the next few weeks and faces the new 25% mark-up.
Mr Lindsay said he is not optimistic a Commerce Department reprieve will come in time, nor can the firm, which is in the competitive food industry, pass on the higher cost of steel to its customers.
"The stuff we're asking for exclusion is on the water. It can't go back, so we're the ones that will probably have to absorb the cost, which is significant," he said.
Hsu Ginseng Farm: 'This comes up with every customer'
Farmers are also bracing for a hit.
Will Hsu, whose father started a ginseng farm in Wisconsin more than 40 years ago, was in China last week, meeting with clients and sales staff.
"This comes up with every customer that we meet with, this comes up with our staff," he said. "They're worried about how they're going to pass on that price increase."
Wisconsin, the source of more than 90% of the United States' cultivated ginseng, can't afford to lose access to the Chinese market – which has been a key buyer of American ginseng since the 1700s and is the destination for more than three quarters of the state's crop.
American ginseng has a reputation for quality and commands a premium price, providing some room to negotiate and an edge over competitors like Canada.
Mr Hsu says his farm, which employs about 400 people in the US and China, also has enough US clients to handle a temporary tariff. But levied long term, the tax could force him to scale back.
Hutchinson Farms, 'Cutting off our nose'
Farmers of other crops, such as soybeans, have less flexibility.
About a third of America's soy crop heads to China each year – some $14bn in exports.
Farmers in Brazil expect the tariffs to increase demand for Brazilian soy, says Victor Carvalho of Informa, a business intelligence firm. They are also watching to see if US prices will fall enough to make it worth importing it to crush and resell.
Will Hutchinson, a fourth generation farmer from Tennessee, says he has been monitoring developments on the news and hopes the situation will de-escalate.
"Trade is vitally important to both countries," he says. "We don't need to be cutting off our nose to spite our face."
Glant Pacific Companies, 'These things don't get flipped back on overnight'
The recycling industry was already on watch, after China unveiled tougher environmental standards for the waste the country would accept.
The new tariff on aluminium scrap have compounded the problem.
Ryan Glant, who runs a roughly 100-year-old recycling business in Seattle, Washington says prices for aluminium have softened – and a few of his firm's orders to China have been cancelled.
He's doubtful that domestic demand will rise to pick up the slack.
"We've gone through many years of the [aluminium] industry in the US shutting down operations," he says. "Those things don't get flipped back on overnight and may never get flipped back on."
President Trump has said he is confident confronting China will lead to a stronger US economy, and tried to reassure those are worried.
"It'll be very good when we get it all finished," he said this week.
The people whose lives are caught up in the dispute are hoping the president is right.