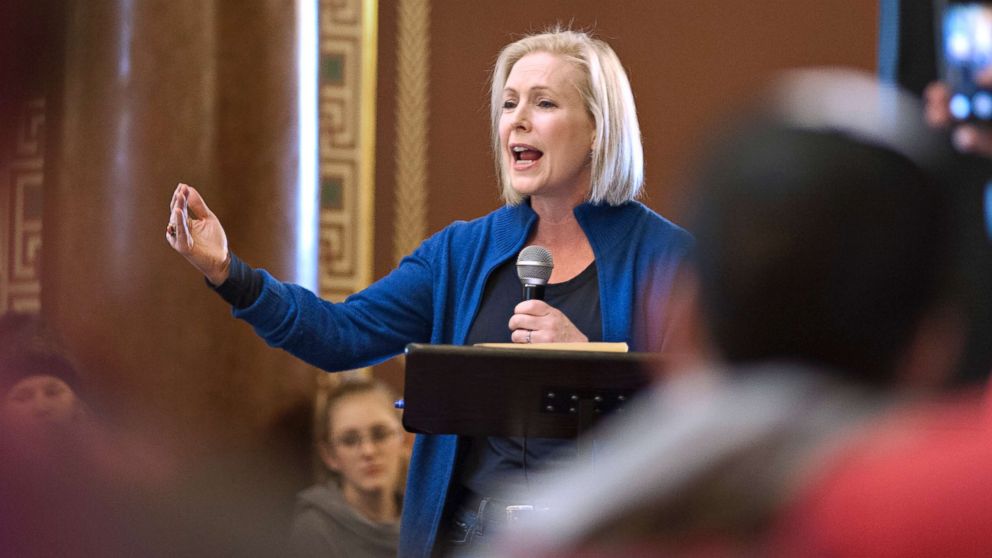 Party: Democrat
Date of birth: Dec. 9, 1966
Age: 52
Born: Albany, Albany County, N.Y.
Family: Husband Jonathan Gillibrand and two sons
Education: J.D., UCLA School of Law (1991); A.B., Dartmouth College (1988, magna cum laude)
What she does now: U.S. senator for New York, 111th-116th (2009-Present)
What she used to do: U.S. representative of New York's 20th congressional district, 110th-111th (2007-2009); special counsel to Secretary of Housing and Urban Development (HUD) Andrew Cuomo during the Clinton administration; attorney in New York City; law clerk to Judge Roger Miner on the Second Circuit Court of Appeals
Key life and career moments:
Gillibrand became a senator in 2009 to fill the vacancy caused by the resignation of Hillary Clinton when then-Sen. Clinton was nominated for secretary of state.
In 2010, Gillibrand successfully campaigned to repeal the "Don't Ask Don't Tell" policy that banned gay men and lesbian women from serving in the military.
According to Gillibrand's official website, she held the first Senate hearing on sexual assault in the military in almost a decade in 2013, as chair of the armed services subcommittee on personnel. She also introduced the Military Justice Improvement Act, which "would remove sexual assault cases from the chain of command."
The website also highlights her lead of a bipartisan coalition for the Campus Accountability and Safety Act, which would "hold colleges accountable for sexual assault on their campuses."
"I'm going to run for president of the United States because, as a young mom, I'm going to fight for other people's kids as hard as I would fight for my own," she told Stephen Colbert in January 2019 to announce her run for the seat in the Oval Office on an appearance on "The Late Show."
What you might not know about her:
Gillibrand has more than $10 million in reserve after her re-election campaign, according to OpenSecrets, which could help her kickstart a presidential run in 2020.
She used to have an "A" rating from the NRA but says she now "proudly" has an 'F' rating. "I had only really looked at guns through the lens of hunting. My mom still shoots the Thanksgiving turkey, but when I became a senator I recognized I had a lot to learn about my state and all the 20 million people I was going to represent," Gillibrand said in Iowa in January 2019.
According to FiveThirtyEight, Gillibrand was "among the least liberal members of the Democratic caucus" when she served in the House of Representatives, ranking 209th out of 241. However, in the Senate, she leaned more to the left and was the "seventh most liberal member of the 46-person Democratic caucus" in the last Congress.
She has voted against President Donald Trump's positions "more often than any other senator" as of December 2017, according to FiveThirtyEight.
Gillibrand was the first senator to call on former Sen. Al Franken, D-Minn., to resign after he faced multiple allegations of sexual misconduct.
In an interview with Self Magazine in 2012, she shared that she then had a standing weekly squash date with Franken.
Gillibrand published a children's book titled "Bold & Brave: Ten Heroes Who Won Women the Right to Vote" in 2018.
According to Gillibrand's official website, she was "the first member of Congress ever to post her official daily meetings, earmarks, and personal financial disclosures online."
She graduated in 1984 from the Emma Willard School in Troy, New York — the first all-women's high school in the United States.
Her Women's March comments in Iowa on Saturday:
"Despite that progress, women still do not represent 51 percent of elected leaders in this country," Gillibrand said on Jan. 19. "Imagine just for a moment what America would look like if it did. Imagine what would be possible. Do you think we would still be fighting tooth and nail for basic reproductive freedoms in this country? Do you think that we'd be hesitating to pass a national paid leave bill? Do you think it would be so hard to end sexual violence in our military, on college campuses and in society?"
After the New York senator kicked off her presidential campaign, she spoke over the weekend at a controversial event held in Des Moines, Iowa.
The Democratic National Committee and NAACP pulled out of supporting Women's March amid accusations of bigotry were raised against some of the lead organizers of the rally. Despite criticism against her decision to campaign at the event, Gillibrand took the stage as a marquee speaker.
"The truth is, if we changed who is at the decision-making table, we would change everything," she said.
"Let us commit ourselves to this fight. The battle ahead is long. It is hard but it is worth it because everything you know and love is at stake. Do not give up. Do not grow weary," she added.
What she has said about the negotiations surrounding the partial government shutdown:
"I will support border security. I will support investment to make our country strong and safe. All Democrats care about national security and border security. But what [President Trump has] done is he's confused America. He's tried to create fear and division," Gillibrand told "This Week" co-anchor Martha Raddatz on Sunday, Jan. 20.
Trump's "idea for a wall is ineffective and it's not going to make us safer," she said.
"[President Trump] has no compassion for anyone. He has no empathy for the struggles and the hardships that he's placing on people whether it's the government workers who aren't getting paid or the 'Dreamers' who are contributing to our country in amazing ways. He doesn't care about anyone but himself," she told Raddatz.
"Why wouldn't you welcome [the 'Dreamers'] here to make sure they can have a pathway to citizenship?" Gillibrand asked. "That's something we're willing to talk about, but for President Trump to hold hostage public servants, it's wrong. It's morally wrong."
"We have to stand up to this president when he's wrong," she said. "The country has to reclaim this democracy, has to open government, put the power of the people back in our hands."