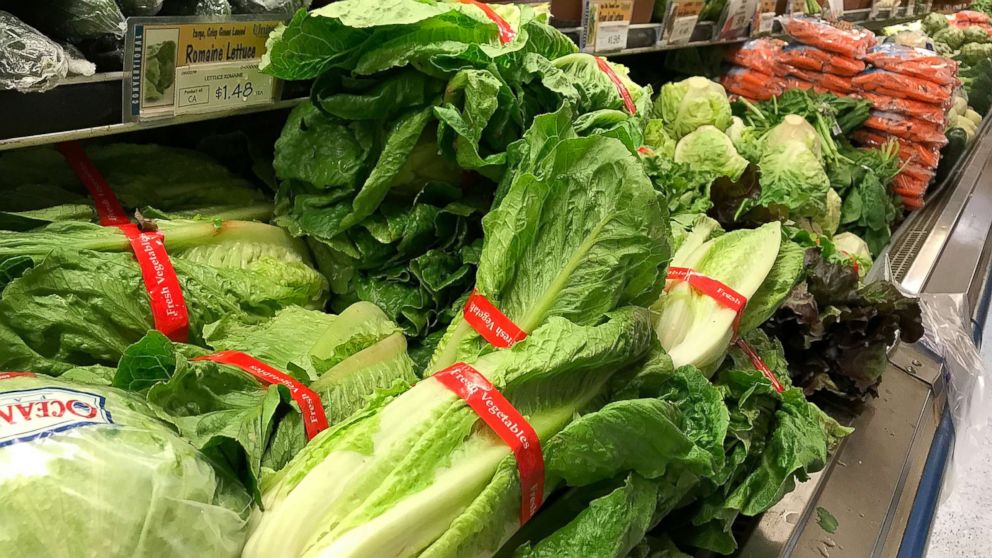 Concerns are rising amid the nationwide outbreak of food poisoning from E. Coli that has killed one person in California and infected 121 so far, according to official counts. 52 people have been hospitalized.
Interested in
E.coli?
Add E.coli as an interest to stay up to date on the latest E.coli news, video, and analysis from ABC News.
Romaine lettuce grown in Yuma, Arizona, is the culprit in these E. Coli infections, but the victims are spread among 25 states. The bacteria carried on the lettuce is a strain called E. Coli 0157:H7
What is E. Coli 0157:H7?
Escherichilia coli, or E. Coli, is a large group of bacteria with multiple strains, most of which are harmless and part of the normal "flora" of bacteria in the digestive tract.
Harmful strains of E. Coli produce something called a Shiga toxin, which can be deadly. The most common strain of deadly E. Coli in the U.S. — the one linked to multiple outbreaks and fatalities — is E. Coli O157:H7, which does produce Shiga toxin and is often found in cattle. This strain has previously infected people through consumption of undercooked ground beef, and is best known for a deadly outbreak in 1992.
This time, however, the toxic strain of E. Coli been found on Romaine lettuce, which likely became contamined from nearby cattle manure.
Who is at risk?
People at any age are susceptible to E. Coli infection, but very young children and the elderly are more likely to develop severe illness and complications.
How does it affect people?
Symptoms of this kind of E. Coli infection usually begin a few days after consuming the bacteria. The bacteria attach to the walls of the intestines and multiply, releasing the Shiga toxin. The symptoms include fever, stomach cramps, vomiting and diarrhea.
The good news: Most people recover in five to seven days as their immune systems kill off the troublesome bacteria. But between 5 and 10 percent of people develop a potentially life-threatening complication known as hemolytic uremic syndrome. This syndrome is associated with decreased urinary frequency, fatigue and kidney damage. Many of those hospitalized in this outbreak are experiencing kidney problems.
How to prevent infection
The first step is to avoid the source of the outbreak. The Centers for Disease and Prevention (CDC) recommends throwing out any romaine lettuce from the Yuma, Arizona, region. Any lettuce of unknown origin should be thrown out just in case. Since Romaine is found in some prepared salad mixes, read the labels.
In case any of the E. Coli 0157:H7 has made it into a home environment, thorough hand-washing will remove most bacterial contamination. Kitchens should be kept clean during food preparation, as well.
Though this outbreak is traced to lettuce, it's a good idea to cook meat thoroughly, avoid unpasteurized dairy products and juices and avoid swallowing water when swimming. E. Coli 0157:H7 can be present wherever cattle have been.
Sunny Intwala, M.D., is a third-year cardiology fellow affiliated with Boston University School of Medicine who works in the ABC News Medical Unit.