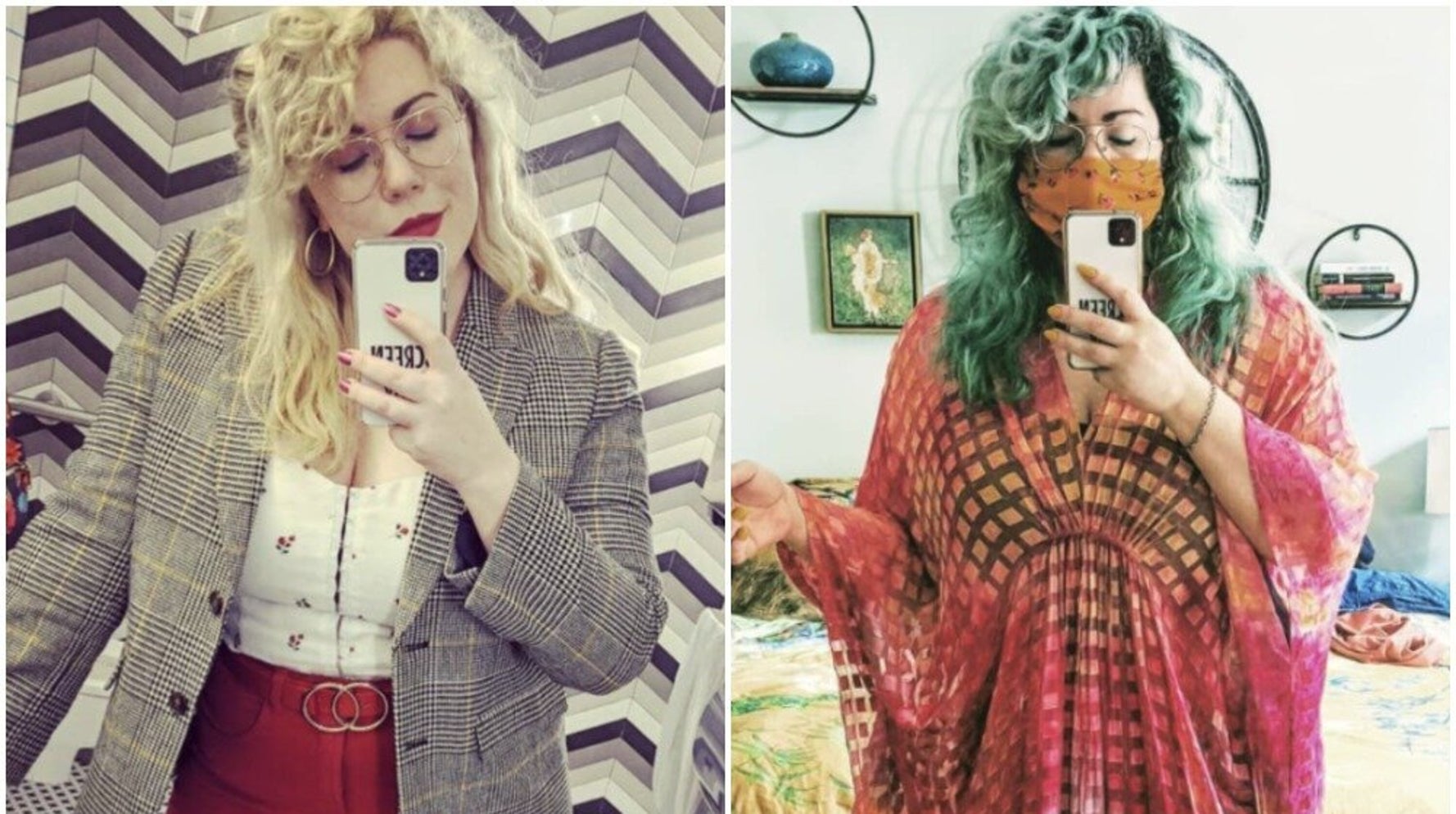 These days I like to think of my closet as a tiny museum, an archive of good times and non-stretch waistband occasions past. Over the last six months of the COVID-19 pandemic, many of our wardrobes have changed dramatically, including what we used to refer to as "work clothes."
We wanted to take an audit of where we were, where we are and where we're going. These days, I've taken to at least showering and putting on some makeup daily, just to feel more like a person and less like a couch potato ― even if I'm just wearing a workout outfit.
There are those who have subscribed to dressing nicely from the waist up only, those who experiment with their style outside the office and those whose only change has been the addition of personal protective equipment.
Below, people break down their pre- and post-lockdown work outfits.
Georgette Brotherson Hubbard, lash studio owner and artist in Long Beach, California
HuffPost US
"Working in the beauty industry and working for myself, my outfits have always been an expression of who I am and what I like to wear. I dressed in cute, comfortable outfits that showed off my personality. Since this pandemic came into effect, my outfits are now part of what I do to protect the health of my clients and myself. I wear scrubs and change the top for each new client. I wear a mask with a shield and new gloves for every service. Having a work uniform actually saves time in the morning."
Emily S., working in tech in New York City
Emily S.
"When work from home started, I initially tried to keep dressing as I had at the office, to keep myself on my game. I love building outfits and playing with shape and color, but as time passed in the summer, I found myself less and less inclined to put together looks that involved various pieces. I still wanted to look dressed, but mustering up the effort to pick a top and a skirt and whatever else just became untenable! I've ended up really leaning into kaftans and robes. I've tried to make sure they're fun to look at and made of something nice to feel on my skin, but one-and-done is my new philosophy. Now that we're headed into winter, I'm going to live that 'mysterious heiress in a haunted hotel' vibe with velvet robes and opulent sweater dresses."
Marissa Eliades, lawyer in New York City
Marissa Eliades
"Before and after. Now it's business on top, party on the bottom."
Jamie Feldman, HuffPost reporter in New York City
Jamie Feldman
"I wore these Rag & Bone jeans at least once a week when I was working in my office, typically with a vintage (or, in this case, vintage-looking) blouse tucked in. I now live in matching workout sets, but I have started doing my hair and makeup again to feel something."
Jenna Curcio, social media manager and copywriter in Rochester, New York
Jenna Curcio
"I used to be chic, wear blouses and take selfies in my work bathroom every day. Now all I wear is pastel sweatpants [laughs]."
Lindsay Holmes, HuffPost senior wellness editor in New York City
Lindsay Holmes
"In the before times, I loved dressing up for work. It was the main way I explored my sense of style thanks to our pretty relaxed dress code. I feel my best in a skirt or sundress, so you'd often find me in those (taking bathroom selfies). This is from last fall. I adored this tweed skirt! Now, my nice work outfits are in my closet collecting dust. At the beginning, I tried to maintain a sense of normalcy by continuing to get dressed for work. Now, I'm lucky if I even transition out of my bed sweats into my work sweats."
Kristen Aiken, HuffPost's senior editor of food and style
Kristen Aiken
"I used to actually dress like a professional person, with dresses and real shoes and outerwear. Now, I dress almost exclusively in tie-dyed and ice-dyed athletic wear, like I'm on a Grateful Dead tour or something. I miss my real-life adult clothes, but it'll be really hard to crawl out from under the forgiving cloak of a hoodie someday when this is all over."
Christa Santa-Donato, a senior tech recruiter in New York City
Christa Santa-Donato
"The first outfit is my go-to fall outfit: skinny jeans with a cropped sweater and boots. I even did my hair and makeup. The second is: roll out of bed and change my top only, not bottoms, no bra, throw on a jacket, Birkenstocks and a hat to cover my undone hair and hide my face as much as possible :)."
Nicole Kyle, technical marketing engineer in Longmont, Colorado
Nicole Kyle
"I used to overthink my clothing a lot more when I worked in the office. I would try on an outfit multiple times before deeming it 'not right.' Like if it showed off a certain part of my body too much or didn't feel professional enough. Working from home has eliminated almost all of these concerns. I no longer have to worry about how I am perceived in the workplace. I stopped wearing bras and could wear whatever skirt I want without worrying about the cold or windy weather."
Krystle Feher, TV and film makeup artist in New York City
Krystle Feher
"The pre-pandemic look is much more carefree and open. At the time there were only normal makeup artist level consideration for germs. We work very intimately with our clients, and are used to having above average sanitation practices, not only for the people in our chairs but for us, too. Post return-to-work-during-the-pandemic, things remain mostly the same for someone who has always been extra cautious, just with a little more flare. Of course, the mask and shield are a requirement now as a means to protect ourselves and others. The jumpsuit is style, as well as function. I've felt the need to embrace the 'post apocalyptic' vibe and a fashion jumpsuit really sells it for me, as well as being an easy on/off and fully covering option that allows me to wear something underneath and feel fully protected. It's almost as if I have a full body mask on. I think it works as a means to calm clients as well, and anything you can do to make your client feel more comfortable in the chair is a win-win!"
Taneisha Kirchner, HuffPost senior product designer in New York City
Taneisha Kirchner
Taneisha Kirchner in her pre-and post pandemic work outfits.
Amanda Katz, trainer in New York City
Amanda Katz
"My look before COVID was New York City style fitness professional. I'd wear this in the studio and even when I was creating workout programs. I think I look snazzy!
Today's look leaving the gym to vote? I haven't opened my bra drawer since March BUT I did manage to put on pants. So we'll call this: thriving!"
");
if ( "replace" === "insertBefore" || "replace" === "replace" ) {
$yahooDiv.insertBefore(".js-bottom-most-shared .card.recirc__item:eq(1)");
if ( "replace" === "replace" ) {
window.__yahooFlurry.addToCleanup("50b9b9b4-1f4f-4c41-94e8-dc7e6dd30814", "polar-gemini-most-shared", $(".js-bottom-most-shared .card.recirc__item:eq(1)")[0].outerHTML);
$(".js-bottom-most-shared .card.recirc__item:eq(1)").remove();
}
} else {
$yahooDiv.insertAfter(".js-bottom-most-shared .card.recirc__item:eq(1)");
}
window.__yahooFlurry.ready("50b9b9b4-1f4f-4c41-94e8-dc7e6dd30814");
});

");
if ( "replace" === "insertBefore" || "replace" === "replace" ) {
$yahooDiv.insertBefore(".js-bottom-trending .card.recirc__item:eq(1)");
if ( "replace" === "replace" ) {
window.__yahooFlurry.addToCleanup("2e63d6ca-115c-4d45-8b46-bdb10c4f0a97", "polar-gemini-whats-hot-2", $(".js-bottom-trending .card.recirc__item:eq(1)")[0].outerHTML);
$(".js-bottom-trending .card.recirc__item:eq(1)").remove();
}
} else {
$yahooDiv.insertAfter(".js-bottom-trending .card.recirc__item:eq(1)");
}
window.__yahooFlurry.ready("2e63d6ca-115c-4d45-8b46-bdb10c4f0a97");
});

http://platform.twitter.com/widgets.js