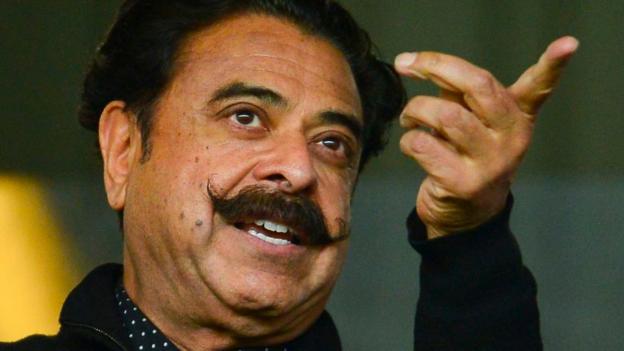 The Football Association has received an offer, thought to be worth £800m, to sell Wembley Stadium.
Shahid Khan, the owner of Fulham and NFL team Jacksonville Jaguars, is the prospective buyer.
It is understood the approach includes £500m for the stadium and £300m for the FA to keep the Club Wembley debenture and hospitality business.
"We would strive to be the best possible steward for a venue that is iconic," Khan said in a statement.
"Wembley would return to private ownership and The Football Association would be able to focus on its core mission of developing players.
"I trust many if not most of you are also supporters of the England national teams, so I hope you welcome the potential of this becoming a reality."
Selling Wembley would allow the FA to make a major investment into football at grassroots level.
NFL executive vice-president Mark Waller said having stadium options in London has been "critical to the NFL".
His statement added: "The potential purchase of Wembley Stadium is a further powerful sign of their commitment to the UK and their vision to help us grow the sport.
"This new relationship would allow for even greater flexibility in scheduling future NFL games in London."
The matter was discussed at an FA board meeting on Thursday.
The 90,000-seat stadium, which is the largest in the United Kingdom, cost £757m to build and opened in 2007.
Tottenham have played their home Premier League games at Wembley this season while work on their new stadium takes place.
Spurs also have a deal with the NFL to stage a minimum of two games a season over 10 years once the new stadium is complete.
Tottenham chairman Daniel Levy said the link-up with the NFL was a "compelling and exciting partnership".
The FA said in January it would finish paying for the ground by the end of 2024.