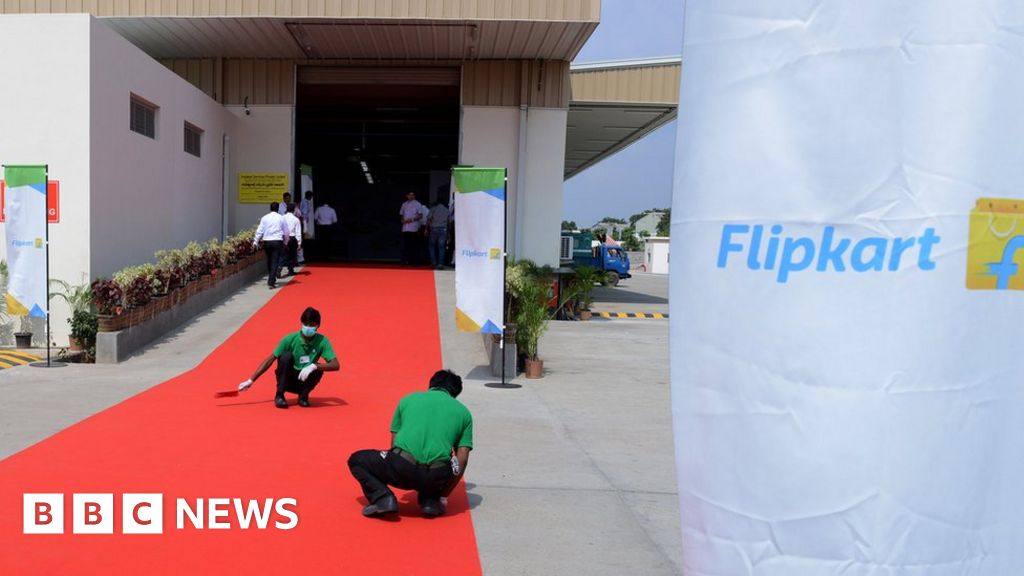 Walmart is expected to announce that it is buying a majority stake in Indian e-commerce firm Flipkart later this week, despite reports that rival Amazon tried to disrupt the transaction.
The US grocery giant has agreed the purchase of 75% of Flipkart for about $15bn (£11bn), according to numerous media reports.
The two firms first held talks in 2016.
Amazon, Flipkart's chief rival in India's fast-growing online retail sector, is also said to have bid.
Flipkart, which was founded in 2007, claims over 100 million registered users and says it facilitates more than 8 million shipments each month.
The firm has already attracted some high profile investors including Microsoft, Tencent and Softbank, despite posting losses.
A combination with Walmart could be controversial, however. Some groups in India have already voiced concerns about how a deal might affect smaller retailers, the Times of India and others have reported.
Why is Walmart interested?
India is seen as the next major frontier for online shopping, with the e-commerce market projected to grow by nearly a third this year to about $50bn, by some estimates.
Walmart has declined to comment on reports that the Flipkart deal is set to go ahead, but the grocery giant has been looking to expand in India for years. The firm is also flush with savings from a new US tax cut.
"China and India certainly have the opportunity to be very big growth markets for us, when you figure more than a third of the world's population lives in those two countries. Those can continue to be big opportunities for us in the future," Brett Biggs, the firm's head of investor relations, said at a conference in March.
The US firm currently operates 21 wholesale shops in India, but has run up against government rules about foreign ownership in the retail sector. An earlier joint venture ended in 2013.
How would the deal fit into Walmart's strategy?
Walmart is putting resources into fighting a tough battle against its online competitors, not least Amazon.
It purchased US e-commerce firm Jet.com and has announced partnerships with firms such as Google and China's JD.com.
Distancing itself from the notion that it is purely focused on physical outlets, the company formally dropped the word "stores" from its name last year, and later said it would close about 10% of its Sam's Club discount stores.
In the UK, the firm recently announced plans to merge Asda, which it purchased in 1999, with Sainsbury's. It is also reportedly looking to sell part of its Brazilian operations.
All this leaves its hands free to grapple more effectively with Amazon.
Did Amazon try to muscle in on the deal?
Amazon reportedly made its own offer for a majority share of Flipkart, as talks with Walmart reached an advanced stage.
Indian business channel CNBC-TV18 said Amazon had offered to buy about 60% of Flipkart, in a bid that was was "likely to be on par" with Walmart's.
Amazon had already been focusing on expanding in India, and in 2016 committed to invest more than $5bn. However, analysts said a deal with Flipkart would have raised competition concerns and voiced scepticism about the likelihood of a late-in-the-day bidding war.
What's in it for Flipkart?
Flipkart's founders and many investors reportedly favour the tie-up with Walmart, which provides a way for current backers to sell their holdings.
A major round of investment last year valued Flipkart at about $11.6bn; Walmart's offer, if press reports are accurate, values the firm at about $20bn.
Walmart also brings to the combination experience in areas such as groceries, said Satish Meena, senior forecast analyst at Forrester.
He said: "For Flipkart, this deal is more than just money ….With Amazon closing the gap in categories other than fashion, Flipkart needs Walmart to remain competitive in the long term."