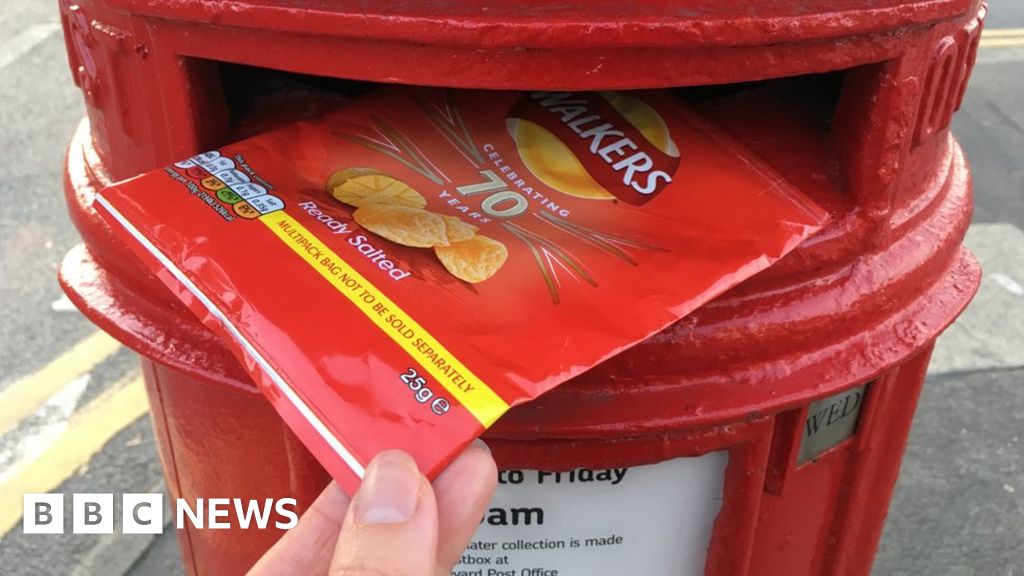 Snack firm Walkers has announced a recycling scheme – after Royal Mail begged campaigners not to post empty crisp packets without envelopes.
From December, snack fans will be able to post used bags – in envelopes, for free – directly to a recycling company.
Campaigner Geraint Ashcroft, who launched the petition against Walkers, said it was "a great first step".
The company said it had been in talks about the scheme since the beginning of the year.
Under the scheme, packets will be turned into plastic items such as benches, watering cans and plant pots by recycling firm TerraCycle.
Mr Ashcroft, whose petition against the Leicester-based crisp maker has been signed by more than 330,000 people, said the announcement was "really exciting".
"I hope other snack companies get on board," he said.
"This is a great first step and makes all the work that's gone into the petition worthwhile."
But the firm "still have a lot to do to meet their pledge of making their packaging fully recyclable, compostable or biodegradable," Mr Ashcroft added.
Walkers' packets are made from a fusion of plastic and aluminium foil. Crisps are packaged like this by many manufacturers because of their high fat content, which means they can quickly go rancid when exposed to oxygen.
Walkers said its packets are technically recyclable, but until now they were not being separated or collected for recycling.
How will the scheme work?
Walkers described its partnership with TerraCycle as "the UK's first nationwide recycling scheme for crisp packets".
Any brand of crisp packets – not just Walkers – will be accepted.
People will be encouraged to drop off their packets at one of hundreds of "public access collection points" around the country
They can also put them in a box or envelope and post them to TerraCycle free of charge
The packets will be cleaned, shredded and turned into small pellets which will be converted into plastic items
The scheme is due to start in December.
Walkers said it was focusing "significant resource" on making all packaging 100% recyclable, compostable or biodegradable by 2025.
Ian Ellington, general manager of Walkers' owner PepsiCo UK, said: "We share people's concerns about the amount of plastic in our environment and are working on a number of both short and long-term solutions to reduce the impact of our packaging."
Campaign group 38 Degrees, which previously encouraged people to post their crisp packets back to the company, said it was "delighted" to hear about the scheme.
"It's proof that public pressure can shift big companies to do more to prevent waste," said executive director David Babbs.
"The public will be watching to make sure that the new recycling scheme isn't just a PR stunt," he added.
Laure Cucuron, general manager of TerraCycle Europe, said: "We hope other snack manufacturers will follow suit, by investing in new ways to reduce the amount of packaging that goes to landfill and incineration."