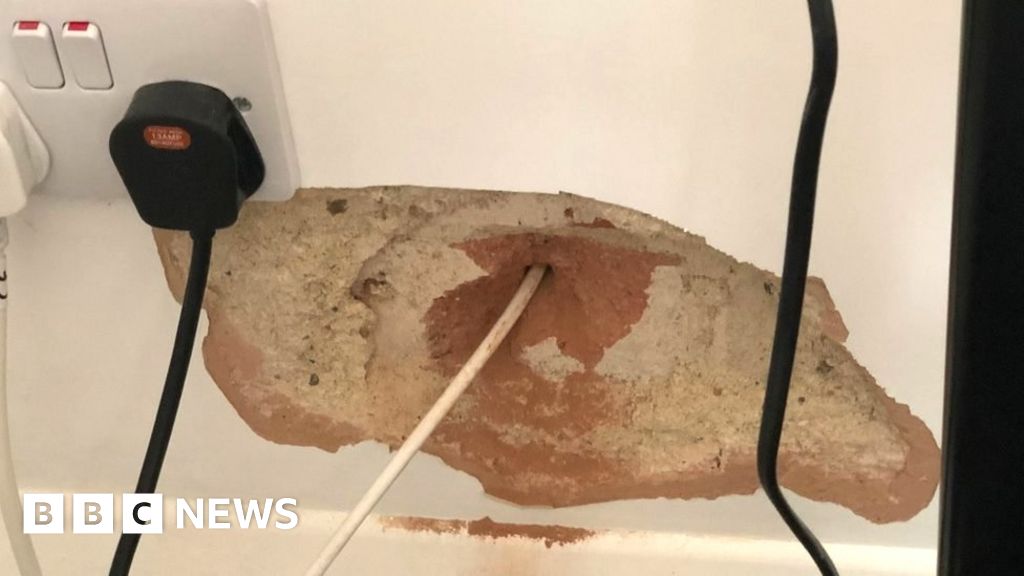 Virgin Media has been accused of leaving holes in people's walls and not following up complaints to fix the damage.
One customer said he had waited for six weeks to have a 10-inch crater in his plaster repaired.
The complaints left on social media often say that requests for calls or web chats with Virgin have gone unfulfilled.
Virgin Media has apologised and said it will contact affected customers.
Broadband engineers frequently have to drill or alter holes when installing cables in people's homes – but sometimes this can go wrong.
"The chap who did the installation was incredibly apologetic and it was a genuine accident," explained Andrew Mabbitt, director of cyber-security firm Fidus Information Security.
He said that the engineer then called his manager to arrange a repair, but this never materialised.
"Got a call the next day from Virgin saying they'd be in touch soon to arrange a date and they never called back," Mr Mabbitt told the BBC.
He added that he also tried to contact the firm via its online chat service – but it was not working.
Another customer, Dom Valentine, complained that the company left a large drill bit stuck in his wall for more than a week.
Mr Valentine is a soldier in the British Army and said the damage occurred at military accommodation.
"I was there when it happened," he told the BBC.
He said the engineer drilled into a metal part inside the wall, which caused the drill bit to get stuck. An attempt to remove it from the outside of the building did not go well.
"He was hitting it with a hammer which has now cracked the bricks on the other side," said Mr Valentine.
He added that he is still waiting and has been told to expect a sizeable bill from the army, which owns the property.
Virgin Media offered him £20 credit but he said the firm has not followed up on providing a repair.
"I was told the area manager would get back to me, which he hasn't," added Mr Valentine.
Garden cable
In one further case, a Twitter user complained that a broadband cable had been installed obtrusively in his garden – despite the fact that he was not a Virgin Media customer.
Virgin Media has responded to these queries via social media, but some customers say damage to their homes is still awaiting repair.
"Virgin Media apologises to any customer who has experienced issues when our services have been installed in their property, as we do our best to make sure the process is as smooth as possible," the firm said in a statement.
"We are now in the process of contacting the customers listed in this article so we can see if the issue still exists and, if so, try and resolve it as soon as possible."
Complaints have been left on social media relating to similar problems caused by other broadband companies.
http://platform.twitter.com/widgets.js