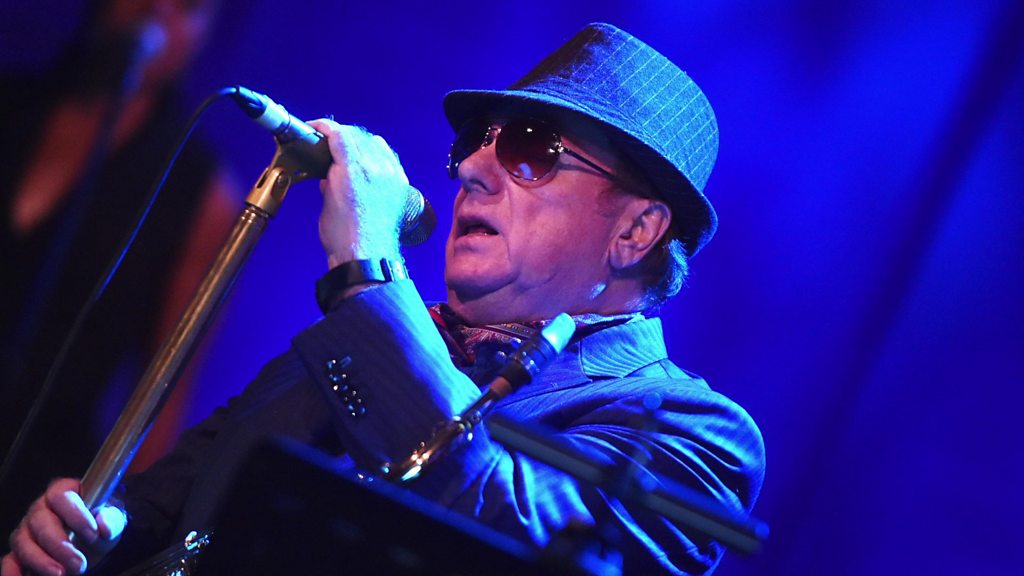 In his 2003 song Goldfish Bowl, Van Morrison sings: "Newspaper barons are the scum of the lowest degree / And they prey on everybody".
So it's no surprise that he holds the press in low esteem.
"The media makes things up," the star told BBC Radio 4's Today programme.
"I've been talking about fake news from day one," he continued. "But back then, when you said, 'this is made up,' they'd just dump on you more. So I had to put it in songs eventually."
The Northern Irish singer, who is responsible for some of the most extraordinary music of the last century, said he had grown wary of the press in his early days, as part of R&B group Them.
"We had to do a lot of interviews when we started. You do that when you're a kid, but later on you realise it's pointless," he said.
"It's funny, the whole star-celebrity media… It's like the song, 'You build me up to knock me down' [by] Hank Williams.
"That's what the game is, sir."
Morrison has previously expressed frustration at being portrayed as an irascible, wayward performer and interviewee.
"I think there's been so much written about me being dead serious, and never smiling and all the rest of it, that the label will never go away," he told the Daily Telegraph last year.
"That is totally absurd because there's a lot of humour in my work – at least I think there is – and as the people who come to my gigs know, there's a lot of humour there too."
Astral Weeks 'burden'
The 72-year-old, who was knighted in 2016, was speaking to Radio 4's John Wilson on Monday to coincide with the release of his 39th album, You're Driving Me Crazy, made with jazz organist Joey DeFrancesco.
The record features Morrison's interpretations of blues classics like Miss Otis Regrets and Travellin' Light, alongside new recordings of some of his own songs, including Have I Told You Lately and Goldfish Bowl.
The star recalled how he'd been raised on blues, and how the lyrics seemed especially relevant to "working class kids" in Northern Ireland.
2018 also marks the 50th anniversary of one of Morrison's most revered albums, Astral Weeks – a poetic, impressionistic take on folk-rock that critic Lester Bangs called "a mystical document" and "a beacon, a light on the far shores of the murk".
But the critical acclaim "didn't translate in sales," Morrison said. "I was still sleeping on somebody's couch at the time it came out."
He said after all this time he was still proud of the record ("of course") but admitted its success had sometimes been a burden.
"I didn't know I was going to get stuck with it for so long," the star said.
"It's like Orson Welles syndrome," he said, referring to the film director, who could never escape the shadow of his debut film, Citizen Kane.
"I was just a kid when I did it and now I'm having to address something I did when I was very, very young."
Follow us on Facebook, on Twitter @BBCNewsEnts, or on Instagram at bbcnewsents. If you have a story suggestion email entertainment.news@bbc.co.uk.