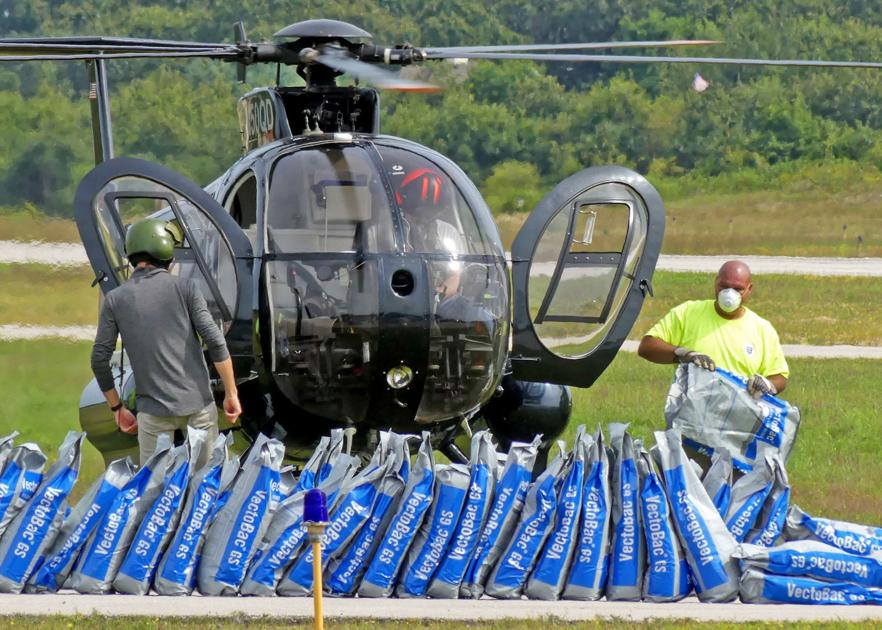 Rhode Island officials conducted anti-mosquito spraying Sunday night in some areas of the state where eastern equine encephalitis has been detected, but amended its original spraying timeline on Westerly, Hopkinton and Charlestown, which will now be sprayed tonight (Monday).
Environmental and health officials said Sunday afternoon that all the spraying was scheduled to be done during the evening and overnight hours, but spraying was only completed in all of West Warwick and parts of Coventry, Cranston, Warwick, East Greenwich, and West Greenwich, as well as all of Central Falls, Pawtucket, and North Providence and parts of Providence, East Providence, Smithfield, Lincoln, and Cumberland.
Spraying in northern Rhode Island (parts of Burrillville, North Smithfield, and Woonsocket) was not completed on Sunday night due to falling temperatures. (The effectiveness of spraying is limited when the temperature falls below 58 degrees.) Spraying in these northern areas, and parts of southern Rhode Island (parts of Westerly, Hopkinton, and Charlestown) is planned for tonight. Spraying will start at dusk tonight and will be completed by 4:30 a.m. Tuesday.
The product being sprayed, Anvil 10+10, is a product extensively used in both ground-level and aerial spraying in the U.S. to control mosquitoes.
"The aircraft used in this operation, piloted and managed by Dynamic Aviation, are King Air Beechcraft fixed-wing, dual-engine planes," said Lauren McGowan, spokesperson for Clarke, the company hired to conduct the application. "They are specially equipped with nozzles on the wing that disperses an ultra-low volume droplet, specifically calibrated to be the right size to interact with a mosquito's biology."
The aircraft is also equipped with a flow system that automatically adjusts the flow rate based on the altitude and speed of the aircraft, she said. It factors in wind speed and direction and automatically calculates the aircraft's offset, which means that the aircraft may need to fly outside the spray block to ensure that droplets deposit in the specific target locations.
The state has identified the four areas as "critical risk" locations for the disease. The areas include Central Falls, parts of Westerly, West Warwick and northern Rhode Island near the Massachusetts towns of Uxbridge, Douglas and Mendon.
Spraying won't be performed over bodies of water and other sensitive areas, state officials said.
The state's first human case of eastern equine encephalitis since 2010 was reported last month, in a person over 50 from West Warwick. The disease also has been found in mosquitoes in Central Falls and Westerly.
— Sun staff