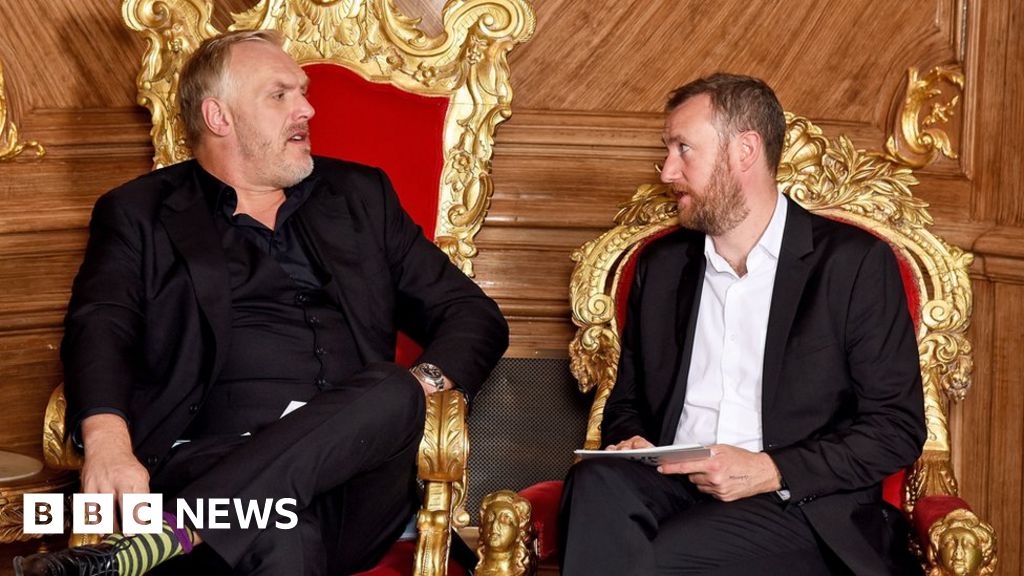 Fans of Taskmaster and Red Dwarf have expressed their frustration after Dave was one of 10 UKTV channels to be dropped by Virgin Media in a fees row.
About four million households using the cable company are unable to watch the comedy shows – or channels like Gold.
Virgin says UKTV charges "inflated" fees, and complains that its joint owner, the BBC, does not allow all channels to be shown on demand.
UKTV says it cannot accept the "drastic" price cut Virgin proposes.
Five UKTV channels – Dave, Drama, Home, Really and Yesterday – are broadcast on free-to-air services Freeview and Freesat – and it also has the paid-for services Gold, Alibi, Eden, Good Food and W.
All were all removed from Virgin cable boxes at midnight on Saturday after talks between the two companies broke down.
Virgin subscribers tuning into the channels in recent days have seen a message warning that they will be disappearing.
Some new channels have been added, however, including the Paramount Network, IQTV and FreeSports.
'Gutted' viewers
Taskmaster, a comedy panel game show featuring Alex Horne and Greg Davies began on Dave in 2015 and is one of its most popular shows.
The opening episode of the sixth series – in which Alice Levine, Lisa Tarbuck and Tim Vine were among the celebrities undertaking bizarre challenges – attracted an audience of 1.175m viewers.
Dave's other big success has been its revival of cult sci-fi sitcom Red Dwarf, commissioning four new series since of the show since 2009, after screening repeats of the BBC original.
A further series – Red Dwarf XIII – has also been commissioned but will not be seen on Virgin unless a new deal is struck.
Gold shows classic comedy including Only Fools and Horses, Porridge, the Vicar of Dibley, while Australian crime drama Harrow is shown on Alibi.
Some Virgin Media customers have taken to social media to say they may cancel their subscriptions, while others said they would do so if the channels did not return.
On Twitter, Darren Woodward said he was "gutted" not to be able to see Taskmaster, while Tom Langdon was one of a number of subscribers to wonder whether his monthly bill will be reduced because they could no longer watch the show.
Diane Moore said she was thinking of swapping after years of being a Virgin customer, and Ben Underwood urged Virgin to "sort it out" before the next series of Red Dwarf.
Virgin Media chief digital entertainment officer David Bouchier said the company was prepared to restore UKTV's free channels "immediately" with its permission.
"We have been in extensive discussions with UKTV but we have not been able to reach an agreement which reflects the reality of how people are watching television in the 21st Century," he added.
"UKTV is insisting on holding back its channels, like Dave, which are freely available over the air and online, unless we pay inflated sums of money for its paid channels like Gold."
UKTV chief executive Darren Childs said: "We're hugely disappointed for the many customers who are losing out because our channels are no longer available through Virgin Media.
"We completely understand their frustration and would love to continue to bring them the shows and channels that they're so passionate about, but we need a fair price to support our growing investment in programmes."
All UKTV channels are available on Sky, BT and Talk Talk subscription services.
---
Are you a Virgin Media customer? What does the loss of Dave, Gold and the other UKTV channels mean to you? Please email haveyoursay@bbc.co.uk
Please include a contact number if you are willing to speak to a BBC journalist. You can also contact us in the following ways: