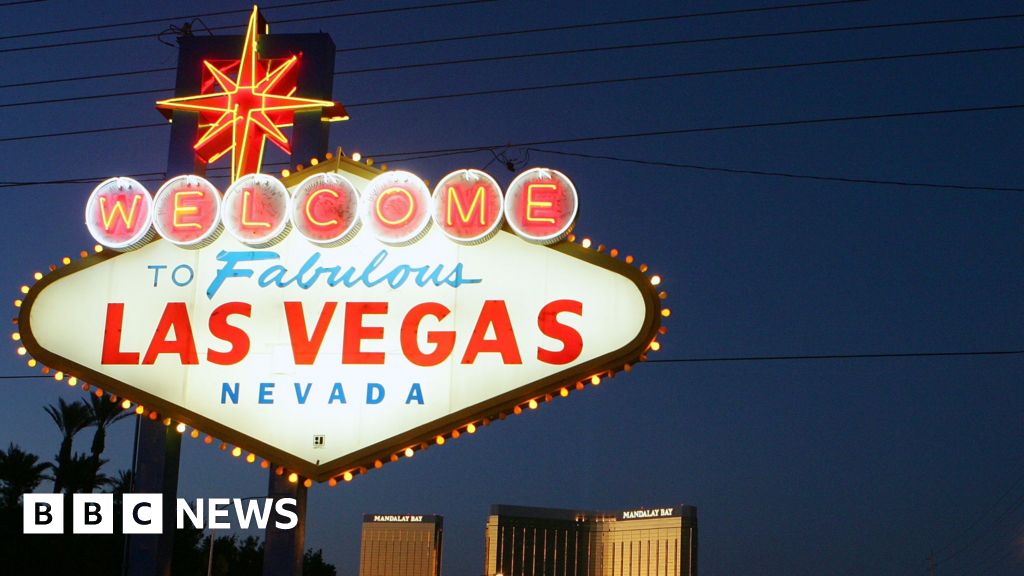 It's high stakes for UK firms as sports betting starts to spread in America.
From Tuesday, new rules on betting came into effect in Delaware, a tiny east coast state about two hours from Washington.
Neighbouring New Jersey could start accepting sports bets as early as Friday.
The changes are the first in what is likely to be a wave of legalisation after the Supreme Court last month that cleared the way for states to allow sports betting.
The timing of the decision was especially fortuitous for UK firms, which are grappling with consolidation, more online competition and tougher rules from UK regulators.
Companies see a "once in a generation opportunity to get in… literally at the opening up and start of a market," said Dublin-based financial analyst David Jennings, who heads leisure research at Davy.
The US accounted for about 23% of the world's $244bn (£182bn) in gaming revenue last year, according to a report Technavio published in January.
Firms are hoping to tap into more of that activity after last month's ruling, which struck down a 1992 federal law that barred states outside of Nevada and a few others from authorising sports betting.
In the weeks since the decision, UK firms including William Hill, Paddy Power Betfair and SBTech have announced deals aimed at the US.
Despite the excitement, analysts – and companies – are trying to temper expectations, noting that firms face a long slog, as each state crafts its own rules.
"It's something that we're really focusing on, but equally we don't want to overhype it," said James Midmer, spokesman at Paddy Power Betfair, which recently purchased the US fantasy sports site FanDuel.
'Take time'
The Supreme Court decision found that the 1992 law was an over-reach of federal power.
But it did not actually legalise sports betting, leaving that question to local lawmakers.
Analysts say that is likely to lead to significant state-by-state variation in how firms get licensed, where sports betting can occur, and which events are open to speculation – with big implications for the size of the market.
Annual gaming revenue could range from $4.2bn to almost $20bn annually depending on those kinds of factors, Oxford Economics estimated last year in a study for the American Gaming Association.
"There was a lot of 'this is going to be huge'", said Will Hawkley, London-based head of leisure for consultants KPMG.
Now, he said: "I think most people… are looking at this as, 'it's an opportunity but it's not going to be $20bn and it's going to be state by state and it's going to take time."
'Remains to be seen"
Chris Grove, managing director at Eilers & Krejcik Gaming, predicts that 32 states will legalise sports betting in some form by 2023, creating a market with about $6bn in annual revenue.
But bookmakers face a far different landscape in America than they do in the UK, where betting shops are a frequent sight.
US laws limited gambling largely to Native American lands and Nevada's Las Vegas strip until relatively recently.
In the popular imagination, sports betting has long been linked to a 1919 World Series baseball match-fixing scandal.
As legalisation starts, sports betting firms are lobbying to fend off high tax rates, as well as a requests by US sports leagues, who want to collect a percentage of revenue as an "integrity fee".
States have also been slow to legalise other forms of online gambling, despite a 2011 Justice Department opinion that appeared to remove obstacles.
While sports betting today is typically viewed as another category, "it clearly remains to be seen whether it gets the kind of momentum people think it will," says Keith Miller, law professor at Drake University and co-author of a book about sports betting regulation.
'Monopolistic by design'
Analysts say international companies face the added challenge of potential competition with entrenched local interests, such as casino operators, state-run lotteries and Native American tribes, which will be lobbying to defend their turf.
"I think people should be cautious about assuming that external companies will have an easy path into state-based markets that are monopolistic by design," Mr Grove says.
He and others say UK firms will need to strike partnerships with US companies, offering their expertise and technology, in order to make inroads.
They point to SBTech's recent announcement that it would be providing technology for Kentucky Derby operator Churchill Downs as an example of the kind of deals they expect to see.
"It will be a win-win for everyone, but it will be partnerships and it will be driven by technology," Mr Hawkley says.
'It will just depend'
Joe Asher is chief executive at William Hill US, which has been investing in the US market since 2011, when it purchased three US companies to establish a presence in Nevada.
The firm, which employs 450 people, has announced partnerships with casinos in Iowa and New Jersey and works as risk manager for the Delaware Lottery.
It has also invested millions alongside a local developer in a New Jersey horse racing track.
Mr Asher said William Hill has become a household name in Nevada but that's not necessarily the goal everywhere.
"We certainly intend to have a very significant brand presence in New Jersey," he said. "In other states, it will just depend on regulation and potentially who our local partner is."
"The US is going to be the biggest sports betting market in the world," he added. "Obviously that's not going to happen on day one."