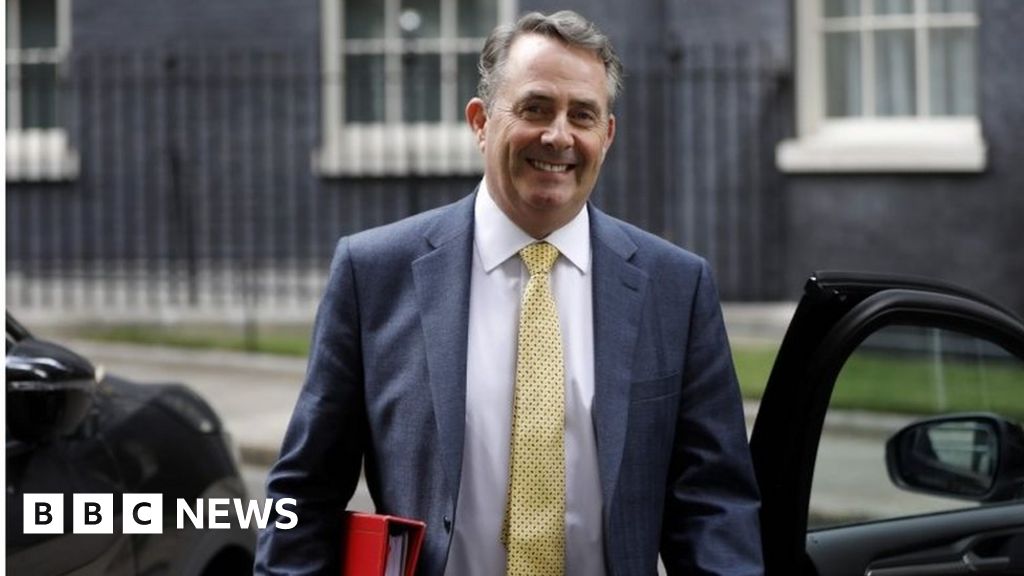 Britain can be a "21st Century exporting superpower", Liam Fox is expected to say in a speech detailing the government's post-Brexit ambitions.
The international trade secretary will say he wants exports as a proportion of UK GDP to rise from 30% to 35%.
Last year exports of goods and services rose to a record high of £620 billion.
The Federation of Small Businesses praised the aspiration – but said more financial incentives, such as grants and "export vouchers", were needed.
Mike Cherry from the FSB said small companies could use the vouchers to invest in things such as translation services or market research.
The government's UK Export Finance department – which offers financial help to exporters – already has the capacity to support £50bn of exports.
---
'Full order books'
Analysis by BBC economics editor Kamal Ahmed
Exports from the UK are at a record high – boosted by the weakness in the value of the pound and stronger global growth than expected.
Yes, there are uncertainties around Brexit – and if there is "no deal" the economic effects could be dramatic and negative.
But many businesses report full order books, as British companies that do export, particularly outside the EU, find plenty of willing customers.
The government now says it wants to build on that success – admitting that although Britain does "punch above its weight" in export markets it also punches below its potential.
Some 400,000 firms that could export goods and services have no international presence.
---
In a speech setting out the government's export strategy, Mr Fox will say the UK should "set its sights high" as it leaves the EU.
He is expected to tell a business audience in London that UK firms are "superbly placed to capitalise on the rapid changes in the global economic environment".
But shadow international trade secretary Barry Gardiner said an export strategy couldn't be based on "one-off arms sales".
What does Made in Britain mean for Brexit?
The challenges ahead for a UK/US trade deal after Brexit
"After record trade deficit figures, staff cuts in trade promotion and delays to tradeshow funding for business, the government is finally publishing an export strategy – some two years after the trade department was established," he said.
"Our businesses need a strong future export relationship with the EU. The Tory export strategy has thus far been based on controversial one-off arms sales."
He said a Labour government would deliver a customs union with "our most important trade partners".
Carolyn Fairbairn, director-general of the CBI (Confederation of British Industry), said the strategy was "a timely signal" that the government was committed to improving the UK's competitiveness.
"The CBI strongly supports the ambition to make exports 35% of GDP, which will put the UK out in front of many of our international competitors," she said.
"We estimate that in every region of the country there are around 10% of businesses that could export, but don't, and we look forward to working alongside the Government to support and inspire them to seize the opportunity."