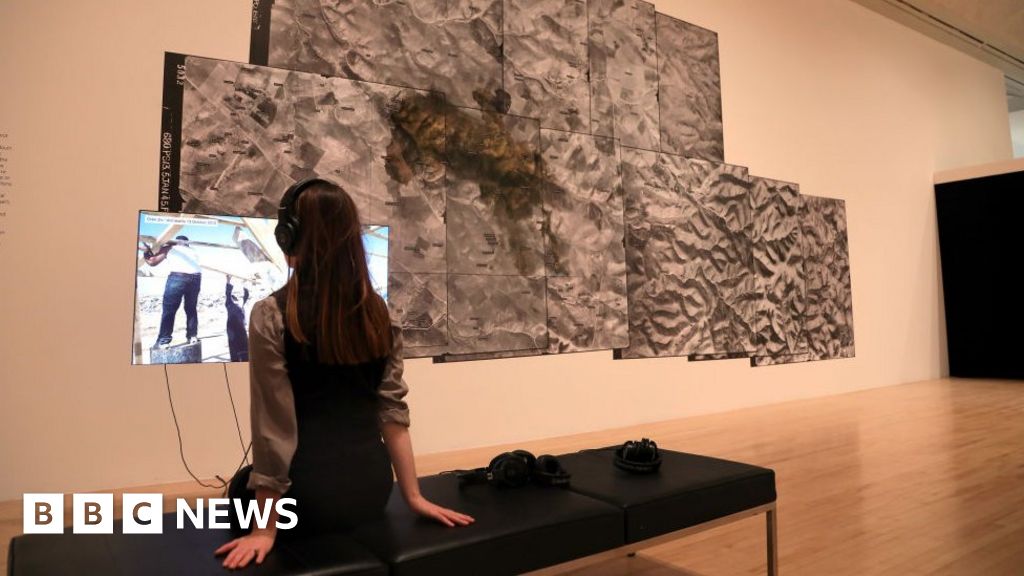 This year's Turner Prize exhibition is presented with a difference – there are no paintings or sculptures, only films.
The four exhibits at London's Tate Britain focus on "pressing political and humanitarian issues of today".
They include work from Naeem Mohaiemen, Luke Willis Thompson, Forensic Architecture and Charlotte Prodger.
It's the first time in the prize's history that all the shortlisted pieces are presented in a filmed format.
Academic group Forensic Architecture has presented a multimedia collection called The Long Duration of Split Second, which documents police attempts to clear a village in southern Israel.
Turner Prize Exhibition 2018 by BBC Arts Editor Will Gompertz
The joy of the Turner Prize is regardless of quality there's always plenty of variety. Maybe there would be a performance artist in one gallery, and a painter in another. You know the drill. Not this year, though. All four exhibits are films. Thus, the exhibition, with its large welcoming foyer, is more like a visit to the local multiplex with Screens 1,2,3, and 4.
So, although all four exhibits are individually very good (Forensic Architecture and Naeem Mohaiemen stand out), the overall feel of the exhibition is unsatisfactorily single-paced and medium specific: "And the Turner Prize for best film goes to…"
True, the four shortlisted entries are different in terms of style, story, and composition, but they are all essentially defined by limits and the inherent qualities of the medium. There is also some crossover in terms of topic (state sponsored injustices), activism, and left-of-centre politics.
Realistically you'd need at least four hours in the exhibition to see all the films, which is a big ask even with the concession of being able to re-use your ticket multiple times. As far as exhibition-making goes, to demand so much from an audience who are being specifically asked to try something new, comes across as a little thoughtless, if not arrogant.
The point of the Turner Prize, we are told, is to showcase the best of contemporary British-based art. Which begs the question, are filmmakers really the only people at the cutting edge with something timely, fresh, and important to say (and all four exhibits do have something important to say)? Are there no painters, performers, sculptors, fabricators, or photographers producing work to match that which is on show?
I think there are. It would certainly have made for a better, more balanced exhibition, which perhaps isn't the jury's concern – although it should be. Having a show consisting of only films in black boxes ends up diminishing the work on show, to some degree, they cancel each other out. There's not even any popcorn for sale. What are they thinking?
Forensic Architecture is an international research agency made up of investigative journalists, architects, lawyers and scientists who use videos, photographs and scale models to investigate allegations of state and corporate violence.
Made up of two rooms, their entry shows footage from an incident in Bedouin in January 2017 in one room and visual evidence in another.
Another shortlisted entry up for the £25,000 prize belongs to Naeem Mohaiemen, who has created a video called Two Meetings and a Funeral.
It explores left wing political movements in the developing world, focusing on Algeria and Bangladesh.
Charlotte Prodger's entry includes a 30-minute iPhone film of the Scottish countryside, while Luke Willis Thompson's films are portraits of people affected by racial and social inequality, shot in black and white.
Thompson's entry includes a film of Diamond Reynolds, who filmed the aftermath of the shooting of her boyfriend.
Director of Tate Britain Alex Farquharson said: "The artists shortlisted for this year's Turner Prize are tackling some of today's most important issues, from queer identity, human rights abuses and police brutality to post-colonial migration and the legacy of liberation movements.
"For the first time, all the shortlisted artists work with the moving image and it's thrilling to see how wide a range of techniques and styles they use."
The exhibition is open to the public from Thursday 26 September until 6 January 2019. The winner will be chosen on 4 December.
Follow us on Twitter @BBCNewsEnts, on Instagram at bbcnewsents, or email entertainment.news@bbc.co.uk.
http://platform.twitter.com/widgets.js