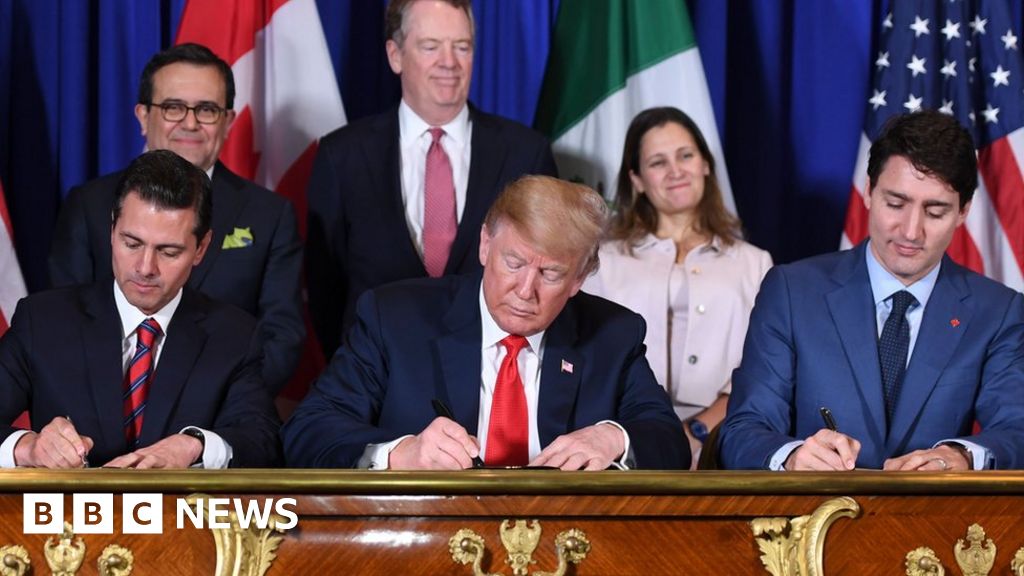 US President Donald Trump and leaders from Canada and Mexico have signed the successor to the North American Free Trade Agreement (Nafta).
The revised deal has been renamed as the United States-Mexico-Canada Agreement, or USMCA.
Renegotiating Nafta was a key pledge of Mr Trump's 2016 White House campaign. The US President claimed it "changes the trade landscape forever".
USMCA will govern a trillion dollars worth of trade between the countries.
The deal comes after more than a year of negotiations between the parties, with agreement on new car and dairy industry regulations proving particularly challenging.
Throughout the start of his presidency, President Trump has repeatedly threatened to withdraw the US from Nafta, unless he could secure a better deal.
However after a deal was agreed in principle on 30 September Mexican President Pena Nieto hailed it as a "win-win-win."
Politicians from each country will still need to ratify the USMCA before it can take effect.