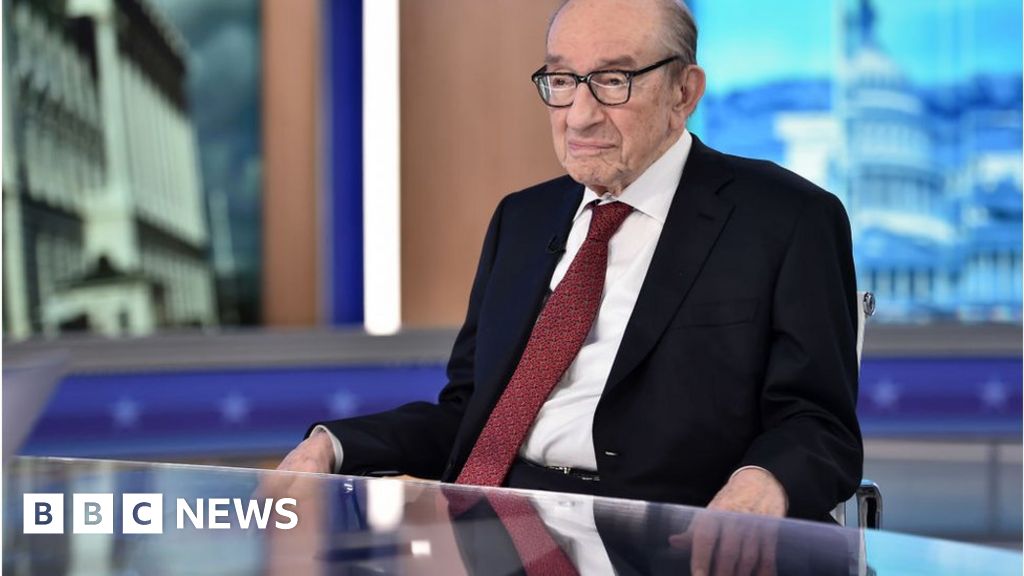 The populism of Donald Trump is a "shout of pain" but it won't improve the living standards of ordinary Americans, former head of the Federal Reserve Alan Greenspan has said.
The economist, who led the bank from 1987 to 2006, told the BBC the president's trade war with China was "insane" and hurt US workers.
He also called Brexit a "bad outcome".
However, he rejected claims that his free market policies at the Fed were a cause of the 2008 financial crisis.
"I did not forecast the 2008 crisis but then again nobody did," he told BBC Radio 4's Today programme.
Since 2017, Mr Trump has left or sought to renegotiate international trade deals and imposed steep import tariffs on goods like steel.
He says he wants to stop US jobs being lost to countries with lower labour costs, like Mexico or China, while addressing decades-old trade imbalances.
But Mr Greenspan compared the president's approach to that of populist leaders in Latin America in the late 19th and early 20th centuries.
"We have one major so-called leader saying 'I feel your pain and I am here to help you'," he told Today.
"People like the sound of it but the facts are he is lowering the standard of living of the average American."
'Chagrined by Brexit'
Mr Greenspan said that during a trade war, tariffs acted like a tax on both sides, meaning that no one emerged better off.
"You add excise tax and suffer accordingly – but if your suffering is less than your opponent's then you have won the war," he said.
He said Britain's decision to leave the EU had "chagrined" him and would also leave UK citizens worse off.
"Let's remember the purpose of the EU is to get the division of labour so structured that you maximise the value-added of the production of the society.
"And to the extent that you impair that, which is what a tariff does, you lower the standard of living in England."
During his tenure at the Fed Mr Greenspan oversaw the world's longest post-war boom, encouraging growth through low interest rates and deregulation.
But some say he failed to stop the excesses that led to the subprime mortgage crisis of 2007 – the precursor to the global financial crisis.
Mr Greenspan has in the past admitted he was "partially wrong" in his hands-off approach, but he told the BBC that populists like Mr Trump did not have the answer.
"They can promise to protect people from the market but we should remember the rate of increase in productivity in both the UK and the US is going down."