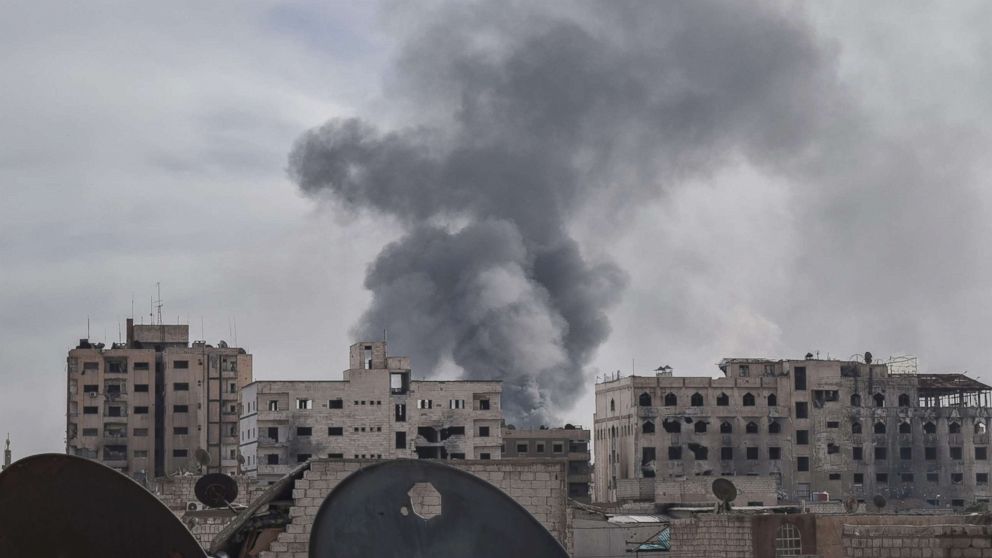 President Donald Trump weighed in on the Syrian government's allegedly conducting a new chemical attack against its own citizens. The alleged attack on Saturday killed 40 civilians, according to reports to The Associated Press that the news service has not independently confirmed.
Interested in
Syria?
Add Syria as an interest to stay up to date on the latest Syria news, video, and analysis from ABC News.
The president in his tweets Sunday morning blasted Russian President Vladimir Putin and the government of Iran for backing the regime of Syrian President Bashar al-Assad in his civil war with rebel forces. Trump also criticized former President Obama, suggesting that he could have taken action to end the Syrian civil war.
Trump on Twitter called it a "mindless CHEMICAL attack" and blamed "President Putin, Russia and Iran" for backing the government of Syrian President Bashar al-Assad.
Many dead, including women and children, in mindless CHEMICAL attack in Syria. Area of atrocity is in lockdown and encircled by Syrian Army, making it completely inaccessible to outside world. President Putin, Russia and Iran are responsible for backing Animal Assad. Big price…

— Donald J. Trump (@realDonaldTrump) April 8, 2018
….to pay. Open area immediately for medical help and verification. Another humanitarian disaster for no reason whatsoever. SICK!

— Donald J. Trump (@realDonaldTrump) April 8, 2018
If President Obama had crossed his stated Red Line In The Sand, the Syrian disaster would have ended long ago! Animal Assad would have been history!

— Donald J. Trump (@realDonaldTrump) April 8, 2018
A Republican senator responded to Trump's tweets by saying he needs to follow through on his threats to respond to the alleged use of chemical weapons.
"If he doesn't follow through and live up to that tweet, he's going to look weak in the eyes of Russia and Iran so this is a defining moment," Republican Sen. Lindsey Graham of South Carolina told ABC News Chief Global Affairs Correspondent and co-anchor Martha Raddatz on "This Week" Sunday.
"Mr. President, you need to follow through with that tweet, show a resolve that [former president Barack} Obama never did to get this right," Graham said on "This Week."
An adviser to Trump who also appeared on "This Week" said he would take nothing "off the table" in predicting the U.S. response to the alleged chemical attack.
"I wouldn't take anything off the table," White House homeland security and counterterrorism adviser Tom Bossert told Raddatz. "These are horrible photos [from the alleged attack]. We're looking into the attack at this point."
The Trump adviser said the use of chemical weapons is "one of those issues in which every nation, all peoples have all agreed, and have agreed since World War II, that this is an unacceptable practice."
"The president's senior national security cabinet have been talking with him and with each other all throughout the evening and this morning and myself included" about the alleged chemical attack, Bossert said.
In a statement, State Department spokesperson Heather Nauert said reports from "a number of contacts and medical personnel on the ground indicate a potentially high number of casualties, including among families hiding in shelters."
"These reports, if confirmed, are horrifying and demand an immediate response by the international community," the statement read.