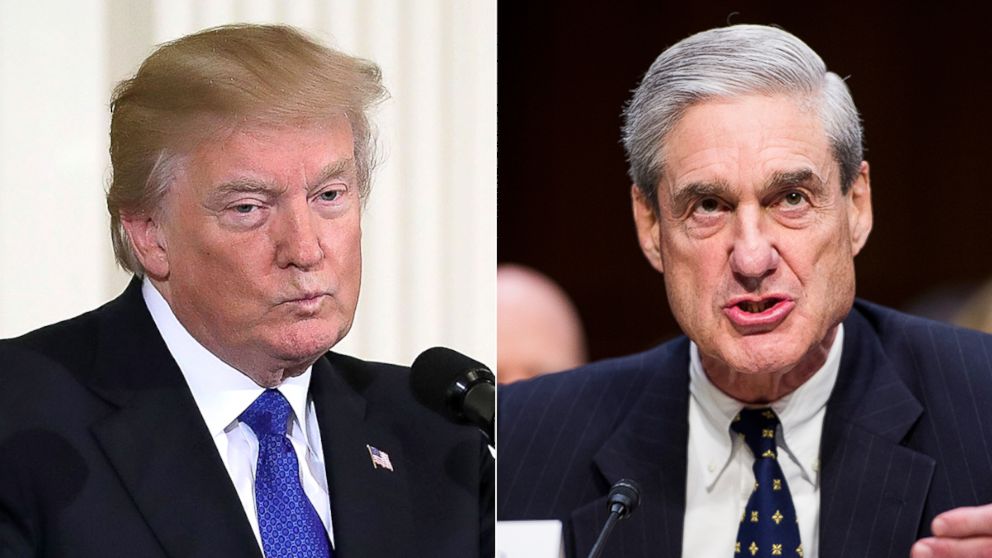 President Trump says he is "looking forward" to speaking with Special Counsel Robert Mueller and would be willing to do so under oath.
Interested in
Russia Investigation?
Add Russia Investigation as an interest to stay up to date on the latest Russia Investigation news, video, and analysis from ABC News.
Trump made the comments during an impromptu gaggle with reporters in the White House West Wing on Wednesday. He added that his lawyers would have to work out the details on a sit-down with Mueller and that there's no date set, adding that it could happen "in two or three weeks."
"I'm looking forward to it actually. Just so you understand. There's been no collusion whatsoever. There's no obstruction whatsoever. And I'm looking forward to it," Trump said, responding to a question from ABC News' Jonathan Karl.
"I would love to do that," Trump added. "I'd like to do it as soon as possible."
White House Special Counsel Ty Cobb later qualified the president's remarks, telling ABC News that Trump was speaking hurriedly before departing for Davos and that arrangements are still being worked out between Mueller's team and the president's lawyers. He also said the president remains committed to cooperating with the investigation and is looking forward to speaking with Mueller.
The president's lawyers began meeting with Mueller's team in December and have been discussing how the president would respond to the special counsel's questions, including the possibility of sending questions in writing. Sources familiar with the meeting said earlier this month that Mueller wanted to speak with the president directly.
Until today the president had not fully committed to an interview with Mueller under oath, saying two weeks ago that it was "unlikely."
"Certainly I'll see what happens," Trump said when asked about Mueller during a news conference with the Norwegian Prime Minister on Jan. 10, "but when they have no collusion and nobody has found any collusion at any level, it seems unlikely that you'd even have an interview."
This is a developing story and will be updated.