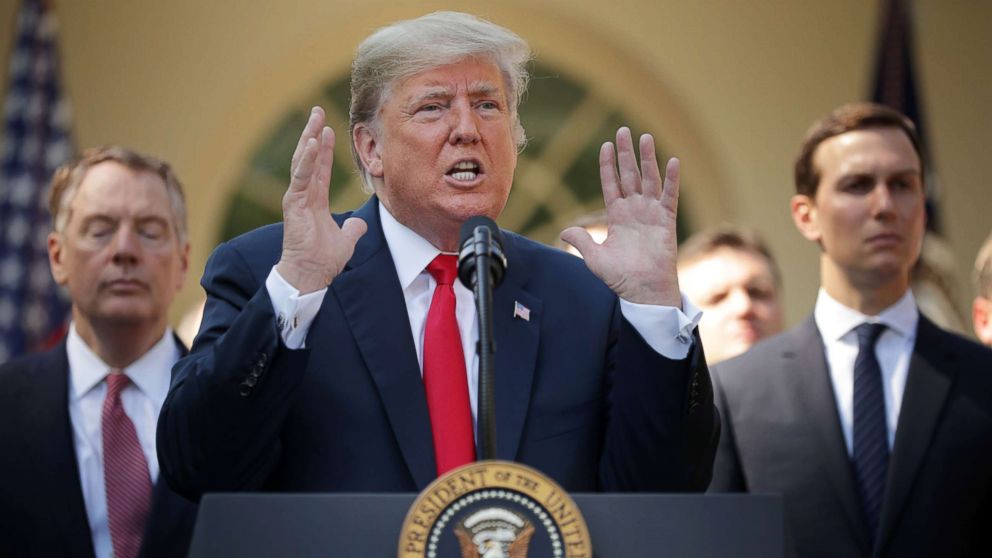 President Donald Trump referred to his sobriety as one of his "only good traits" on Monday, but that's not a good thing, according to Jimmy Kimmel.
"I'm not a drinker. I can honestly say I've not had a beer in my life. That's one of my only good traits. I don't drink," Trump told reporters Monday. "I've never had alcohol, you know, for whatever reason. Can you imagine if I had what a mess I'd be?"
Trump claimed he'd "be the world's worst" if he was a drinker, but Kimmel said he's willing to take his chances on a drunk Trump.
"I don't know. Maybe he'd be better. It's worth a shot," Kimmel said on "Live" Monday. "By the way, I feel like it's worth mentioning that this guy who has never had a drink in his life once had his own brand of vodka with his name on it.
"That's kind of all you need to know about him," he added.
The president made the comments on Monday while answering questions about Supreme Court nominee Brett Kavanaugh's Senate testimony last week.
"I was surprised at how vocal he was about the fact that he likes beer," Trump said. "He's had a little bit of difficulty. I mean, he talked about things that happened when he drank. This is not a man that said alcohol was absent."
Highlighting Kavanaugh's ability to "surprise" the president, Kimmel said he's heard all he needs to know.
"After the Kavanaugh hearing last week, it was really hard to enjoy a beer this weekend," he said. "Imagine being so off the rails, you even surprised Donald Trump with something," Kimmel said.