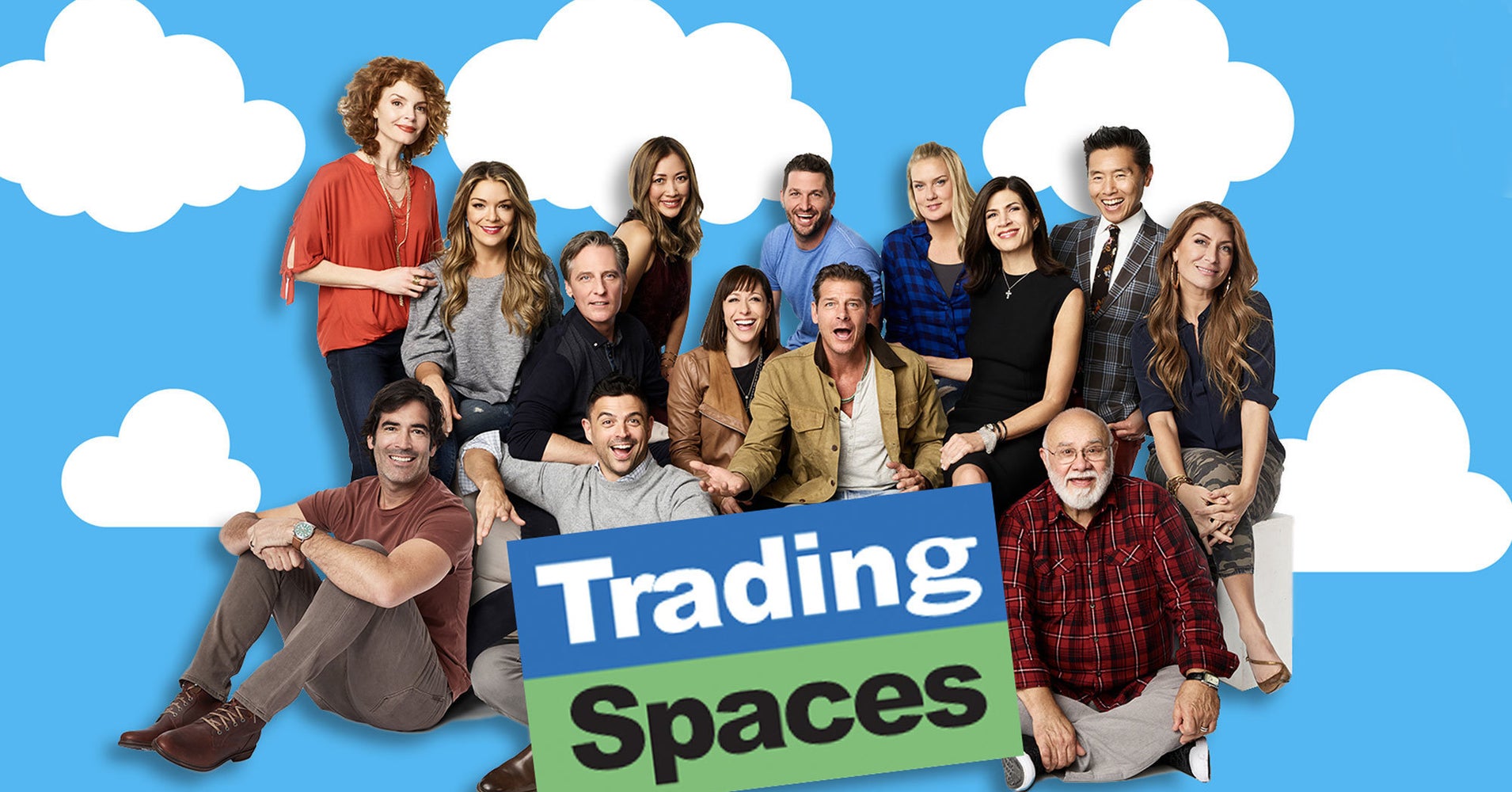 In the premiere episode of the revived "Trading Spaces," homeowner Michele and her husband, clad in matching red button-down shirts, stare blankly at designer Hildi Santo-Tomas as she explains the art concept for the guest room of Michele's sister and next-door neighbor, Melissa.
The design will be penguin-inspired, Santo-Tomas declares, so she wants her team to hand paint a "deconstructed penguin" mural on the room's walls and ceiling. One wall, however, will be covered in mirrors, creating a kaleidoscope effect ― abstract penguin parts everywhere.
Michele's eyes light up, unfortunately out of fear and not excitement.
If you're a former fan of TLC's "Trading Spaces," this scenario is tantalizingly familiar. Santo-Tomas was one of the more ornery designers featured on the original home improvement reality series, which returns this weekend after a decade off the air. In an era of television dominated by reboots, TLC decided to resurrect the beloved "Trading Spaces." Its simple premise remains intact: a pair of neighbors fix up one room in each other's homes with the help of a designer, carpenter and returning host Paige Davis. They have two days and $2,000 (twice the budget of the original show) to pull it off without tears.
Or in the case of Santo-Tomas, who once glued straw onto the walls of someone's living room, with many, many tears.
Drama tends to weave its way into "Trading Spaces," separating the series from other, tamer home improvement reality shows. Take, for example, "Fixer Upper," a show that pretty much guaranteed each happy new homeowner would walk away from the show with a Joanna Gaines-certified farmhouse design.
"We promise a happy ending," general manager of HGTV programming Allison Page told HuffPost. "You know if you're coming to HGTV they're going to find a house, make it beautiful."
TLC's "Trading Spaces" gives its participants no guarantee. Although the channel is owned by the same network as HGTV (Discovery), the show departs in several ways from the usual renovation fare. Instead of providing a top-to-bottom rework like most other shows, "Trading Spaces" stakes claim to only one room, often of utmost importance to its owners. And instead of allowing the actual homeowners to wince and "wow!" at pre-approved designs, the various designers go forth and renovate on theme without their explicit permission. (Sure, neighbors can advocate against truly heinous decisions, but does that ever really stop Hildi Santo-Tomas?) The show simply hopes everyone will be satisfied with their respective finished products. It hopes that the interventions won't amount to a breakdown of next-door relations.
Needless to say, the show's hopes are not always well-founded.
One of the most infamous "they hated it" moments came in Season 2, Episode 21, after designer Doug Wilson opted to cover up a brick fireplace that a homeowner explicitly requested be left untouched in her contract. Rather than taking a beat to realize the structure Wilson had erected could be removed, the woman slowly left the room upon reveal and began to cry.
"She's not happy," her disappointed husband told host Davis, as his wife's audible sobs could be heard on her live mic. "She's really not happy." 
"Is there anything that you can see in the room to fix certain elements of it to make it better for the two of you?" Davis asks. 

"I don't even know where to start. I mean, I see one piece of furniture that looks remotely like the way I left it, and the rest of it is just so not us," the husband responds. 
Wilson, for his part, explained the dilemma on the Build Series this week.
"If you break the room down, the facade that I put around it was tongue and groove. I put in wainscot that matched the wainscot in her house," he said. 
"What I'll say in her defense is, homeowners are allowed when they come on 'Trading Spaces' to protect certain items in their home… she wanted to protect that brick [fireplace]," Davis explained in the same Build interview. "So when she opened her eyes and saw to her eyes that that brick was gone, [but it was] completely safe underneath, she was so angry that she actually thought we had broken the contract. That's why she says, 'You guys will be fixing that in a little bit.' But we actually didn't break the contract, and we didn't fix it." 
Fellow designer Genevieve Gorder chimed in to add "control issues are real … they really have to let go to have a good time." 
In actuality, the show does not remedy any disliked renovation. Once the room is done, it's the homeowners who are left to either embrace their sometimes wacky space or immediately redo it. And remember: these are people's actual homes and living spaces ― not some house they bought to flip and sell a few months down the road. They're stuck with the results of the design, even if there's sand on the floor, flowers on the bathroom wall or furniture on the ceiling. 
"It's very real, that risk," Davis said. "If we told them, 'Oh, don't worry, if you don't like it we'll put it back or fix it,' well there'd be absolutely no jeopardy whatsoever."
That risk is half the fun of "Trading Spaces." Viewers know there's a real possibility that couples won't like their new room and that each episode could end in heartbreak, unlike the perpetual happy endings of "Fixer Upper" or "House Hunters."
Drama is surely built into "Trading Spaces," thanks to the designers' stick-to-their-guns method. "I always approach this show half-design, half-entertainment and try to find a blend to make that work," Wilson said. "We take it on ourselves to spice things up a bit and push the envelope so people can experience something new." 
But Davis insists there's "no agenda or planned-out thing." Any tension apparent during a reveal is organic. Gorder, for her part, understands the upset of certain homeowners.
"It's people's most intimate space," Gorder said. "And just a slight tweak off what they thought they wanted can send someone into a mad spiral. If there's a little bit of a mental off-ness, it gets even more wild and wonderful! We don't make that [up]. "  
When Michele's sister, in her opposing blue garb, returned home to a penguin-themed room in the premiere episode on Saturday, she looked bewildered. "Oh my God," she says, gasping. "This is insane." 
After taking in the room a bit more, Melissa ― and her equally shocked husband ― uneasily react. "The paint is going to grow on me, but I love that they…" Melissa says through tears. "It's shocking, but at the same time I love how much went into it." 
And therein lies the beauty of "Trading Spaces." Like any good neighbor/sister, Melissa tries to make the best of her avian disaster, despite its obvious horror, but her genuine displeasure flows forth for the camera anyway. There's a formula to this TLC gem, but it can't ever quite contain the raw reactions of a televised Hildi Santo-Tomas victim.