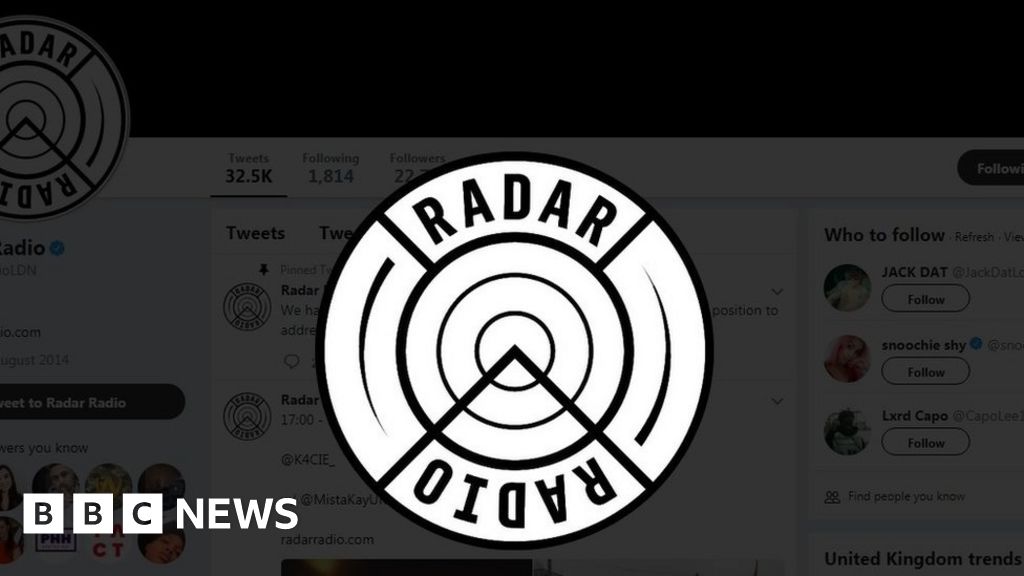 Online radio station Radar Radio has suspended broadcasting after allegations of mistreatment and exploitation of its staff.
The London-based station is seen as a breeding ground for the next generation of musicians and broadcasters.
Several DJs cut ties with Radar in response to claims of sexual harassment, racism and homophobia.
The station says it will be off air until it's "in a position" to respond to the recent allegations.
Radar Radio, which describes itself as "the next generation of radio", is known for its shows highlighting both new and established musical talent. Past guests have included Cardi B, M.I.A, and JME.
Pxssy Palace, a DJ collective which had a show on Radar, was one of the first to release a statement about its experience with the station.
It cited "a string of disappointing experiences with Radar" – which it says included "allowing the airing of sexist, homophobic and transphobic shows", "organisational racism" indicated by an imbalance in pay and promotion, and "creating an uncomfortable and toxic environment".
Radar Radio, which is owned by Ollie Ashley, the son of Sports Direct owner Mike Ashley, responded to Pxssy Palace's claims in a statement that was published on its blog last Friday.
"We were very concerned and disappointed to see the statement from Pxssy Palace suggesting that we are getting some important aspects wrong.
"We don't agree with all the opinions in that statement but like most organisations we know we are capable of making mistakes and have to be vigilant to maintain standards."
However, more allegations against the radio station surfaced when a person claiming to be a former employee released an anonymous blog post regarding her mistreatment at Radar Radio.
She told Newsbeat: "There was a producer who grabbed my bum when I was out at a club one night."
She also claims that the harassment continued in the office.
When she wrote about the experience on social media, she claims a manager told her "it's just boys being boys" and "either tell a manager or stay silent on the topic".
She says she was told to sign a confidentiality agreement, but has now decided to speak out.
"I've heard conversations of Radar staff behind the scenes saying very misogynistic things, very homophobic things, very very racist things – and it's like, you wouldn't have a platform if it wasn't for black people.
"The idea that young white men can come in, use this platform that's built off the back of grime and have racist views at the same time is really really messed up."
The allegations appear to have caused a wave of Radar Radio DJs to leave their radio shows.
Amongst those who have left the station are Cheyenne 'Snoochie Shy' Davide, Chidera 'The Slumflower' Eggerue, and DJ P Montana.
Breakfast show presenter Snoochie Shy tweeted: "I am deeply saddened by the recent news regarding Radar Radio."
"Unfortunately, due to these views being so far removed from my own, this has left me with no choice but to step down as host of the breakfast show."
Radar celebrated its third birthday at the end of 2017.
The station is yet to respond to numerous requests for comment from Newsbeat.
Follow Newsbeat on Instagram, Facebook and Twitter.
Listen to Newsbeat live at 12:45 and 17:45 every weekday on BBC Radio 1 and 1Xtra – if you miss us you can listen back here.