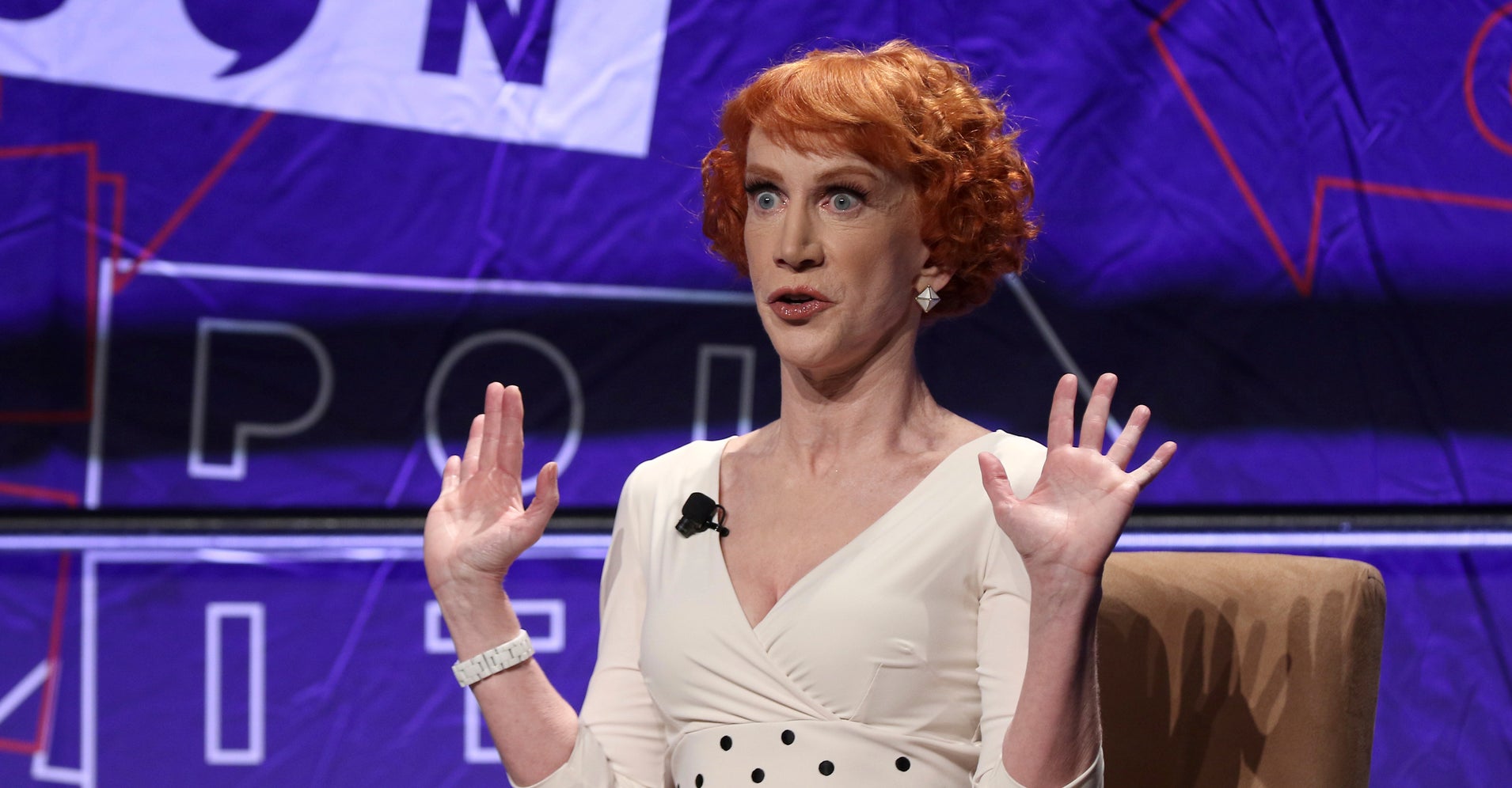 Fox News commentator Tomi Lahren and comedian Kathy Griffin presented the Halloween episode of their feud on Wednesday after the conservative pundit posted a photo of herself dressed as Kathy Griffin, recreating the controversial photo in which the comedian posed with a fake, bloodied head of Donald Trump.
In Lahren's photo, in which she wore a red wig, she used a scary clown's head instead of the president's. On Instagram, she said: "He ruined me. Sometimes I do things and you may wonder, Kathy, where is your head at? Well folks, I'm taking matters into my own hands. Yes, some may say I am looking more and more like Ronald McDonald by the day and you're not wrong. BUT I will stand here with my head held high! Happy Halloween from all of us infected with Trump Derangement Syndrome! MAGA!"
Lahren also posted the photo on Twitter simply saying, "Trump Derangement Syndrome. Happy Halloween."
The posts didn't escape Griffin's notice — after all, she was tagged in them. And the sharp-tongued comedian had a drop-the-mic comeback.
She tweeted: "Gosh you are just so original @TomiLahren! I thought images like this one incite violence! At least that's what you and your colleagues at @FoxNews have told me for the past year and a half. I'm busy on tour right now or I'd dress up as you: a dumb, racist, and talentless hack."
Gosh you are just so original @TomiLahren! I thought images like this one incite violence! At least that's what you and your colleagues at @FoxNews have told me for the past year and a half. I'm busy on tour right now or I'd dress up as you: a dumb, racist, and talentless hack. https://t.co/GCR8C2vYkA

— Kathy Griffin (@kathygriffin) October 31, 2018
Lahren responded: "You're right Kathy, if I was trying to impersonate you I should have worn the clown mask instead. That's my bad! Happy Halloween! Xoxo"
You're right Kathy, if I was trying to impersonate you I should have worn the clown mask instead. That's my bad! Happy Halloween! Xoxo https://t.co/LLacLMXzRY

— Tomi Lahren (@TomiLahren) October 31, 2018
Oh don't worry, I'll defend Kathy Griffin's 1st Amendment right to make herself look like the demented a-hole she is! ????#KathyGriffin

— Tomi Lahren (@TomiLahren) May 30, 2017
"Sit down, Michelle" @TomiLahren says….

Oh really you dime store Barbie?

Mrs. Obama may go high, but I certainly won't. Go fuck yourself, Tomi. You evil, horrible shell of a human being. https://t.co/itEn9Q0Paq

— Kathy Griffin (@kathygriffin) September 24, 2018
http://platform.twitter.com/widgets.js