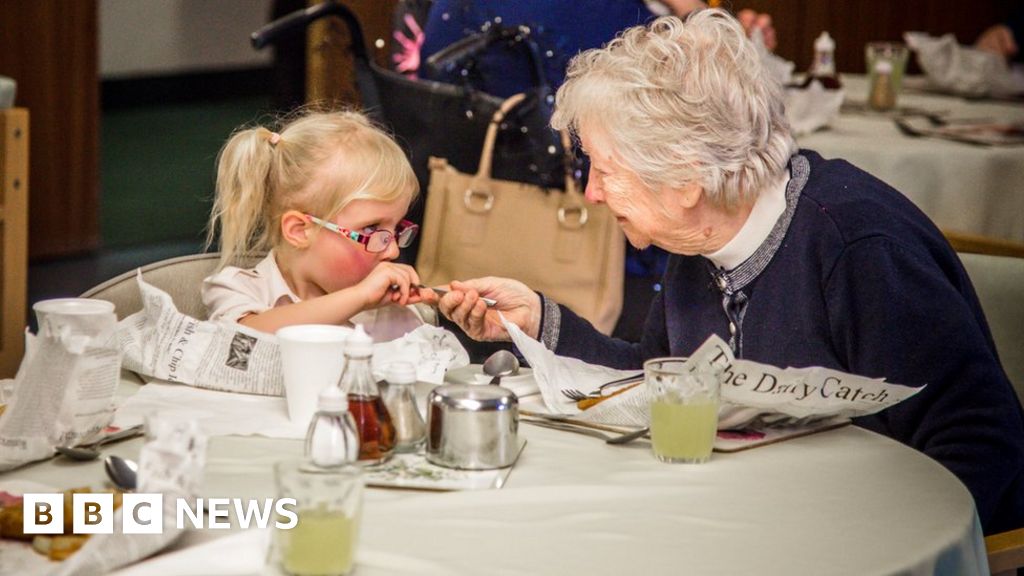 "It's a cruel disease", Sian Hanley said. Her mother, Mo, is one of a group of dementia patients taking part in a unique experiment in Conwy.
Mo, 83, and other patients at a day-care centre in Colwyn Bay spent three days with toddlers to test the potential for restoring memory.
Experts at Bangor University hope their observations could transform lives.
An estimated 45,000 people have dementia in Wales.
The condition has overtaken heart disease as the leading cause of death in Wales and England.
Geraint Ellis, a senior care assistant at the centre, said people spent their lives putting a picture together.
"It's like you've got your puzzle in front of you and you're adding your friends and your family.
"And then dementia comes along and it doesn't really discriminate and it just starts taking your pieces, and bits are missing and bits aren't there anymore."
Bringing older dementia patients and children together has been done before, but the psychologists and dementia experts at Bangor University hope their selected tasks can help restore memory loss.
Cake-making, singing and exercise were among the group activities.
Three year old Arianwen was among the children from a local nursery who took part in the experiment. Her grandfather had dementia, and her mother, Lowri, said the impact of children on dementia patients was "indisputable".
"It is really profound. People who are living with dementia are going to get so much out of this."
Prof Bob Woods, a psychologist at Bangor University, said: "What we want to do is to change the environment, so that they can engage, they can interact without failure.
"And in that way we can draw on the rich vein of expertise and experience and knowledge that's still there."
Spotting the signs of dementia
Finding it hard to follow conversations or programmes on TV
Forgetting the names of friends or everyday objects
Cannot recall things you have heard, seen or read
Feeling anxious, depressed or angry
Finding that other people start to notice or comment on your memory loss
Interaction and friendships are not easy for all of the patients. Prof Bob Woods said the research was ongoing, but that the children had made the real difference:
"They've given us all a new perspective, a new view on dementia. It's really important to see the person behind the diagnosis."
The Toddlers Who Took on Dementia is on BBC One Wales, 21:00 BST on Wednesday and then available on BBC iPlayer.