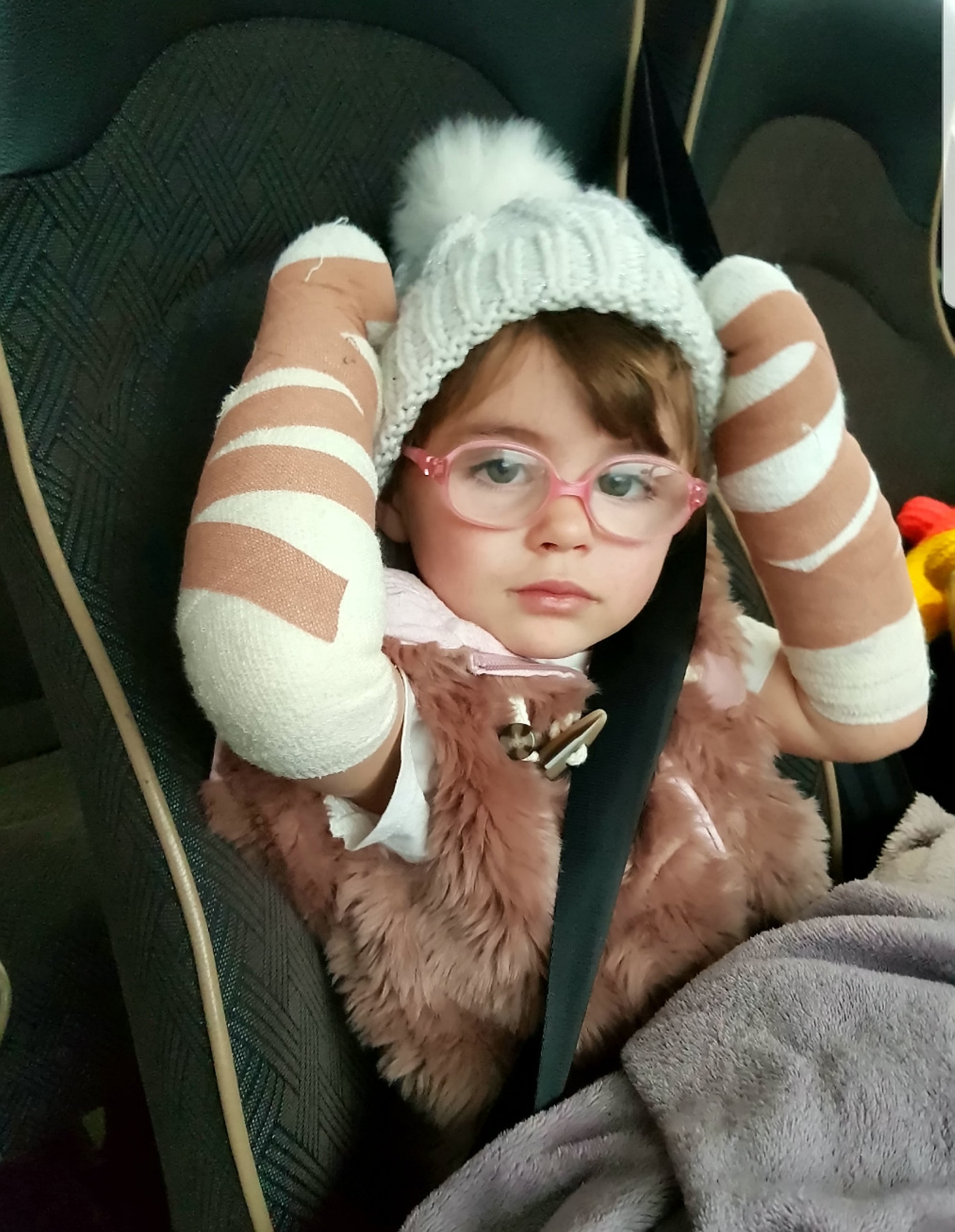 WARNING: GRAPHIC PHOTO BELOW
A 2-year-old girl who attempted to save her twin sister's Minnie Mouse toy from a candle flame is recovering from third-degree burns on her hands and arms after her limbs caught on fire. Rosie-Faye Yeadon, of West Yorkshire, was "just trying to be a good sister," her mom, Boe Mitchell, told SWNS.
"I turned my back for two minutes and ran back to the room when I heard the girls screaming," Mitchell, 29, told the news outlet. "Rosie's hands were burned and all I could see was smoke [coming] from her hands, I picked her up and ran to the kitchen to run her hands under cold water."
AMERICANS MORE LIKELY TO DIE OF OPIOID OVERDOSE THAN CAR CRASH
Rosie was rushed to Pinderfields Hospital where she was given morphine for the pain.
Mitchell said Rosie's twin, Poppy Mai, and their older brother, Kenzie, were not injured in the November accident, but that her 9-year-old son, Ayden, is seeing a therapist over Rosie's injuries.
MOM WHOSE SEARCH FOR BONE MARROW DONOR WENT VIRAL WHILE PREGNANT GETS TRANSPLANT
"Ayden took it the hardest out of the boys, he blamed himself for being upstairs and not being there to help his baby sister," she told SWNS.
Mitchell said she is unsure if the scarring on Rosie's limbs is permanent, but that the toddler is now nervous around heated objects. Mitchell is using the family's traumatic experience to help raise awareness about the dangers of everyday household objects around children.
CLICK HERE TO GET THE FOX NEWS APP
"Going to the hospital various times and seeing Rosie in so much pain is worth trying to save another little child because it's not easy to watch your child go through something which could've been changed," Mitchell, who has vowed not to buy candles anymore, said.