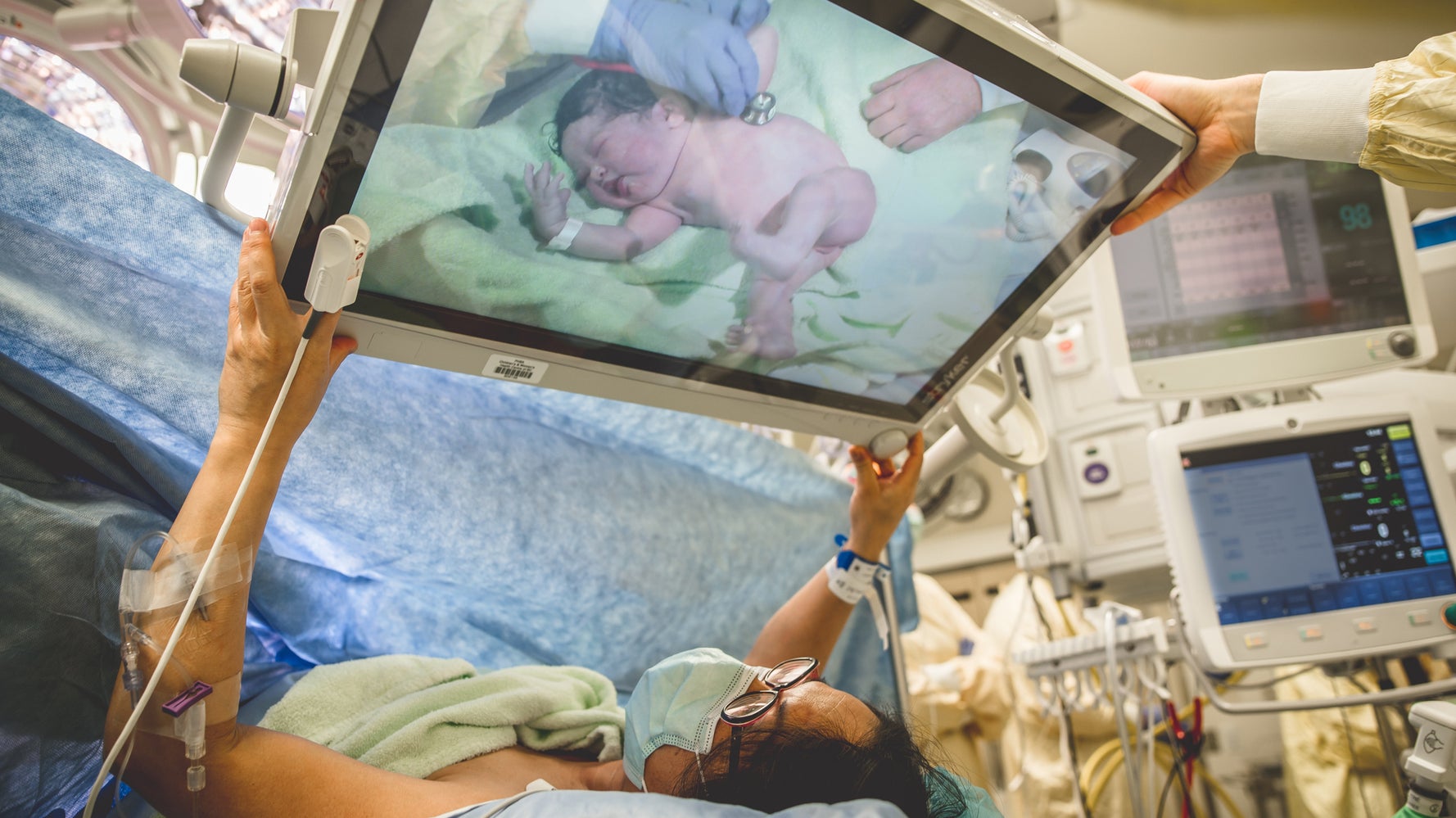 For years, more than 30% of babies born in the United States every year have come into the world via cesarean delivery. That number gets tossed around frequently when medical experts squabble over whether that percentage is too high and question whether patients are getting C-sections for the "right" reasons.
Of course, there are important questions about when and why C-sections are performed, and to what extent they improve outcomes. But unfortunately, the debate is so often twisted in parenting media and on social media that vaginal birth is perceived as the default — or "natural" birth — while cesarean delivery is still seen as somehow other.
That can leave the millions of Americans who deliver their babies via C-section feeling, at best, conflicted about their deliveries, if not outright convinced they missed out on the "correct" way to have a baby.
This could not be further from the truth. Yes, some people do experience trauma related to their C-sections — just as they experience trauma over their vaginal deliveries — but birth is birth. Every delivery is personal and sacred. And bringing a human into the world via C-section is every bit as awesome as giving birth any other way.
In honor of that and Cesarean Awareness Month, HuffPost Parents reached out to some of our favorite birth photographers and asked them to share some of their favorite photos that capture the awesome beauty and power of C-section deliveries.
"Despite the fear and uncertainty flooding this mama as she is wheeled into an emergency C-section, she couldn't help but smile as she realizes she's about to meet her baby."
"This cesarean birth was in March 2020, just days before the hospitals shut out all doulas and birth photographers [because of COVID-19]. Her baby was in a breech position and a cesarean birth was scheduled."
"I think of this as a 'see-section.' This is an incredible use of technology, so mom can be involved in all aspects of her baby's birth — and the first exam — that she normally wouldn't be able to see."
"This mom had 20 blissful minutes of snuggles and eye contact before the nurses took her baby to be diapered, weighed and measured. Then the baby was immediately returned to mom so they could travel to the recovery room together."
"This is one of my favorite cesarean images. It reminds me of the resilience of partnership, and the need to adapt together."
"This was the first cesarean I was allowed to photograph, and it was a beautiful, family-centered cesarean. That day I learned the beauty and love that can surround a surgical birth."
"This is a shot I took as a mother was face-timing her husband, who was in the nursery while the baby was being observed."
"I had the honor of witnessing this beautiful C-section birth, where the parents were fully supported by their midwife team after discovering the baby was breech."
"This mama ended up with an emergency C-section, and neither the dad nor I were allowed into the OR. Since she was under general anesthetic, the baby was brought out to meet his daddy. It was the sweetest thing, and they snuggled and bonded until mama was awake and able to meet her son. This family was the sweetest, and both parents were so strong."
"This image may be too much for some, but it is real life! It is messy — and so is all birth, belly or vaginal."
"There is a stereotype about C-section births, that it was a choice or that mamas 'can't hang.' I had my own baby in my living room, and I can tell you: C-section mamas have it a million times harder. They are unshakably brave."
"This was a twin C-section birth because Baby A was breech. They had a long journey to parenthood, and these little guys were the reward after a grueling IVF process. It was the most joyous C-section I've ever attended — an absolute birth party."
"This beautiful mama was determined to have a VBAC [vaginal birth after cesarean], but despite all of her efforts, she had a cesarean birth."
"After a long hard labor and an emergency C-section, this mom was finally holding her baby, looking into her partner's eyes, and realizing … she did it."
"It is so incredibly empowering to look back and see yourself [giving birth] and see how truly amazing your body is."
"The look of excitement after meeting your baby after seven years of trying, and a three-day long induction and cesarean birth."
"Due to a unique set of circumstances, which included an extraordinarily large OR, this mom was able to have her partner, her mother and two birth photographers present with her during the birth and through recovery. She had such respect from each and every provider. It was a real testament to what family-centered cesareans can actually be like."
All captions have been edited and condensed.
");
if ( "replace" === "insertBefore" || "replace" === "replace" ) {
$yahooDiv.insertBefore(".js-bottom-most-shared .card.recirc__item:eq(1)");
if ( "replace" === "replace" ) {
window.__yahooFlurry.addToCleanup("50b9b9b4-1f4f-4c41-94e8-dc7e6dd30814", "polar-gemini-most-shared", $(".js-bottom-most-shared .card.recirc__item:eq(1)")[0].outerHTML);
$(".js-bottom-most-shared .card.recirc__item:eq(1)").remove();
}
} else {
$yahooDiv.insertAfter(".js-bottom-most-shared .card.recirc__item:eq(1)");
}
window.__yahooFlurry.ready("50b9b9b4-1f4f-4c41-94e8-dc7e6dd30814");
});

");
if ( "replace" === "insertBefore" || "replace" === "replace" ) {
$yahooDiv.insertBefore(".js-bottom-trending .card.recirc__item:eq(1)");
if ( "replace" === "replace" ) {
window.__yahooFlurry.addToCleanup("2e63d6ca-115c-4d45-8b46-bdb10c4f0a97", "polar-gemini-whats-hot-2", $(".js-bottom-trending .card.recirc__item:eq(1)")[0].outerHTML);
$(".js-bottom-trending .card.recirc__item:eq(1)").remove();
}
} else {
$yahooDiv.insertAfter(".js-bottom-trending .card.recirc__item:eq(1)");
}
window.__yahooFlurry.ready("2e63d6ca-115c-4d45-8b46-bdb10c4f0a97");
});