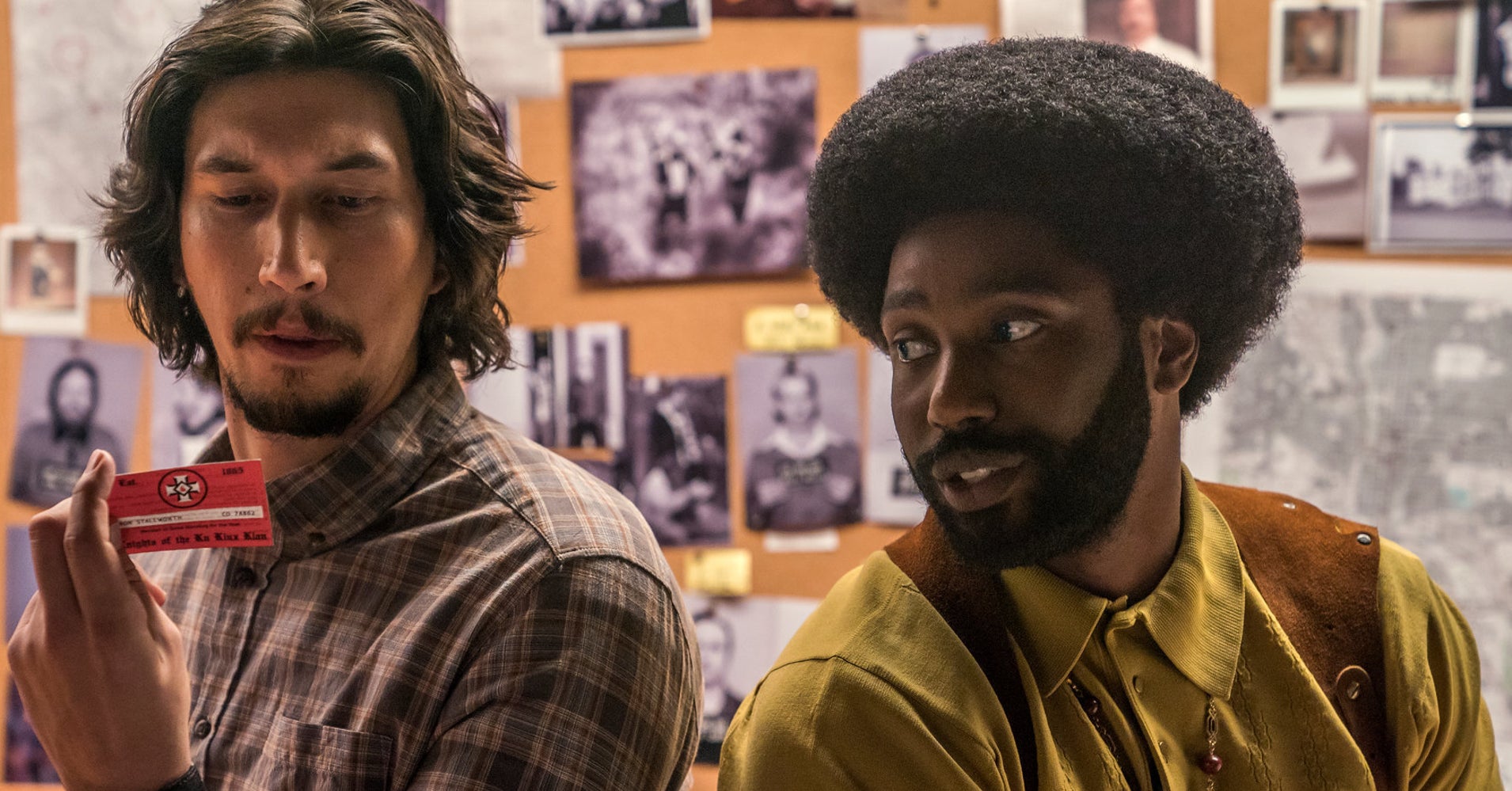 "BlacKkKlansman" opens with the memorable "Gone With the Wind" scene in which Scarlett O'Hara barrels through dusty wounded soldiers — a sweeping overhead shot that pans out to reveal a fluttering Confederate flag. It's a cunning introduction to a story that will later find a Ku Klux Klan chapter hollering in ecstasy at "The Birth of a Nation," the other most famously racist American film. If early 20th century Hollywood stoked the nation's demons, perhaps its early 21st century upgrade can mend them.
Should anyone be worthy of attempting that lofty feat, surely it's Spike Lee. "BlacKkKlansman" is the indie pioneer's best movie in years, charting a fierce contention between today's racial upheaval and that of the 1970s. He does so with Ron Stallworth (portrayed by John David Washington, son of Denzel) as a lodestar. At a time when black militants are lashing out against "pigs," Ron becomes the first African-American officer hired by the Colorado Springs Police Department. There, he uses white-sounding vernacular — a concept also explored in this summer's excellent "Sorry to Bother You" — to infiltrate the KKK by telephone, later sending his agreeable colleague (Adam Driver) to pose as him so they can prevent a terrorist act the chauvinists are plotting.
"BlacKkKlansman," based on real events chronicled in Stallworth's 2014 memoir, is a big deal: a potential Oscar contender that re-heralds a filmmaker whose unremitting output is sometimes taken for granted. Here, Lee trades the lovable scrappiness of his previous fiction feature, "Chi-Raq," for a more sophisticated accessibility. The movie is full of surprises, both in tone and plot. It's a comedy about race that ends with a searing polemic about recent history. And, like the best of Lee's work, it's steeped in pop culture. If Archie Bunker made bigotry "too uncool," as one character insists, why are we facing such identity-based turmoil? It's because of folks like David Duke — played winningly by a mustachioed Topher Grace — who charm the hell out of the country's limited imagination, inciting violence that far more people should have known not to ask for. ― Matthew Jacobs
Missy Elliott's Funky White Sister
The first time you watch the 58 seconds of perfection embedded above these words, what stands out will no doubt be Mrs. Funky White Sister's voice, slightly raspy and so eerily similar to Melissa McCarthy's. Upon second listen, maybe you'll take the appropriate amount of time to appreciate the dancing woman in the background and the way she really revs up and walks out of the frame after taking that absolutely delicious-looking bite. The third time, perhaps it will be what looks an awful like a shofar in Funky White Sister's right hand??? The fourth, let it be that red car in the background that seemingly every parent suddenly has these days for some reason. The fifth, focus in on the elephant noise Funky White Sister uses to avoid the world "dick." And the sixth, lean back in your chair, take it in collectively and thank whoever it is you thank at moments like this for Cool Cat Karaoke, for it has served us all a small slice of joy. ― Maxwell Strachan
Kathleen Turner's Honestly Angry Interview
I've spent 90 percent of 2018 in a state of anger, pre-anger or anger come down. A lot of women are angry, and for good reason, and yet we're still told directly and indirectly to stuff that rage away, cover it up with a smile and make it palatable for the masses. Kathleen Turner will do no such thing. In an interview with Vulture, the actress gave the most perfect answers to interview questions I've ever read:
What else, aside from luck, has driven your career?
Rage.

What do you mean?
I'm fuckin' angry, man.

About what?
Everything.

Where does that anger come from?
Injustice in the world.
Same, Kathleen. SAME. ― Emma Gray
The Box-Office Battle Of Our Dreams
This week, you can find Dwayne Johnson, Tom Cruise and Jason Statham in a theater near you, all fronting their own action flicks. The Rock is scaling buildings, Cruise is hanging off helicopters and Statham is stalking a humongous prehistoric shark. What a time to be alive. So, take your pick. Would you rather watch "Skyscraper," "Mission: Impossible ― Fallout" or "The Meg"? Or, better yet, let's play a round of Fuck, Marry, Kill. GO! ― Leigh Blickley
All The Bad Reviews Of Netflix's "Insatiable"
I don't relish the existence of bad art per se, but given that it continues to be created ― in staggering volumes ― I will cop to taking immense pleasure in an all-out hatchet job. This week, we were blessed with not just one but a bumper crop of them.
Recently, Netflix released a trailer for a campy dramedy, 'Insatiable,' starring slender actress Debby Ryan as a fat high schooler who becomes skinny and hot after getting punched and having her jaw wired shut all summer. The concept, and the trailer, drew widespread criticism for its fat-shaming, pro-starvation diet messages, but the creators urged us to wait for the full season.
Guys … thank you. ― Claire Fallon
This Combative Tweet
This poses an important question I find crossing my mind frequently. People love to try it. They pop shit. They belittle you. They come at you sideways. When this happens, I always wonder if they can fight. If you can't fight, why you got so much to say? And if you can fight, why you got so much to say when you could just swing?
I'm a fairly angry person. I'm always mad about something. So as someone who is easily slighted, I find myself wondering if the people who try it can fight.
That's my only real reason for finding comfort in this tweet. It's just a mood. ― Julia Craven
When Baker Mayfield Didn't Know Bob Evans Was A Chain Restaurant
In the season premiere of "Hard Knocks," Baker Mayfield, the No. 1 pick in the 2018 NFL draft, the guy who's going to try to turn the Cleveland Browns franchise around, admits that he didn't know Bob Evans was a chain restaurant.
"I didn't know Bob Evans was a chain. I highly suggest it if you're going to go eat down there."
A Show Exploring the Ultimate in Luxury Shopping
Bloomberg reporter (and former HuffPoster) Kim Bhasin announced Friday he's hosting a new show all about luxury shopping. "Invitation Only," which starts Aug. 14, will show Bhasin shopping for the richest goods in the most exclusive places, basically living out the most opulent scenes from "Crazy Rich Asians." It sounds a little like Viceland's "Most Expensivest" ― which is also good shit ― but with the direction of a reporter who's an expert in the business of fashion. ― Paige Lavender
This Epic 'Pride and Prejudice' Burn
This week there's nothing I love more than this mashup of a classic scene from Simon Langton's "Pride and Prejudice" and Lil Jon's equally classic song "Turn Down for What." In this memorable moment of the film, Elizabeth Bennet responds to Mr. Darcy's post-rejection surliness by setting the record straight ― or as one internet commenter described it, she "slam dunks Mr. Darcy." It really was only a matter of time before somebody set Little Jon's track to this scene, but even though I knew what to expect, it killed me anyways. ― Anna Krakowsky
Not Being On Twitter
I'm currently trying to finish a piece that I've been working on for a while, and I decided that now would be a good opportunity for a little Twitter break, at least until I finally finish. The logic here is that Twitter makes me mad all the time, and being mad is incredibly distracting. I decided, then, to give my password to a trusted friend so that he might change it, making it impossible for me to check Twitter even if I wanted to. I then made a big show of being offline. And yet — the truth is that because I had not actively logged out of the app on my phone, I was still able to access my account that way. I lied, and I am, I suppose, sort of sorry for that.
When I inevitably got mad enough at a bad tweet to end the facade a few hours later, I tweeted and got rightfully yelled at by this friend and also by my editor. The yelling didn't bother me, but the personal shame of not having enough self-control to not look at that stupid fucking website for even a day has finally taken over. I've logged out of the app on my phone. I am unable to tweet or check my notifications. I am free, and it feels absolutely terrible. This is probably good, I guess. ― Ashley Feinberg
http://platform.twitter.com/widgets.js