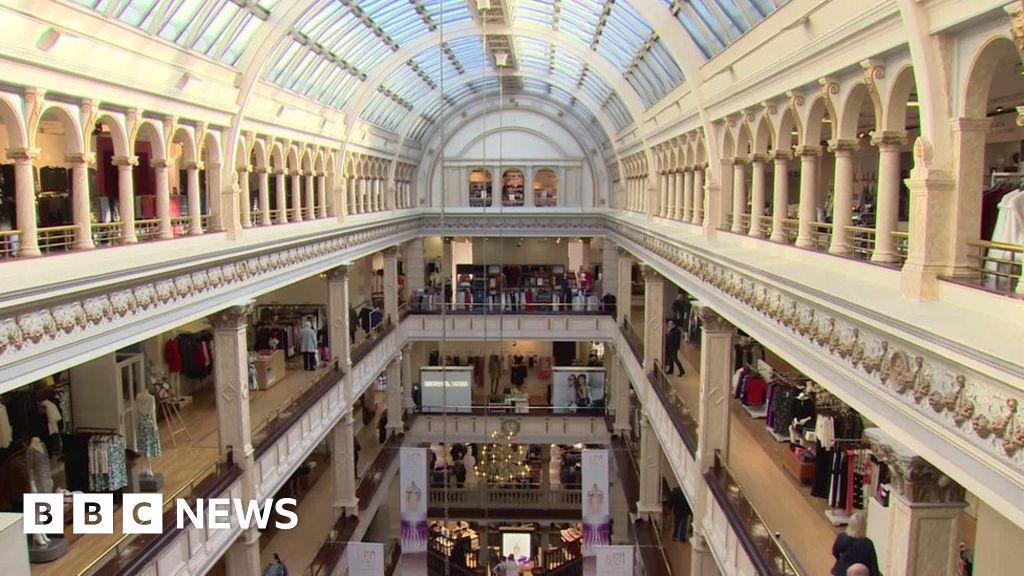 It all began with one shop in the centre of Glasgow almost 170 years ago but at its height it became a retail empire with more than 100 department stores, including one of the most famous in the world.
Luxury London store Harrods was added to the House of Fraser in 1959, when Hugh Fraser III outbid Debenhams to take control of the iconic name.
Around the same time, Fraser also acquired other big names in major cities such as Kendals in Manchester and Rackhams in Birmingham.
On his death in 1966, his son, also called Hugh, continued its expansion by buying out more than 50 companies.
But the playboy retailer's lifestyle finally caught up with him in the late 1970s when he was found to have been selling stocks to fund his gambling addiction.
In 1985, the Fraser dynasty came to an end as the group fell into the hands of Mohamed Al Fayed.
Thirty years later the House of Fraser is a still a huge name in British retail, with 59 stores in high streets and shopping malls across the UK and Ireland.
But like many of the UK's tradition retail giants it is struggling with changing consumer habits, such as the rise of online shopping, and the cost of a huge bricks and mortar business.
It has been bought and sold by a number of companies over the decades and the group lost Harrods when Fayed sold House of Fraser in 1994 but retained the landmark Knightsbridge store.
Its latest new owners plan to close stores as they look to turn around the fortunes of the department store chain, which has fallen on hard times.
During its expansion in the early part of the 20th Century, the group had owned Scottish stores with long pedigrees such as Arnotts, which could be found from Ayr to Fraserburgh, and Bairds, which was in several Lanarkshire towns.
It also owned Falconers in Aberdeen and Benzie and Miller's in Inverness and Elgin.
Almost all of these have closed in the past 20 years and House of Fraser now has just four outlets in Scotland.
For 13 years it has owned Jenners, at the east end of Princes Street in Edinburgh.
But there is also a Frasers at the west end of Princes Street, which was formerly known as Binns.
It would appear to be a strong candidate for closure given the strength of the Jenners brand in the capital.
Jenners also has an outlet at Lomond Shores at the south end of Loch Lomond but the most profitable House of Fraser store is the one where it all started, on Glasgow's Buchanan Street.
On 17 October 1849, James Arthur and Hugh Fraser opened the store on a site that was a former mansion house belonging to Andrew Buchanan, one of Glasgow's most successful merchants.
In its early days Arthur & Fraser was very much a drapery and haberdashery business.
The partnership between Arthur, the conservative accountant, and Fraser, the charming salesman, was dissolved in 1865, with Fraser forming a new partnership with Alexander McLaren.
As business prospered, it eventually took over the magnificent building created in 1885 by another much-loved store, Wylie & Lochhead.
To this day, its elaborate interior makes shopping there a memorable occasion.
The group's main period of expansion began in the 1920s when Hugh Fraser III became managing director at the age of just 21.
Hugh, who later was made Lord Fraser of Allander, kicked off by buying regional store groups Arnott & Co and Robert Simpson & Sons.
In 1948, he renamed the business House Of Fraser and floated it on the London Stock Exchange.
He also bought non-retail businesses including the Glasgow Herald newspaper.
The group's growth continued after Lord Fraser's death in 1966 and by the end of the 70s it had 112 stores and many other businesses.
In the early 90s while it was still owned by Fayed, the House of Fraser opened big new stores in out-of-town shopping centres such as Meadowhall in Sheffield and the Lakeside in Essex.
But under new ownership, a reorganisation led to the closure or selling off of a number of branches.
Further stores, including many in Scotland, went in the early 2000s.
Despite the acquisition of other stores, such as Jenners in Edinburgh in 2005, and further large store openings, the business has struggled to keep up with changing demands.
In 2014, it was bought by a Chinese conglomerate and control has now been taken over by Hamleys toy store and French Connection owner C.banner International.
It has promised a "significant capital injection" for House of Fraser but stores will close and rents will be renegotiated.
However, House of Fraser faces a potentially rocky ride in finalising its restructuring plans.
It is all a long way from a Victorian drapers in the centre of Glasgow.