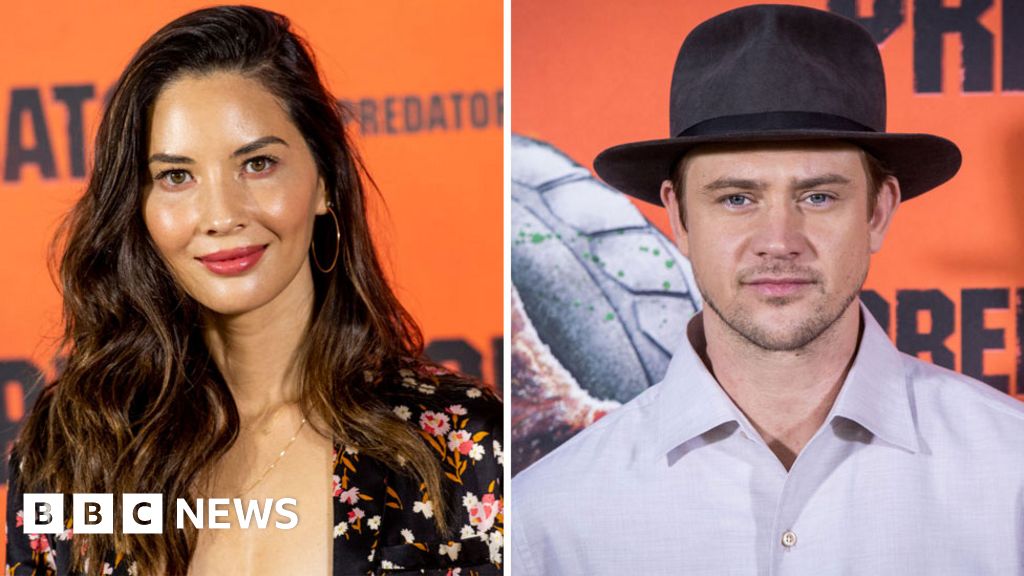 Actor Boyd Holbrook has come forward to support his The Predator castmate Olivia Munn after she said she felt isolated from the film's actors.
Olivia spoke about filming a now-deleted scene opposite Steven Wilder Striegel, who she didn't know was a registered sex offender.
Fox, the studio behind the movie, was also unaware of the actor's background.
Boyd, the movie's lead, has apologised for "coming late" to the conversation in a statement on Instagram.
He said: "I am proud of Olivia for the way that she handled a difficult and alarming situation."
"I do not take any of what has gone on lightly," he wrote.
"I am grateful that Fox took the information seriously and took action swiftly."
Her co-stars backed out of interviews after the news about Wilder Striegel emerged, according to the Hollywood Reporter.
Boyd also addressed that in his social media post.
"It is true that I pulled out of a small amount of press on Saturday, as this type of social commentary is new to me," the actor wrote.
"Given the nature of the originating crime, I felt further discussion could cause unwanted trauma and pain, neither of which I wanted to incite.
"The last thing I want is for Olivia to feel abandoned or alone."
Twentieth Century Fox announced last week that it had cut the scene featuring Steven Wilder Striegel from the movie.
Director Shane Black, who's known Steven for 14 years, said he was "trying to help a friend".
Steven pleaded guilty in 2010 following allegations he had acted inappropriately with a 14-year-old girl, and was put on the sex offenders' list.
In a statement from Fox, the studio said it was "not aware of his background" during casting due to "legal limitations".
Another of Olivia's castmates, Sterling K. Brown, expressed support for her in a series of tweets over the weekend.
"I'm sorry you're feeling so isolated, my dear," he wrote.
"I'm sorry you've been the only one to speak up publicly."
Follow Newsbeat on Instagram, Facebook and Twitter.
Listen to Newsbeat live at 12:45 and 17:45 every weekday on BBC Radio 1 and 1Xtra – if you miss us you can listen back here.
http://platform.twitter.com/widgets.js