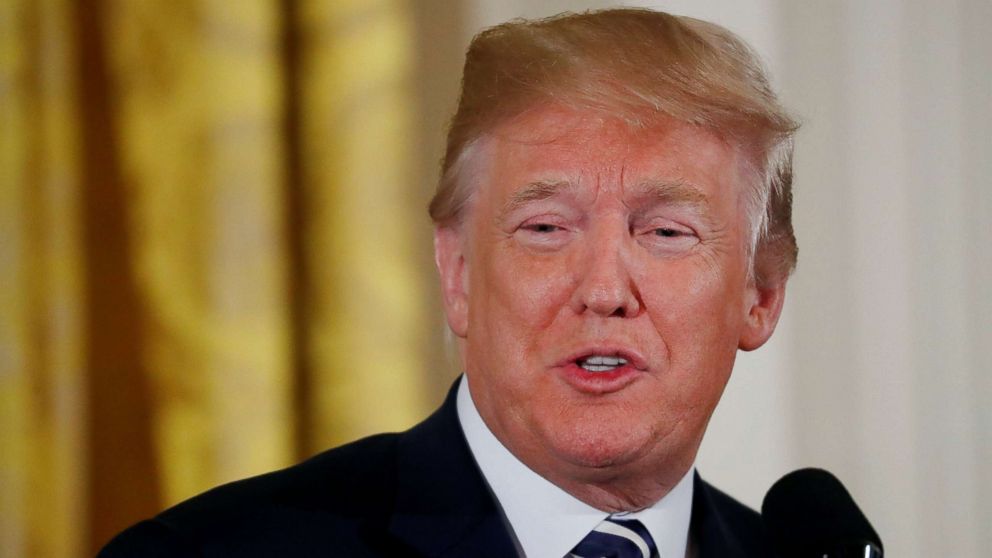 Interested in
The Note?
Add The Note as an interest to stay up to date on the latest The Note news, video, and analysis from ABC News.
The TAKE with Rick Klein
Donald Trump's presidency stands at this moment somewhere between nuclear war and a Nobel Peace Prize – and somehow seems more stable than it's been in a while.
This particular split-screen – stepping toward an agreement with North Korea while bringing Americans home, stepping toward a confrontation with Iran with a fresh warning after ending the nuclear deal – may be united by little beyond the notion that if President Barack Obama did it, his successor wants to do the opposite.
But it's also the fulfillment of a fundamental campaign promise, one based on Trump's instinct: to disrupt. This he is doing, with reverberations felt this week alone from Teheran to Damascus to Pyongyang to Jerusalem.
Even Trump critics will muster credit for the president if the result is a more peaceful world.
That conclusion, though, is not preordained. The pieces Trump is moving on the global stage interact with each other in unpredictable ways – some that may adjust for the president's style, others that may not.
"Overall, we are less safe," retired Gen. Michael Hayden, a former CIA and NSA director, told us on the "Powerhouse Politics" podcast. "We are the most disruptive force in the world today."
The RUNDOWN with MaryAlice Parks
Buried in a barrage of headlines around Iran, North Korea, Russia and the president's longtime personal lawyer's financial accounts, the Senate Intelligence Committee dropped a bombshell report this week — their initial assessment of how the Russians targeted U.S. election infrastructure during the 2016 election.
Perhaps it was fitting that they released the document as voters in four key battleground states went back to the polls.
The fact that the midterm primaries are in full swing, as the president is making good on campaign promises, all serves as a reminder of just how much is at stake in keeping elections secure, how vulnerable the country's systems may still be and how quickly election season is back in the U.S.
In case you missed it, according to the Senate report, at least 18 states "had election systems targeted by Russian-affiliated cyber actors."
The report goes on, "In a small number of states, Russian-affiliated cyber actors were able to gain access to restricted elements of election infrastructure… [and] were in a position to, at a minimum, alter or delete voter registration data."
Perhaps one of the most eye-opening lines in the report: Many state election officials apparently reported hearing about the Russian attempts to penetrate their systems only during public oversight hearings on the Hill, only after the 2016 elections.
The TIP with Mariam Khan
West Virginia Democrat Joe Manchin will not be facing off against ex-coal chief Don Blankenship after all in this year's midterm election.
But on Wednesday — fresh off of his own primary win — the incumbent Democrat told reporters he's not disappointed in Blankenship's loss, nor is he expecting a tougher challenge from the GOP primary winner, state Attorney General Patrick Morrisey.
"I've said this before: Don was truly the only West Virginia conservative Republican in the race. He truly was the only, and I've known him for a long time," Manchin said.
"We've had our differences and we still have our differences. But if you have a look at the record, that was the only truly conservative Republican in the race," he said.
Despite the apparent dig at his Republican opponent, Manchin insists he's going to play nice with Morrisey.
"Pat Morrisey is my opponent and we look forward to a spirited race, and hopefully we talk about the facts and not talk about each other that much," Manchin said.
WHAT YOU NEED TO KNOW
President Trump and first lady Melania welcomed freed prisoners home from North Korea at Joint Base Andrews this morning
The President meets with the Secretary of Agriculture, Sen. Pat Roberts, R-Kan., and Rep. Mike Conaway, R-Texas at 2 p.m.
The President hosts a rally in Elkhart, Indiana, at 7 p.m.
Former President George W. Bush is honored at the Atlantic Council's Distinguished Leadership Awards at 7 p.m.
Former CIA director John Brennan and former Director of National Intelligence James Clapper attend the Aspen Institutes' Security Forum preview at 6 p.m.
Former ABC News White House correspondent Ann Compton moderates a talk on using artificial intelligence to prevent school shootings at the National Press Club at 9 a.m.
QUOTE OF THE DAY
"Mitch McConnell's cocaine tweet is just more proof that he is not an America person. Thousands die from cocaine use year after year, and he thinks it's funny that his family's shipping business hauls cocaine on the high seas. It is not funny. It is sickening." – Don Blankenship in a statement Wednesday responding to a sarcastic tweet posted by Senate Majority Leader Mitch McConnell after Blankenship's defeat in West Virginia's GOP Senate primary.
NEED TO READ
American prisoners freed by North Korea meet with Donald Trump. Three American prisoners just freed from North Korea met with President Donald Trump early Thursday morning after landing at Joint Base Andrews in Maryland. (Justin Doom) https://abcn.ws/2G23ISE
Three Americans held by North Korea back in US, Trump soon to announce summit details. President Trump said he will announce the time and place for his upcoming summit with Kim Jong Un "within three days". (Karson Yiu, Meghan Keneally and Jordyn Phelps) https://abcn.ws/2IrYAMZ
Women candidates dominate Democratic primaries amid 'pink wave' movement. There were 27 open Democratic House primaries and voters selected a female nominee in 17 of them, according to ABC News' count. (Paola Chavez) https://abcn.ws/2wmHnzI
House Democrats obtain new documents from estate of GOP operative in Russia inquiry. Democrats on the House Intelligence Committee have received new materials from the estate of Peter Smith, a GOP operative who reportedly led a campaign to obtain missing Hillary Clinton emails from Russian hackers during the 2016 presidential race, sources tell ABC News. (Benjamin Siegel and Matthew Mosk) https://abcn.ws/2I0NlM2
Republicans draw conflicting lessons from early primaries: ANALYSIS. It marked a good night for the GOP establishment, yet a terrible night for sitting Republican members of the House. Republicans avoided their biggest potential disaster in a key Senate race, while Democrats saw their own promising field of candidates lock into place. (Rick Klein) https://abcn.ws/2KOE1sF
Russian company indicted by Mueller pleads not guilty to election meddling charges. In a brief court proceeding in Washington, D.C., on Wednesday, an attorney for a Russian company indicted by special counsel Robert Mueller entered a plea of not guilty to charges related to alleged Russian meddling during the 2016 campaign. (Trish Turner and Lucien Bruggeman) https://abcn.ws/2rvD5kN
Republicans draw conflicting lessons from early primaries: ANALYSIS. It marked a good night for the GOP establishment, yet a terrible night for sitting Republican members of the House. Republicans avoided their biggest potential disaster in a key Senate race, while Democrats saw their own promising field of candidates lock into place. (Rick Klein) https://abcn.ws/2KOE1sF
Cohen promised health care company access to Trump White House, exec says. When Michael Cohen approached the global health care company Novartis AG to hire him shortly after his longtime boss and client Donald Trump arrived at the White House, Cohen promised one thing: access. (Matthew Mosk, James Hill and Lauren Pearle) https://abcn.ws/2I0xr4i
President Donald Trump's nominee to head the CIA faces tough questions during confirmation hearing. Gina Haspel, President Donald Trump's nominee to head the CIA, on Wednesday affirmed that, should she be confirmed, she will not bring back the agency's controversial rendition, detainee, and interrogation program. (Luis Martinez) https://abcn.ws/2rCzGA3
Ahead of Trump-Kim summit, Japanese abductees' families push US to help secure their release. It's a deeply painful issue of great urgency in Japan. But now, after demanding their release for decades, the country believes there is an opening. (Conor Finnegan) https://abcn.ws/2K7CPzr
The Atlantic reports on how GOP enthusiasm over Don Blankenship's primary loss in West Virginia might be obscuring bad signs for the prospects of their House incumbents. https://theatln.tc/2K6qGKN
The New York Times assesses the possibility of President Trump receiving a Nobel Peace Prize. https://nyti.ms/2wrG9mT
The Note is a daily ABC News feature that highlights the key political moments of the day ahead. Please check back tomorrow for the latest.