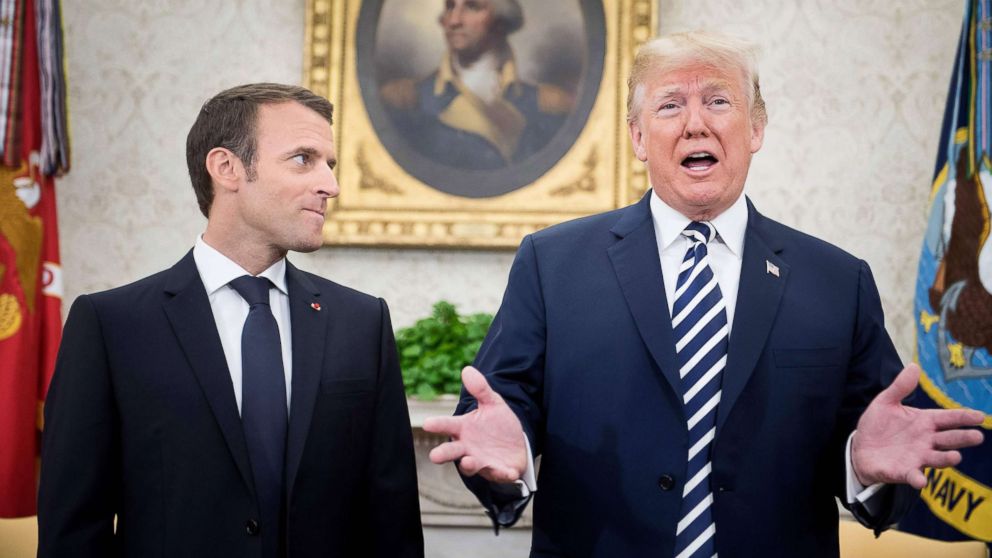 The TAKE with Rick Klein
So Michael Cohen isn't talking, but President Donald Trump is – at least to Fox and Friends. French President Emmanuel Macron is flake-free – and free, out of Trump's grip, to speak his mind a bit more.
Ronny Jackson is out, Mike Pompeo is in, and Scott Pruitt is … somewhere in between.
Your one constant, again, is Trump himself – who, tellingly, heads to a rally in Washington, Mich., Saturday night, while Washington, D.C., celebrates itself at the White House Correspondents' Association dinner.
He campaigns this weekend knowing that, despite Cabinet chaos and partisan line-drawing, he got his choice for secretary of state confirmed. He also gained some powerful images with world leaders, and is moving toward a potential breakthrough with North Korea.
It's a reminder that, for all the scandal, Trump retains an immense gravitational pull on his party – and even the world.
The RUNDOWN with MaryAlice Parks
That promise to "hire the best people," may end up one of the president's most memorable campaign lines after all. It is not hard to imagine the political ads his opponents have already drafted.
The first year of the Trump administration saw unprecedented turnover and then the turning over didn't stop. This week, the pile of embarrassing headlines about sitting secretaries and presidential nominees created such a drumbeat that, for some, it started to sound like white noise.
Both the president and Ronny Jackson, his pick to run the Department of Veterans Affairs until yesterday, pointed fingers. They said the nomination fell victim to "the swamp," "false allegations" and "how Washington works."
Some Republicans on Capitol Hill used similar lines to defend EPA Administrator Scott Pruitt, while Democrats grilled him about the various allegations of professional misconduct against him.
The buildup of scandals could start to break in Republicans' favor if the president's team looks like victims. That said, it's hard to bash the swamp and status quo when some the actions called into question look so … swampy – like the transcript this week of Acting Consumer Financial Protection Bureau director Mick Mulvaney.
The TIP with Mariam Khan
Sen. Jon Tester, a Montana Democrat, is not taking the president's bait.
Instead, he took the high road following Trump's comment that he will have a "big price to pay in Montana" for his role in Adm. Ronny Jackson's nomination withdrawal, saying, "I think I'm focused on the next secretary of the VA."
"We need someone who's going to serve our veterans and make sure we're not privatizing the VA and make sure they can run that organization and move it forward for the best benefit of the veterans of this country," Tester said.
"That's what I'm going to be focused on," he added.
When asked if he took the president's comments as a threat, Tester didn't respond.
WHAT YOU NEED TO KNOW TODAY
President Trump hosts athletes from the 2018 U.S. Winter Olympic and Paralympic team at the White House at 10:30 a.m.
The president meets with German Chancellor Angela Merkel and later participates in a joint press availability with Merkel at 1:35 p.m.
Newly-minted Secretary of State Mike Pompeo is in Brussels, Belgium for meetings with NATO Secretary General Jens Stoltenberg and the NATO Foreign Ministerial.
House Minority Leader Nancy Pelosi holds a press conference to unveil "A Better Deal: Tools to Succeed in the 21st Century" at 9:00 a.m.
Secretary of Defense Jim Mattis hosts an enhanced honor cordon with Poland's Defense Minister at 3:00 p.m.
This Week on 'This Week': The Powerhouse roundtable debates the week in politics, with ABC News Senior Congressional Correspondent Mary Bruce, former New Jersey Governor and ABC News Contributor Chris Christie, Pollster and ABC News Contributor Frank Luntz, and Democratic Strategist Donna Brazile.
QUOTE OF THE DAY
"He did some things that weren't very nice and probably not right for the top law enforcement agency, so that was a pretty good reason for the president to let him go." — White House press secretary Sarah Sanders when asked why President Trump fired James Comey during a mock briefing with reporters' children on National Take Your Daughters and Sons to Work Day.
NEED TO READ
North Korea's Kim Jong Un crosses DMZ line for historic meeting with South Korea. It's the first time since 2007 leaders of the two countries have met and is part of a recent thawing of relations as South Korea and the United States have focused on diplomacy in their efforts to dismantle North Korea's nuclear program.(Joohee Cho, Hakyung Kate Lee and Tara Fowler) https://abcn.ws/2KhMYuf
Secretary of State Pompeo hits ground running with big trip hours after swearing in. Immediately after he was sworn in by Supreme Court Justice Samuel Alito — a man he admires and a fellow Italian-American, Pompeo said — the former CIA Director went to Joint Base Andrews to board a flight for his first trip as the U.S.'s top diplomat. (Conor Finnegan) https://abcn.ws/2Jt9nU7
Trump launches new attack on his Justice Department. President Donald Trump lambasted his Justice Department Thursday in an interview on Fox News, expressing frustration at the ongoing special counsel probe and suggesting that he may intervene in his Justice Department at some point. (Jordyn Phelps) https://abcn.ws/2FhFovS
Kathy Griffin: 'Of Course' President Trump ordered her Secret Service investigation. Citing a "vendetta" against her in the wake of a controversial photo last year, comedian Kathy Griffin accused President Donald Trump of personally ordering federal agents to make her life miserable. She spoke to Brad Mielke on ABC's "Start Here" podcast. (Brad Mielke and Stephen Iervolino) https://abcn.ws/2HBcmJp
Judge appoints independent referee to review records seized from Cohen. Judge Kimba Wood appointed an independent referee to determine which materials seized in the FBI's raid of President Donald Trump's personal attorney Michael Cohen properties are subject to the attorney-client privilege. (Aaron Katersky and Lauren Pearle) https://abcn.ws/2Fjhv7e
President Trump invites 'well behaved' kids into Oval Office for 'Take Your Child To Work Day'. Hours after a free-wheeling and often meandering phone interview in which he angrily railed against various 'fake news' media outlets, President Donald Trump played host to several children of members of the press corps as part of the White House's 'Take Your Child To Work Day' festivities. (Alexander Mallin) https://abcn.ws/2vQUdWD
Speaker Ryan forces House chaplain to resign, Dems say tied to tax law prayer. An aide to Speaker Paul Ryan Thursday refused to say exactly why he forced the House chaplain to resign last week but Democrats contend his dismissal is due to a prayer Father Patrick Conroy delivered last year as lawmakers prepared to begin consideration of tax reform – irking Republicans. (John Parkinson) https://abcn.ws/2vPlwAO
Bill to protect special counsel wins bipartisan Senate committee approval. The Senate Judiciary Committee Thursday approved legislation aimed at protecting special counsel Robert Mueller from being fired without cause by President Donald Trump. Even the measure's opponents issued stark warnings to the president that any move to dismiss the special counsel would be political suicide and might lead to impeachment. (Trish Turner) https://abcn.ws/2vNVihU
Highlights from Pruitt's marathon day on Capitol Hill. Environmental Protection Agency chief Scott Pruitt insisted he has "nothing to hide" and shifted blame for some of the agency's spending decisions to staffers during six hours of grilling on Capitol Hill Thursday. (Stephanie Ebbs and Lucien Bruggeman) https://abcn.ws/2HwuyYE
Trump administration ends humanitarian program for Nepal. The Department of Homeland Security announced Thursday that it will end the humanitarian protection known as Temporary Protected Status (TPS) for Nepal with a delay of 12 months to "allow for an orderly transition." (Geneva Sands) https://abcn.ws/2HycdXa
Pentagon still doing business with contractor that allegedly spent tax dollars on luxury cars. A military contractor that just last year was accused of having cheated the Pentagon out of more than $50 million is still actively working on at least one government contract, according to a new report from the office of Sen. Claire McCaskill, D-Mo., the top Democrat on the Senate Homeland Security and Government Affairs Committee. (Ali Rogin) https://abcn.ws/2HwlkHZ
CNBC reports that Republican Ohio Gov. John Kasich met privately with billionaire donor Ron Burkle as he continues to mull another presidential run in 2020. https://cnb.cx/2HZPnc0
Many of the biggest names from the 2018 U.S. Winter Olympic team including Lindsey Vonn, Erin Hamlin, Adam Rippon, Chloe Kim, and Gus Kenworthy will be skipping the White House visit Friday — some because they do not want to stand with the controversial Trump, according to USA Today. https://usat.ly/2HtVE2O
The Note is a daily ABC News feature that highlights the key political moments of the day ahead. Please check back Monday for the latest.