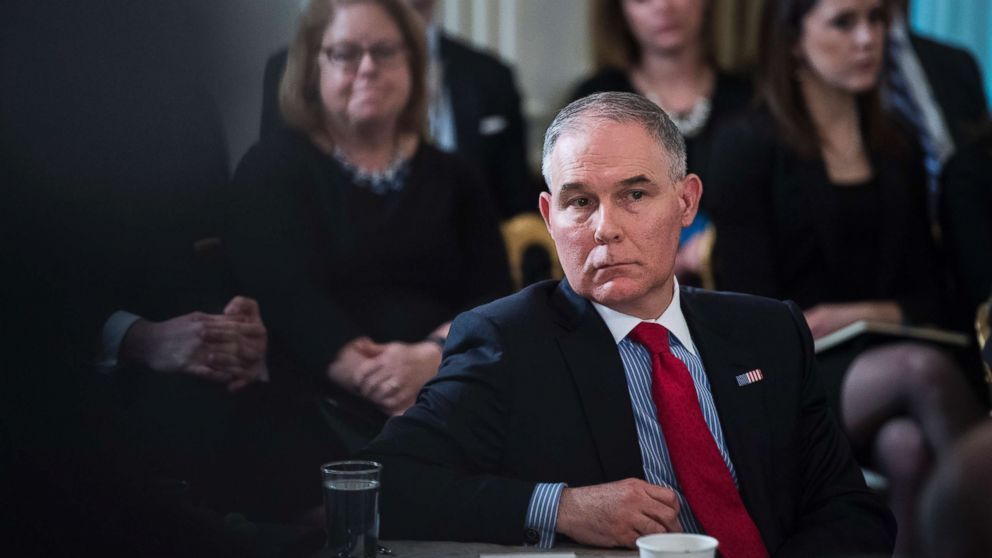 The TAKE with Rick Klein
Interested in
The Note?
Add The Note as an interest to stay up to date on the latest The Note news, video, and analysis from ABC News.
Cabinet secretaries displaying questionable judgment has become its own genre in the dramatic series that is the presidency of Donald Trump.
A new episode comes Thursday, with EPA Administrator Scott Pruitt prepared to testify in front of two congressional committees. Reports about flashing lights, an expensive secret phone booth, a sweetheart rental deal from a lobbyist – for weeks now, Pruitt has been all but playing himself in "Veep."
Also with a star turn this week: Dr. Ronny Jackson, whose "more vetting than most nominees" didn't include one, evidently, when he was nominated to run the VA by presidential tweet.
Then there's Mick Mulvaney, who holds two big jobs in the Trump administration but didn't know that if you had a policy of meeting only with lobbyists who donate money to your campaign, you kind of don't admit it.
Each circumstance is unique, and it's plausible to argue that each represents only so much noise in the Washington din. But White House allies are losing patience with behavior they can't explain or defend.
"It's what the swamp is all about," Sen. John Kennedy, R-La., said on the "Powerhouse Politics" podcast, talking specifically about Pruitt. "And if you don't respect taxpayer money, you're not qualified to serve, in my opinion."
The RUNDOWN with MaryAlice Parks
As the French president journeys back across the pond, the White House gets ready to welcome another world leader, the German chancellor, who is set to arrive Friday.
The tone of the two visits will likely be different, though the agendas overlap.
Forget the hugs and kisses between Macron and President Trump. Merkel and Trump had that memorable non-handshake in the Oval Office not too long ago. The two have traded barbs as well as awkward glances.
But if Macron's visit revealed one thing it's that appearances aren't everything. Trump may have called him "perfect" and brushed off his lapel, but that did not stop the French leader from speaking his mind in front a different crowd on Capitol Hill at the end of his Washington visit.
"Both in the United States and in Europe we are living in a time of anger and fear," said Macron, rejecting nationalism and isolationism. He also blasted the U.S. for leaving the Paris climate agreement. "You can play with fear and anger for a time, but they do not accomplish anything," he went on, sounding perhaps more like his European counterpart, Merkel, than his American buddy.
The TIP with Ali Rogin
The talking points the White House gave members of Congress to defend Ronny Jackson focus on the importance of giving him his day before the Veterans Affairs Committee and letting him tell his side of the story.
But that's not actually what they've been saying.
Instead, at least two of the Republican members of the committee say they need answers before they can reschedule the hearing — and they fully back their leadership in vetting these allegations before they invite Jackson back.
"I think you can discover the results, the answers to some of these questions, ideally you do it before a confirmation hearing, right?" Sen. Bill Cassidy, R-La., asked rhetorically. "Because you want to consider the evidence and confirmation hearings are oftentimes not the best places to consider evidence," Cassidy continued. "I mean, because it's just shown to you. You don't know if it's true or not, it's just somebody pushing something in front of you."
Sen. Mike Rounds, R-S.D., another committee member, said, "We're waiting for more information after the allegations have been vetted. And at that point then, as those are brought forward, then I am presuming that normally you would share that with the White House and allow them to make some decisions on their own before you would move forward with the committee hearing."
In other words: Thanks White House comms people. We'll take it from here.
WHAT YOU NEED TO KNOW TODAY
President Trump and first lady Melania Trump host the Wounded Warrior Project Soldier ride at 10:30 a.m.
Vice President Mike Pence heads to Indiana to make an announcement said to be on "significant economic development."
Democratic members of the House Energy and Commerce Committee hold a press conference to reiterate their call for the firing or resignation of EPA Administrator Scott Pruitt at 9 a.m.
Pruitt appears before the House Energy and Commerce committee for a hearing on the EPA budget at 10 a.m.
Attorney General Jeff Sessions appears before the House Appropriations Committee on the Justice Department budget at 10 a.m.
The Senate Judiciary Committee takes up a bipartisan bill that aims to protect special counsel Robert Mueller from being fired at 10 a.m.
House Speaker Paul Ryan holds his weekly press conference on "Take our Daughters and Sons to Work Day" at 11 a.m.
QUOTE OF THE DAY
"There isn't a person in the world who thinks he's guilty of collusion with the Russians." – Former New York City Mayor Rudy Giuliani said of President Trump, a week after joining the president's legal team.
NEED TO READ
'You can't abuse taxpayer money': GOP's Kennedy on Pruitt. Republican Sen. John Kennedy of Louisiana criticized Environmental Protection Agency Administrator Scott Pruitt for his spending habits and other behavior during his time leading the agency but said the decision whether to fire him should be left up to President Donald Trump. (John Verhovek) https://abcn.ws/2FfyOWJ
Trump attorney Cohen plans to plead 5th in Stormy Daniels lawsuit. President Donald Trump's personal attorney, Michael Cohen, plans to exercise his Fifth Amendment right against self-incrimination in a civil lawsuit involving adult film actress Stormy Daniels, according to court documents. (Lucien Bruggeman and James Hill) https://abcn.ws/2Ht3IRu
Attorney general won't say if he's discussed Cohen pardon with Trump. While speculation swirls over whether President Donald Trump might pardon longtime personal attorney Michael Cohen, who's in the midst of a federal criminal probe into his handling of an array of matters, Attorney General Jeff Sessions refused Wednesday to say whether he has spoken with Trump or other administration officials about the possibility of a pardon for Cohen. (ABC News) https://abcn.ws/2Js4YAM
White House defending VA secretary pick as senators review allegations against him. The White House is circling the wagons around President Donald Trump's nominee to be Veterans Affairs secretary, Rear Adm. Ronny Jackson, as the senators in charge of confirming him say they are still gathering information on allegations against him. (Ali Rogin, Benjamin Siegel and Mary Bruce) https://abcn.ws/2Kct1Vw
President Trump will personally review documents in Cohen case. In a filing Wednesday afternoon, attorneys for President Donald Trump told the federal judge overseeing the investigation of his personal attorney, Michael Cohen, that Trump would, as necessary, personally review documents to ensure that privileged information is not revealed accidentally to the FBI or prosecutors. (Josh Margolin) https://abcn.ws/2JsCbMe
White House fights federal judge's ruling that DACA protections must continue. The White House is fighting back against a federal judge's ruling that the Trump administration must again accept new applications for protection from undocumented immigrants brought to the U.S. as children and keep the program in place. (Jordyn Phelps) https://abcn.ws/2JtCdUv
Mueller won't find a 'stitch of evidence' that Trump colluded with Russians: Giuliani. President Donald Trump's old campaign pit bull is already reclaiming his role of defending his friend. Former New York City Mayor Rudy Giuliani, who last week formally joined the president's legal team handling the Russia probe, is already firing off at special counsel Robert Mueller's team. (John Santucci) https://abcn.ws/2r2eFhP
Scott Pruitt's prep document of 'hot topics' ready ahead of congressional hearings. Environmental Protection Agency chief Scott Pruitt is armed with a list of "hot topics" that he will potentially face during a marathon day of questioning by two Congressional committees on Thursday. A source with direct knowledge described a document to ABC News called "hot topics" includes a rough draft of talking points for Pruitt as he prepares to field questions from lawmakers. (John Santucci and Stephanie Ebbs) https://abcn.ws/2HqHHCG
HUD secretary proposes rent increases for low-income Americans receiving federal housing subsidies. U.S. Housing and Urban Development Secretary Ben Carson announced Wednesday a legislative package that proposes raising rent for low-income Americans receiving federal housing assistance. (Kendall Karson) https://abcn.ws/2qZDVpu
Battle lines drawn in Trump travel ban Supreme Court arguments. The battle lines seemed drawn in Wednesday's oral arguments before the U.S. Supreme Court over the legality of President Trump's third iteration of his controversial travel ban, which restricts entry from five majority-Muslim countries, as well as North Korea and Venezuela, on the basis of these countries' alleged vetting deficiencies and security risks. (Lauren Pearle) https://abcn.ws/2I4C8Hn
In address to Congress France's Emmanuel Macron defends climate accords, Iran deal. French President Emmanuel Macron became the first foreign head of state of Donald Trump's presidency to address a joint meeting of Congress Wednesday — a speech in which he defended climate accords and the Iran deal. (Steve Turnham) https://abcn.ws/2Hx9jlP
State Dept team investigating alleged atrocities against Rohingya as US weighs new sanctions. A team of U.S. investigators has been on the ground with Rohingya refugees in Bangladesh, conducting interviews and gathering evidence for a possible criminal case against Myanmar's government for allegedly committing atrocities against the Rohingya. (Conor Finnegan) https://abcn.ws/2I0tNo2
While American voters of different partisan stripes don't agree on much, nearly two-thirds of American voters approve of US Ambassador to the United Nations Nikki Haley's job performance – making her one of the most popular politicians in the country, according to CNN. https://cnn.it/2vMaXhN
Politico reports that the House Judiciary Committee scrapped plans to vote on a prison reform measure – one that Jared Kushner went to Hill to rally support for – after a behind-the-scenes opposition campaign came from Sens. Grassley and Durbin. https://politi.co/2vMlxp5
The Note is a daily ABC News feature that highlights the key political moments of the day ahead. Please check back tomorrow for the latest.