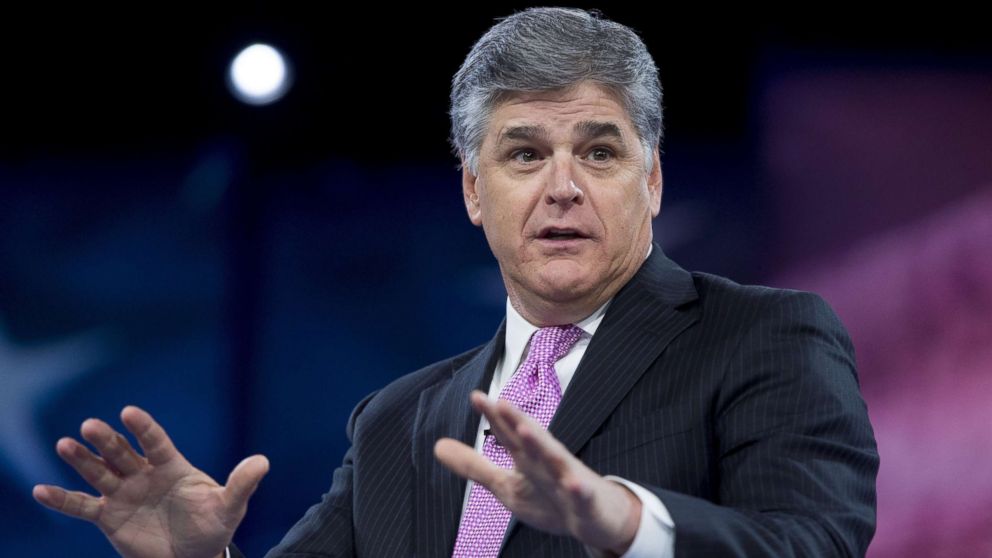 The TAKE with Emily Goodin
Another thread in the spider web of connections that is President Donald Trump's world was revealed on Monday, when Michael Cohen's attorneys claimed one of his clients was Fox News host Sean Hannity.
Hannity, an ardent defender of the president who has dined with him at Mar-a-Lago, denied retaining Cohen. However, the attorney's claim does raise more questions about Trump World connections — a constant refrain in this White House.
It's a complicated nexus of tenuous threads that have ensnared many names in the administration.
Now Hannity's name is in the mix.
What ties them all together? Who knew about whom? Who knew what when?
More questions and, as things usually are with Trump, more questions than answers.
The RUNDOWN with John Verhovek
For some Republican candidates that remain skittish about facing a potentially strong Democratic headwind in this year's midterm elections, the 2018 first quarter fundraising numbers filed with the Federal Election Commission (FEC) may not inspire confidence.
From January to March of 2018, over 40 incumbent Republican House members were out-fundraised by a Democratic challenger, according to newly released FEC quarterly reports.
Of the 25 GOP-held congressional districts that Hillary Clinton won in the 2016 presidential election, Democrats lead in fundraising in 12, and six GOP incumbents in those seats – Dana Rohrabacher and Steve Knight of California, Leonard Lance of New Jersey, Brian Fitzpatrick of Pennsylvania, as well as Will Hurd and John Culberson of Texas – were bested in fundraising by a Democratic opponent in the first months of 2018.
Some of those Democratic challengers were able to outraise their GOP counterparts by loaning themselves a substantial amount of money. Fitzpatrick's likely challenger, Democrat Scott Wallace, loaned his campaign $900,000.
But while the new FEC reports may buoy Democratic enthusiasm in races that could be key to control of the U.S. House, Republicans still hold a significant advantage at the national level. According to FEC filings, the Republican National Committee (RNC) still holds a more than $30 million advantage over its Democratic counterpart, and recent polls show the 2018 landscape may be shifting back in the GOP's favor.
The new ABC News/Washington Post poll released yesterday found that a 10-point Democratic advantage shrinks to just a 4-point Democratic lead among registered voters, and a 5-point advantage among voters that say they are registered and certain to vote in 2018.
The TIP with Esther Castillejo
One of the paths to win the House of Representatives includes parts of Southern California – and three of the top seven self-funded House candidates nationally are running in Orange County districts amid fears that Democrats will get shut out of congressional races after the June primary.
In California's 39th Congressional District, the vacant seat left by Rep. Ed Royce (R-Calif.) has forced one of the most heated and crowded primary races in the Golden state. Millionaires Andy Thorburn and Gil Cisneros have loaned their campaigns $2.3 million and $2 million respectively.
A similar trend is happening down in California's 49th congressional district, where Qualcomm heiress Sara Jacobs comes in third in most self-funded congressional hopefuls, putting close to $1.1 million of her own money in the total $1.7 million she's raised. Along with Jacobs, businessman Paul Kerr has also contributed significantly to his campaign – almost half of all contributions cycle-to-date.
The district is no stranger to millionaire politicians — Rep. Darrell Issa (R-Calif.) had a few millions of his own before running for Congress in 2004. Now that his seat is up for grabs, an army of candidates are fighting to make it through the ultra-competitive top-two primary, where the two most-voted candidates regardless of party will be on the November ballot.
WHAT YOU NEED TO KNOW TODAY
The President hosts Japanese Prime Minister Shinzo Abe at Mar-a-Lago this afternoon.
Former FBI Director James Comey's book, "A Higher Loyalty," is released today.
Today is the IRS's deadline for filing taxes – two days later than usual.
Adult film actress Stormy Daniels is on ABC's "The View" this morning at 11 a.m.
QUOTE OF THE DAY
"He saw bits and pieces of it, didn't watch the whole thing." – White House Press Secretary Sarah Sanders on President Trump's viewing of former FBI Director James Comey's exclusive interview with ABC News' George Stephanopoulos Sunday, adding that Trump's feelings remain "pretty much the same."
NEED TO READ
Judge rejects Trump lawyer's request to keep seized records from being accessed by investigators. U.S. District Judge Kimba Wood said she has "faith" in federal prosecutors from the Manhattan U.S. Attorney's Office, who are running the investigation into Trump's personal attorney and self-described fixer, Michael Cohen. (Aaron Katersky,
Lauren Pearle and Josh Margolin) https://abcn.ws/2H3UsyF
Sean Hannity disputes Michael Cohen claim he was a client. "Michael Cohen has never represented me in any matter. I never retained him, received an invoice, or paid legal fees," Hannity said. (ABC News) https://abcn.ws/2qCJOsJ
Top Republican woman in the House at risk in 2018 re-election bid. Rep. Cathy McMorris Rodgers, fourth-ranking in leadership and highest-ranking Republican woman in the House, is facing one of the toughest re-election challenges of her career as Democrats fight to retake control of the lower chamber. (Emily Goodin) https://abcn.ws/2vgSSIq
US and UK blame Russia for cyber hacks on internet routers worldwide. The White House, FBI, Department of Homeland Security and British officials announced Monday that Russian state-sponsored actors targeted millions of internet routers in the United States, the United Kingdom and worldwide. (Geneva Sands, Mike Levine and Pierre Thomas) https://abcn.ws/2vpIQF6
2018 vote margin narrows as Democratic engagement slips (POLL). A Democratic advantage in the upcoming midterm elections has narrowed in the latest ABC News/Washington Post poll, with indications of lower engagement among members of the party now out of power in the federal government. (Sofi Sinozich and Gary Langer) https://abcn.ws/2JQgc3d
In wake of Syria strikes, lawmakers seek updated war authorization. A bipartisan group of senators introduced a bill Monday intended to bring an almost two-decade-old war authorization up to date, a move that some lawmakers have been demanding for years but which has received renewed interest after recent military action in Syria. (Ali Rogin) https://abcn.ws/2vjKjgd
President Trump touts GOP's tax cuts in roundtable with Hispanic business leaders. With the 2018 midterms on the horizon, Republicans are hoping to counter-messaging from Democrats who have sought to label the cuts as far more favorable to the wealthy than middle-class voters. (Alexander Mallin) https://abcn.ws/2qwY0U7
EPA broke spending law on Pruitt phone booth: government watchdog. A government watchdog agency concluded that the Environmental Protection Agency violated federal laws in spending more than $43,000 to install a private phone booth in EPA Administrator Scott Pruitt's office. (Stephanie Ebbs and Benjamin Siegel) https://abcn.ws/2HtvuMP
Comey weighs in on 5 key political players in his exclusive interview with ABC News. Comey weighed in with comments about some key political players, from ret. Gen. Petraeus to Attorney General Jeff Sessions, in an exclusive interview with ABC News chief anchor George Stephanopoulos. (Meghan Keneally) https://abcn.ws/2qAVuMJ
Interior Dept. watchdog finds Zinke's private flights followed rules, but some cost could have been avoided. The department's inspector general found that three flights on private or military planes taken by Zinke generally followed the relevant rules and were all approved by ethics officials in advance. But the report found that the cost of at least one of the trips, a more than $12,000 flight from Las Vegas to Montana, could have been avoided. (Stephanie Ebbs) https://abcn.ws/2JOlyf8
Pence's pick for national security adviser steps aside after Trump reportedly objects. Vice President Mike Pence's pick for his national security adviser stepped aside Sunday evening after it was reported that President Donald Trump had sought to block his hiring at the White House. (Meridith McGraw) https://abcn.ws/2H52Qy1
The Wall Street Journal reports on the tension surrounding today's meeting between President Trump and Japanese Prime Minister Shinzo Abe. https://on.wsj.com/2JRFTQX
The New York Times looks at President Trump's 2020 re-election campaign strategy of courting small donors. https://nyti.ms/2vkixAa
The Note is a daily ABC News feature that highlights the key political moments of the day ahead. Please check back tomorrow for the latest.