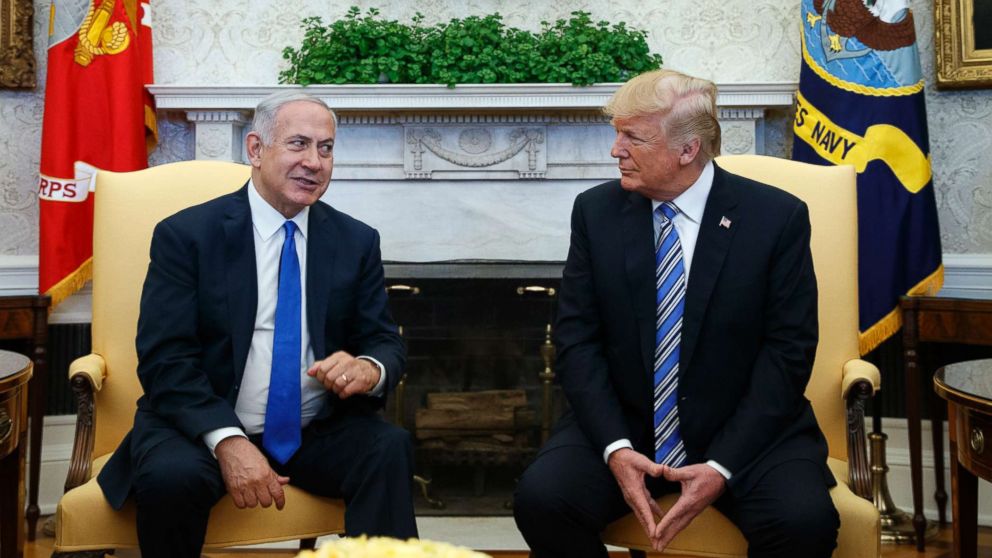 The TAKE with Rick Klein
French President Emmanuel Macron used hand-holding and tree planting to help make his case. Israeli Prime Minister Benjamin Netanyahu used clip art and PowerPoint – and a speech in English, in Tel Aviv – to make his.
An extraordinary scene is playing out as the May 12 deadline for recertifying the Iran nuclear deal approaches. World leaders are appealing to President Donald Trump to either stay in or pull out of the deal, in ways that they hope Trump can appreciate.
The pro and con arguments obscure the very possible middle ground, where Trump blasts the existing deal but doesn't actually end it. Instead, he would put his weight behind evolving efforts to add longer-term components to a deal that is scheduled to expire in seven years – which, according to Trump, "is tomorrow – that's not acceptable."
In the meantime, we are witnessing a remarkable example of the world adjusting to Trump's personality, and maybe his whims. And the path to any Nobel Peace Prize will feature some threats of war, it would seem.
The RUNDOWN with MaryAlice Parks
Primary voters in Ohio, West Virginia, Indiana and North Carolina head to the polls a week from today. Washington and foreign policy headlines may be swirling overheard, but beneath it all many voters likely will make their choices based on local and pocketbook issues.
Take health care – specifically Medicaid expansions – which are front and center on the ballot in Ohio and other states.
Mary Taylor, Ohio's Republican Lt. Governor, broke with the state's governor on the issue. She is actively campaigning, as one of her new ads says, on a promise to overturn "John Kasich's Obamacare expansion." Her primary opponent in the race, Ohio Attorney General Mike DeWine, has been softer (and more vague) on the issue.
On the other side of the aisle, Democrats running in the state are pushing the issue. One of the leading Democrats, former director of the Consumer Financial Protection Bureau, Richard Cordray, said in response to Taylor's ad: "It is an urgent reminder of the stakes this November. Protecting Medicaid expansion is literally life or death for many thousands of Ohioans."
His primary opponent, though, former congressman Dennis Kucinich, received the backing of the largest nurses' union yesterday after proposing a single-payer, Medicare-for-all-style health care system for the state last week.
In Arkansas, Florida, and Tennessee, too, the issue continues to come up and challenge candidates on both sides.
The TIP with John Verhovek

With Ohio's primary day just days away Republicans are grappling with crowded primaries and intra-party squabbling that could cost them another U.S. House seat in November.
The latest battle is in the state's vacant 12th Congressional District, last held by GOP Rep. Pat Tiberi.
Tiberi's preferred successor, state Sen. Troy Balderson, is the target of a new television ad from the Club for Growth, and is trying to hold off Trump-aligned Republican Melanie Leneghan to win the party's nomination for the August 7th special election.
The district is less Republican-leaning than Pennsylvania's 18th and Arizona's 8th, the sites of the last two House special elections that saw Democrats over-perform expectations, and the primary fight is already increasing anxiety that the GOP could be one seat closer to losing their majority come August.
Republicans are also hoping Ohio's 16th Congressional District, an open seat race with Rep. Jim Renacci running for U.S. Senate, doesn't cause similar primary problems. The U.S. Chamber of Commerce is up with its first ad in the race backing former NFL player Anthony Gonzalez over another Trump-aligned candidate, Ohio state Rep. Christian Hagan.
WHAT YOU NEED TO KNOW TODAY
President Donald Trump presents the Commander in Chief's Trophy to the U.S. Military Academy Football Team and will later meet with the crew and passengers of Southwest Airlines Flight 1380 at 1:45 p.m.
Secretary of Defense James Mattis holds an enhanced honor cordon with the defense minister of Macedonia at 10:30 a.m.
Secretary of State Mike Pompeo delivers remarks at the State Department at 11:30 a.m.
Deputy Attorney General Rod Rosenstein holds a discussion at the Newseum on the rule of law, the First Amendment and the mission of the Justice Department at 2:00 p.m.
White House press secretary Sarah Sanders holds a press briefing at 2:30 p.m.
QUOTE OF THE DAY
"The problem in the Republican Party is that they have made it very clear that nobody is welcome to be a candidate for national office that does not support Donald Trump. I'm out of the Republican Party, I'm fed up." — Richard Painter, former chief ethics lawyer for President George W. Bush, frequent Trump critic and lifelong Republican, announcing he's running for the U.S. Senate in Minnesota as a Democrat.
NEED TO READ
Trump considering DMZ and Singapore for summit with North Korea. President Donald Trump said that he's considering the Peace House near the Korean Demilitarized Zone, or the DMZ, for a meeting with North Korean dictator Kim Jong Un. (Meridith McGraw) https://abcn.ws/2JDTuKw
EXCLUSIVE: EPA whistleblower says Pruitt 'lied' to Congress. A whistleblower from the Environmental Protection Agency says that Administrator Scott Pruitt was "bald-faced lying" when he told members of Congress that no EPA employees were retaliated against for raising concerns about his spending decisions. (Kyra Phillips, Stephanie Ebbs, John Santucci and Matthew Mosk) https://abcn.ws/2vX7Tja
Trump campaign has paid portions of Michael Cohen's legal fees: Sources. The Trump campaign has spent nearly $228,000 to cover some of the legal expenses for President Donald Trump's personal attorney Michael Cohen, sources familiar with the payments tell ABC News, raising questions about whether the Trump campaign may have violated campaign finance laws. (Katherine Faulders, John Santucci and Soo Rin Kim) https://abcn.ws/2jkCoX0
White House Chief of Staff Kelly denies reports he called Trump an 'idiot.' White House Chief of Staff John Kelly took the rare step of issuing a swift, public denial to a new report that alleges he called President Donald Trump an "idiot" in recent months amid an allegedly increasingly acrimonious relationship with his boss. (Devin Dwyer, Cecilia Vega and Kendall Karson) https://abcn.ws/2KrTDC7
Israeli Prime Minister Benjamin Netanyahu: Iran lied about nuclear program. Israeli Prime Minister Benjamin Netanyahu said Monday Israel had obtained thousands of Iranian documents detailing Tehran's past nuclear weapons development program and showing what he said was a failure by Iran to declare those activities before signing on to an international nuclear agreement. (Matt McGarry) https://abcn.ws/2HKigZ6
Trump critic, former Bush ethics lawyer Richard Painter announces US Senate bid in Minnesota. Richard Painter, the former chief ethics lawyer for President George W. Bush, announced his bid Monday for the U.S. Senate seat once held by Al Franken. (John Verhovek) https://abcn.ws/2HEiipm
Trump's attack on Tester shines spotlight on Montana Senate contest. Montana's Senate race may be one of the most competitive this year but it had flown under the radar – until President Donald Trump stepped in over the weekend claiming he had political dirt on the state's Democratic senator – Jon Tester. (Emily Goodin) https://abcn.ws/2HCFBQq
Pence visits Mexico-California border with caravan of asylum-seekers nearby. Vice President Mike Pence visited the Calexico border wall Monday where he received a briefing on the construction of the barrier, got a tour and delivered remarks to Customs and Border Patrol employees. (Ali Rogin) https://abcn.ws/2rbx8bJ
Caravan migrants waking up on Mexican side of the border after getting refused US entry. Upward of 100 people from Central America who traveled north in a so-called "migrant caravan" to seek asylum in the United States woke up on the Mexican side of the border this morning and little action has been taken to change the situation throughout the day. (Meghan Keneally) https://abcn.ws/2JFjWUe
What the law says should happen to asylum seekers at the US border. Immigrants from that caravan that crossed Mexico and drew the attention of President Donald Trump have arrived at a U.S. border post – and are trying to seek asylum. But what happens once they do – and how does the law require they be treated? (Luke Barr) https://abcn.ws/2vZ6wjP
McCain reveals this is last term in new memoir, criticizes Trump. In a new memoir, Sen. John McCain admits this will be his last term in office as he battles brain cancer. "This is my last term," McCain, 81, writes in his upcoming book "The Restless Wave." An excerpt of the book was posted Monday on Apple News. (Mariam Khan) https://abcn.ws/2HI4Axq
Reports of sexual assault in military jump 10 percent. The number of sexual assaults in the military reported by victims increased to 6,769 in 2017, a 10 percent increase over the numbers for 2016 and the largest percentage increase in four years, the Pentagon said Monday. (Luis Martinez) https://abcn.ws/2KnVNTc
Parkland students brand firearm ban during Pence speech as NRA hypocrisy. The National Rifle Association's annual leadership forum later this week will feature Vice President Mike Pence on Friday, and while members can carry their firearms at all other times, the U.S. Secret Service will not allow any weapons into the convention center during Pence's speech. (Kendall Karson) https://abcn.ws/2HFpPjw
Robert Mueller, the special counsel investigating Russia's election interference, has at least four dozen questions on an exhaustive array of subjects he wants to ask President Trump to determine if he obstructed justice. The New York Times has the list of questions. https://nyti.ms/2I0ry6n
The Washington Post reports that conservative House allies of President Trump have drafted articles of impeachment against Deputy Attorney General Rod J. Rosenstein, who oversees the ongoing special-counsel probe. https://wapo.st/2FsR2nz
The Note is a daily ABC News feature that highlights the key political moments of the day ahead. Please check back tomorrow for the latest.