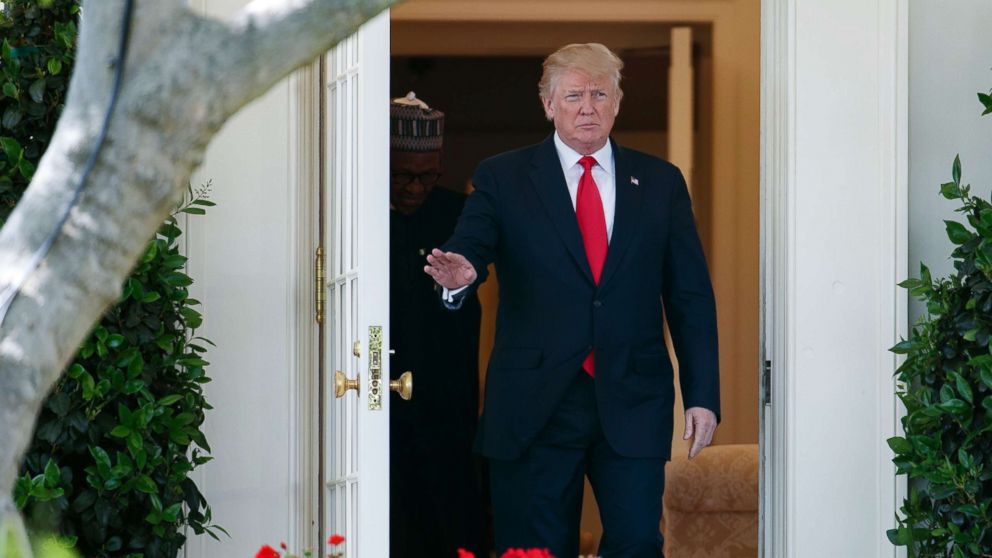 The TAKE with Rick Klein
The Washington Post has recorded a landmark: President Donald Trump has, by the newspaper's count, surpassed 3,000 false or misleading claims during his time in office.
That mark was met before Trump tweeted that there were "No questions on Collusion" among the purported Robert Mueller list that did, in fact, include questions about personal and campaign contacts with Russians.
Not everything that can't be trusted makes lists like these. It doesn't take into account the sudden announcement by the president's personal doctor that he took Trump's dictation for a letter attesting to his excellent health.
This week also brought the delay of tariffs the administration once announced would have no exemptions, and an apparent (and quite consequential) typo that initially stated it was the White House view that Iran "has" – as opposed to "had" – "a robust, clandestine nuclear weapons program."
Press secretary Sarah Sanders didn't engage Tuesday when asked if the White House has a credibility problem, though she noted that the press release on Iran was corrected promptly.
The reality may be deeper than credibility. Wary political allies of Trump have long advised to watch what he does, not what he says. Allies and enemies alike may get into the habit of taking the president neither literally nor seriously.
The RUNDOWN with MaryAlice Parks
Welcome to May and the acceleration of the midterms.
President Trump's campaign made its Ohio Senate primary pick official yesterday, when it endorsed Congressman Jim Renacci in the race. It's one of the Senate races in the country where Republicans like their odds of maybe gaining a seat.
Ohio is one of the most purple, swingy states. Democrats say incumbent Sen. Sherrod Brown will be just fine, and in fact they like their chances of taking the statehouse.
Ohio's secretary of state yesterday said 220,051 absentee ballots had been requested, and so far, ahead of the primary next week, a significant uptick compared to the last midterm election. (According to the secretary of state's office, nearly 183,000 absentee ballots had been requested at this point in 2014.)
State officials added their unofficial tally so far showed more Democratic ballots had been requested in total this year (115,005 Democratic, compared to 91,050 Republican ones). That could be an indication of energy on the left and the ability of Democratic candidates to draw interest. The competitive gubernatorial primary has pitted a favorite of Massachusetts Sen. Elizabeth Warren's against another choice who backed by Sen. Bernie Sanders-aligned groups.
The TIP with Meridith McGraw
West Virginia's state slogan is "Wild and Wonderful," and last night the Fox News debate between the three Republican candidates vying for a chance to unseat vulnerable Democratic Sen. Joe Manchin was certainly wild.
Before a live audience in the college town of Morgantown, W. Va., Rep. Evan Jenkins, current state Attorney General Patrick Morrisey, and former coal executive Don Blankenship took turns torching each other's records, proving who's most loyal to Donald Trump, and who's most willing to 'drain the swamp.'
When asked who would raise his hand and support Senate Majority Leader Mitch McConnell, none did. Blankenship, who has hurled nicknames at McConnell even ducked behind his lectern.
Blankenship even tried to wear a MAGA-like red hat that said "DITCH MITCH." Moderator Bret Baier had to tell him it was against debate rules.
Baier asked Blankenship how he plans to get things accomplished in Washington if he's hurling insults at people like McConnell's wife, Transportation Secretary Elaine Chao, whose father Blankenship has called a "Chinaperson."
"I'm not going to D.C. to get along," Blankenship said. "This idea that calling someone a Chinaperson, I mean, I'm an Americanperson. I don't see this insinuation by the press that there's something racist about saying Chinaperson. Some people are Koreanpersons some of them are Africanpersons. It's not any slander there."
WHAT YOU NEED TO KNOW TODAY
White House lawyer Ty Cobb joins ABC's "Powerhouse Politics" podcast, interviewed by Chief White House Correspondent Jonathan Karl and Political Director Rick Klein.
President Trump makes his first visit to the State Department for a ceremonial swearing-in of new Secretary of State Mike Pompeo at 11:00 a.m.
The president then attends the National Teacher of the Year reception at 4:30 p.m.
Health and Human Services secretary Alex Azar delivers remarks at the annual World Health Care Congress on the future of U.S. health care.
U.S. Immigration and Customs Enforcement returns several thousand ancient artifacts, including cuneiform tablets, to the Republic of Iraq at 2:00 p.m.
QUOTE OF THE DAY
"The original White House statement included a clerical error, which we quickly detected and fixed." – A national security official, after White House press secretary Sarah Sanders released a statement stating Iran "has a robust, clandestine nuclear weapons program" instead of "had."
NEED TO READ
Two top Pruitt aides leave EPA abruptly as ethics investigations heat up. As investigations into alleged ethical misconduct at the Environmental Protection Agency heat up, two high-ranking aides to administrator Scott Pruitt have abruptly left their jobs this week. (Benjamin Siegel, Stephanie Ebbs, Kyra Phillips and John Santucci) https://abcn.ws/2JFsLxg
White House blames Iran nuclear statement mistake on 'clerical error'. The White House is blaming a mistake that had brief but worldwide impact on a "clerical error" – after press secretary Sarah Sanders released a statement Monday evening stating that Iran "has a robust, clandestine nuclear weapons program." (John Parkinson) https://abcn.ws/2FxpP3e
WV GOP Senate candidates at debate focus more on slinging insults than state issues. West Virginia's state motto is "Wild and Wonderful," and on Monday night, the Fox News debate between the three Republican candidates vying for a chance to unseat vulnerable Democratic Senator Joe Manchin was certainly wild. (Meridith McGraw) https://abcn.ws/2HIkz2y
White House physician Ronny Jackson faces possible Pentagon inquiry. White House physician Ronny Jackson is facing a possible new inquiry by the Pentagon inspector general after his nomination to be the next secretary of Veterans Affairs fell apart last week. (Mariam Khan and Katherine Faulders) https://abcn.ws/2I99kjd
Former Trump doctor alleges that president's medical records were seized in raid. The president's former longtime personal physician, Dr. Harold Bornstein, is alleging that the president's then-White House aide and longtime bodyguard Keith Schiller, along with Trump Organization lawyer Alan Garten and another man, raided his office in February 2017 to take all of Trump's medical records. (Jordyn Phelps) https://abcn.ws/2reM4WG
Former Trump campaign aide meets with Senate panel in Russia probe. Former Trump campaign aide Michael Caputo was on Capitol Hill Tuesday for a closed-door meeting with Senate Intelligence Committee investigators as part of the panel's probe into alleged Russian meddling in the 2016 presidential election. (Ali Dukakis) https://abcn.ws/2I4ttH1
Commerce secretary defends decision to postpone tariffs on key U.S. allies. The Trump White House is defending its decision to delay imposing steel and aluminum tariffs on some key allies, arguing it's doing so to give ongoing behind-the-scenes talks room to develop and potentially preclude the need for the tariffs altogether. (Ali Rogin) https://abcn.ws/2FxXdHj
Pompeo tries to boost morale in first remarks to State Department employees. Mike Pompeo entered the State Department as secretary for the first time Tuesday with an upbeat message to the beleaguered employees, saying he was "enormously humbled" to stand before what he called the most important diplomatic corps in the world. (Sarah Kolinovsky) https://abcn.ws/2HGMekG
Deputy attorney general depicts latest GOP critics as cowards, vows DOJ won't be 'extorted'. Deputy Attorney General Rod Rosenstein vowed on Tuesday that the Justice Department "is not going to be extorted" by certain critics, and he depicted as cowards a group of Republicans who have drafted articles of impeachment against him. (Mike Levine) https://abcn.ws/2KtJTXN
US backed rebels in Syria resume fight against ISIS. A U.S.-backed rebel force in Syria says it will resume its offensive to defeat ISIS in the country. The renewed offensive comes months after the fight against ISIS in eastern Syria stalled after Kurdish fighters from the U.S.-backed Syrian Democratic Forces headed to western Syria to help fight off a Turkish military incursion against other Kurdish forces in Afrin Province. (Luis Martinez) https://abcn.ws/2Kr2NyC
Will changes be coming to White House correspondents' dinner? Olivier Knox, who will assume the role of White House Correspondents' Association president this summer, said Tuesday he's been "deluged" with ideas on how to change or not change the annual dinner in the wake of this year's controversy over comedian Michelle Wolf's monologue. (Erica Y. King and Kendall Karson) https://abcn.ws/2HGajrM
Alan Grayson launches congressional bid against incumbent, could cause Florida headache for Dems. Controversial Florida Democrat Alan Grayson is launching a congressional campaign for his old seat against Democrat U.S. Rep. Darren Soto, a move that could result in a nasty and bruising primary for a seat largely considered safe for Democrats in November. (Lissette Rodriguez and John Verhovek) https://abcn.ws/2rcCq6X
Trump's former doctor, Harold Bornstein, told CNN in an interview that Trump "dictated the whole letter," referring to the hyperbolic letter that described then-candidate Trump's health in 2015. https://cnn.it/2jjBMRg
President Trump's first secretary of the Department of Health and Human Services, Tom Price, said Tuesday that the Republican tax law would raise the cost of health insurance for some Americans because it repealed a core provision of the Affordable Care Act, the Washington Post reports. https://wapo.st/2JJTGbe
The Note is a daily ABC News feature that highlights the key political moments of the day ahead. Please check back tomorrow for the latest.