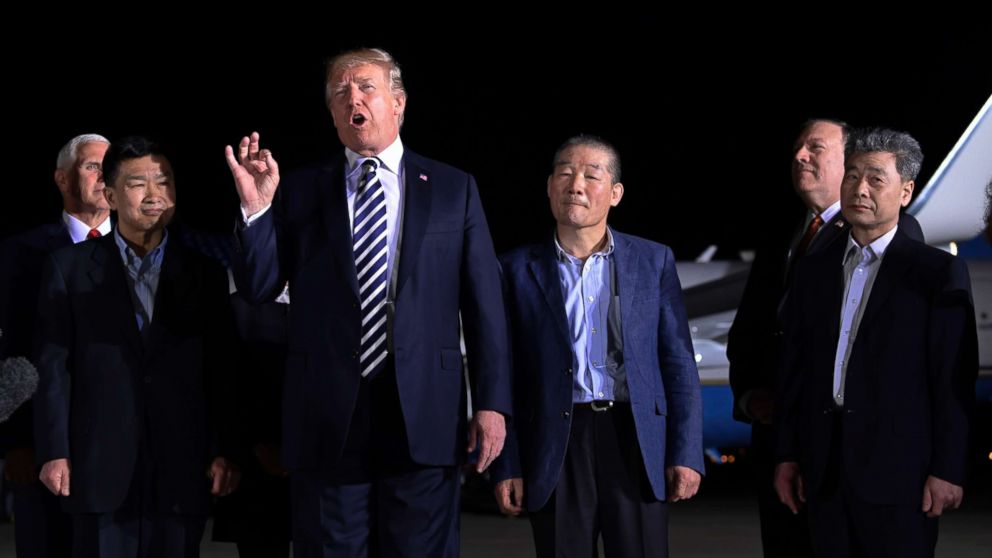 The TAKE with Rick Klein
President Donald Trump is, at the moment, willing to see the best in Kim Jong Un, and the worst in John Kerry, Chuck Schumer, and Barack Obama. (And that's not even getting to a how-low-can-you-go White House feud with John McCain.)
It's likely to all change, of course, and maybe a few times even before the June 12 summit between Trump and Kim. But the president is closing out one of the most successful weeks of his presidency with now typical staffing chaos and yet fresh signs that he has redefined both the Republican Party and bipartisan norms.
Trump again displayed his dominance inside the GOP this week, with a series of primaries where Republicans fought over who loves the president the most. Even Trump's anti-endorsement worked, helping to prevent a flawed candidate from capturing the Senate nomination in West Virginia, and he signaled an aggressive, nicknamed-filled battle against Sen. Joe Donnelly in Indiana Thursday night.
Thursday also brought the extraordinary images of the president welcoming home three Americans from North Korea. That was accompanied by perhaps even more extraordinary words, with the president thanking Kim for being "excellent" to the detainees that his own regime had held captive.
There will be plenty of opportunities for both political Trump and diplomatic Trump in the six months that loom before the midterms.
Increasingly, though, the president has shown there's little distinction – that, to him, all transactions are personal, even as he normalizes the abnormal in Washington.
The RUNDOWN with MaryAlice Parks
This week the forecast seemed strong for a potential Pink Wave in November as well as a long-lasting #MeToo movement.
Democrats took a political blow Monday, when allegations of sexual assault and misconduct came crashing down against New York Attorney General Eric Schneiderman. Within hours the progressive powerhouse had been swept out of office, resigning after members of his own party said he had to go and reminding the country of how frequently powerful men are perhaps abusing power.
Tuesday, female Democratic candidates – many of them new to politics — fared well in party primaries. In 27 open races this week, 17 female candidates advanced to the November general election with Democratic Party nominations. In Ohio alone, a crucial battleground state where Democrats are hoping to pick up a handful of seats, female candidates made it through the primaries in 10 of the state's 16 House districts.
Sen. Tammy Duckworth last month reminded the country how relatively rare mothers are in the U.S. Congress, especially mothers with young children.
In a sign that politics-as-is might be changing, the Federal Election Commission yesterday sided with some famous, outspoken women (i.e. Hillary Clinton) and agreed that women running for office should be able to use portions of campaign funds to pay for child care. The first of many adjustments that politics-as-usual might need to make in the face of forces at play.
The TIP with Meridith McGraw
The GOP may have breathed a premature sigh of relief Tuesday night when controversial former coal baron Don Blankenship lost to current Attorney General Patrick Morrisey in West Virginia's Republican Senate primary.

"To all of Blankenship's supporters I would say this: Don't throw away your yard signs just yet," a Blankenship spokesperson told ABC News.
Blankenship is looking at running in the general election as an independent, even though West Virginia has a "sour grapes" law that prohibits losing primary candidates from switching parties or running as an independent in the general.
"We're talking to our lawyers about loopholes," the Blankenship spokesperson said. "We think the law is a little weak and perhaps not constitutional."
The ex-convict and millionaire's continued presence in West Virginia Senate race is just one more challenge the Republican party faces as they take on sitting Democratic Sen. Joe Manchin in the 2018 midterm.
Blankenship, who on election night said he thinks Morrisey will lose in November, also plans to "go after" Morrisey in the general election, according to his spokesperson.
Morrisey, who is up against Manchin in November, launched an aggressive campaign against Blankenship in the days before Tuesday's primary.
WHAT YOU NEED TO KNOW
The president makes remarks on lowering prescription drug costs at 2 p.m.
The president holds a roundtable with automaker CEOs at 11:45 a.m.
Secretary of State Mike Pompeo holds a joint press avail with South Korean Foreign Minister Kang Kyung-wha at 3:15 p.m.
Pompeo meets with Canadian Foreign Minister Chrystia Freeland at 4:30 p.m.
Former FBI director James Comey holds a book discussion at the Brookings Institution at 2:30 p.m.
WATCH LIVE ON SUNDAY: The Powerhouse Roundtable debates the week in politics, with ABC News Senior White House Correspondent Cecilia Vega, ABC News Political Analyst Matthew Dowd, New Yorker Staff Writer Susan Glasser, and Host of NPR/WAMU's "1A" Joshua Johnson on 'This Week.'
QUOTE OF THE DAY
"Would not have done it if I wasn't inspired by what this man did in 2016 … I'm a businessman and an outsider, just like our president." — Michael Braun, the new GOP nominee for U.S. Senate in Indiana, after President Trump pulled him onstage to speak at a midterms campaign rally in Elkhart, Ind.
NEED TO READ
'It doesn't matter, he's dying anyway': WH aide on John McCain. A White House aide has sparked backlash after dismissing Sen. John McCain's opposition to CIA Director nominee Gina Haspel. (Katherine Faulders and Alexander Mallin) https://abcn.ws/2IbLrnV

Trump stumps for Republicans and debuts new campaign slogan in Indiana. President Donald Trump made his general election debut in Indiana by rallying the crowd for the state's recently nominated Republicans and rattling off some of his campaign's greatest hits. (Meredith McGraw) https://abcn.ws/2G4wJNP

Trump berates DHS Secretary Kirstjen Nielsen over border security. President Donald Trump berated Homeland Security Secretary Kirstjen Nielsen for not doing enough to secure the borders at Wednesday's Cabinet meeting, according to a source who was there. (Jonathan Karl) https://abcn.ws/2Kd10wk

McCain urges colleagues to reject CIA director nominee Gina Haspel. Arizona Republican Sen. John McCain is calling on his Senate colleagues to reject President Donald Trump's nominee to lead the CIA, Gina Haspel, saying her refusal to acknowledge "torture's immorality" is disqualifying. (Mariam Khan) https://abcn.ws/2I5b8KV
Trump to meet Kim Jong Un in Singapore for summit. President Donald Trump announced on Twitter on Thursday that a highly-anticipated meeting with Kim Jong Un will take place in Singapore on June 12th. (ABC News) https://abcn.ws/2rz9RRn
House Democrats release thousands of Russian-linked Facebook ads. Democrats on the House Intelligence Committee released copies of Facebook ads created by a Russian company with ties to the Kremlin Thursday, providing the most comprehensive picture to date of the Russian campaign to use hot-button social and political issues to target Americans during the 2016 presidential election. (Benjamin Siegel) https://abcn.ws/2wutDTP
Multiple failures led to ambush of American soldiers in Niger: Military investigation. An exhaustive U.S. military investigation into the deaths of four American soldiers in a deadly ISIS ambush in Niger last October found that their mission had been approved without proper authorities and that their unit had not been fully trained for their mission. (Luis Martinez) https://abcn.ws/2jM07j2
Watchdog group wants DOJ to probe whether Trump lawyer violated lobbying laws. A non-partisan Washington ethics group is calling on the Department of Justice and Congress to investigate whether President Donald Trump's longtime personal lawyer, Michael Cohen, should have registered as a lobbyist and filed additional papers to show lobbying work with foreign clients, ABC News has learned. (Ali Dukakis) https://abcn.ws/2IdVBEF
Retired 3-star general and Fox Business guest says torture 'worked' on John McCain. A Fox Business Network host is apologizing for a remark a retired three-star general and guest made on his program Thursday – saying Sen. John McCain's opposition to Gina Haspel becoming CIA director was because torture "worked" on McCain. (Elizabeth McLaughlin) https://abcn.ws/2KPOvb4
North Korean media take softer tone as world awaits Kim-Trump summit. Even as North Korea prepares for the upcoming summit between Kim Jong Un and President Donald Trump, Pyongyang's state media are still out to prove that the regime isn't giving in to any other country. (Hakyung Kate Lee) https://abcn.ws/2K9IV21
The Washington Post assesses Rudy Giuliani's law firm's dispute on a central claim of his Trump-Michael Cohen defense. https://wapo.st/2I6FPPJ
POLITICO analyzes why the Democrats lost the Senate. https://politi.co/2ryTeWs

The Note is a daily ABC News feature that highlights the key political moments of the day ahead. Please check back Monday for the latest.