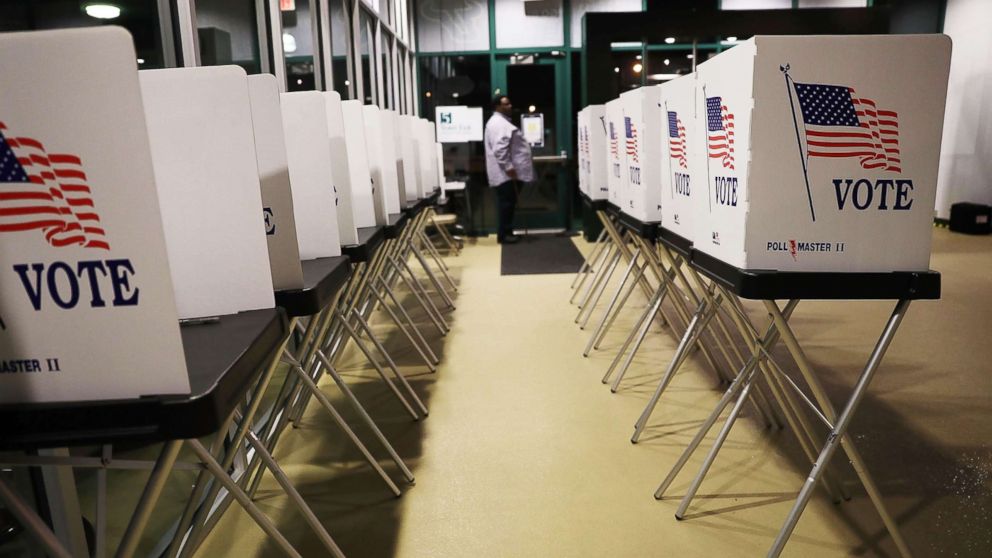 Interested in
The Note?
Add The Note as an interest to stay up to date on the latest The Note news, video, and analysis from ABC News.
The TAKE with Rick Klein
An election that will be defined by who gets out their vote could also be defined by who gets to vote in the first place.
Access to the ballot, and voter-security efforts that could restrict it across a range of states, is itself becoming a major campaign issue.
That's evident in Georgia, where Democratic gubernatorial candidate Stacey Abrams used a debate Tuesday night to call out her opponent, Brian Kemp, who happens to be Georgia's secretary of state.
"Mr. Kemp has created an atmosphere of fear around the right to vote in the state of Georgia," Abrams said.
There's also a lawsuit in Tennessee alleging voter suppression, along with growing concern in North Dakota that Native Americans will be disenfranchised now that a stricter voter ID law is being allowed to take effect.
President Donald Trump warned over the weekend that "maximum penalties" will be applied to those who violate voting laws. But nine months after Trump quietly disbanded his voter-fraud commission, after it found no real evidence of anything, the man who once headed that commission, Kris Kobach, is struggling in his campaign for governor in Kansas.
Trump, now proudly calling himself a "nationalist," is closing his campaign with racially divisive rhetoric, particularly with his focus on the migrant caravan.
In this case, GOP actions on voting rights are speaking louder than words. It's all being heard well beyond the Republican base.
The RUNDOWN with MaryAlice Parks
A little "Schoolhouse Rock" to start with: Only a third of all senators are up for reelection every two years, and it just so happens that the third up this fall are mostly Democrats, largely from very red states.
So, given this map, while Democrats may not take control of the Senate, it was arguably never their year for that. Under other circumstances, they would feel good about not losing seats.
It's fascinating how many of the red state senators seem to be doing OK. Polling has West Virginia Democratic Sen. Joe Manchin up — even though the president beat Hillary Clinton in every single county in the state two years ago.
Early voting starts today in West Virginia, and Manchin has focused on health care and the opioid crisis thus far, as have other Democrats in the state, including Iraq War vet Richard Ojeda. Ojeda is running in a part of the state where Trump did best.
In one of his selfie campaign videos this week, he said: "We need to get away from the typical politicians who tell you what you want to hear."
It's a reminder that maybe party affiliation isn't all that sticky, at least not everywhere. Issues affecting people's lives, candidates and state dynamics matter a whole lot.
The TIP with Adam Kelsey
President Donald Trump's ability to dodge consequences for the various scandals that have littered his campaign and administration is without compare, but his most lasting legacy may be the way he's moved the goalposts for his fellow politicians.
Take Steve Watkins of Kansas' 2nd Congressional District, whom The Kansas City Star reported vastly inflated his resume to the point that the CEO of the parent company of the business he claimed to have "started" and "owned" said Watkins was "nobody that I've heard of."
The Republican has additionally faced questions about his claimed leadership during a deadly earthquake on Mount Everest and his participation in the Iditarod sled dog race, with some of the criticism coming from members of his own party.
Lesser charges have sunk candidates in the past, but as of Tuesday evening, FiveThirtyEight still rated his district race against former Democratic gubernatorial nominee Paul Davis a "toss-up," nearly a month after The Star's story broke.
Watkins' campaign has steadfastly pushed back against criticism and called The Star's report "incorrect." The candidate told ABC News in an interview Tuesday that that article "did not accurately reflect the reality of the situation."
But perhaps most indicative of Trump's impact on the scandal-plagued was what sentence Watkins said next: "It's fake news."
THE PLAYLIST
ABC News' "Start Here" Podcast. Wednesday morning's episode features ABC News' Lana Zak, who talks to us from Arizona about the politics at play around the migrant caravan discussion. ABC News Senior Foreign Correspondent Ian Pannell joins us from Istanbul, where he says the U.S. is pushing back more forcefully on the Saudi explanation for Jamal Khashoggi's death. And ABC News Foreign Editor Kirit Radia explains why the U.S. wants to pull out of a nuclear arms treaty with Russia. https://bit.ly/2M7OS5c
FiveThirtyEight's Politics Podcast: How voting Laws Will Affect the Midterms. In this episode of the FiveThirtyEight Politics podcast, FiveThirtyEight contributor Amelia Thomson-DeVeaux and political scientist Dan Hopkins discuss how the new laws could affect the elections in those states. They also assess recent trends in voting legislation across the country and what we know about their varied impacts. https://53eig.ht/2Jd3dII
WHAT YOU NEED TO KNOW TODAY
Today, the president is scheduled to deliver remarks on "a year of historic progress and action to combat the opioid crisis." Alex Azar, secretary of Health and Human Services, recently noted that overdose deaths are leveling off from record highs, but that it's too soon to declare victory. Later, the president heads to Wisconsin for a MAGA rally as part of an efforts to support Senate candidate Leah Vukmir and Gov. Scott Walker. The state went for Trump in 2016, however, Democrats are hoping for a Senate pickup. ABC News partner FiveThirtyEight gives Walker a 3 in 8 chance of winning against Democrat Tony Evers.
Hillary Clinton continues on the campaign trail, joining Donna Shalala, her husband's secretary of health and human services and the Democratic hopeful in Florida's 25th Congressional District.
Former White House Chief Strategist Steve Bannon hits the campaign trail to speak about the importance of voting. He'll be at a volunteer fire station in Elma, New York, at 4:30 p.m. EDT.
The Note has a new look! Download the ABC News app and select "The Note" as an item of interest to receive the day's sharpest political analysis.
The Note is a daily ABC News feature that highlights political analysis of the day ahead. Please check back Tuesday for the latest.