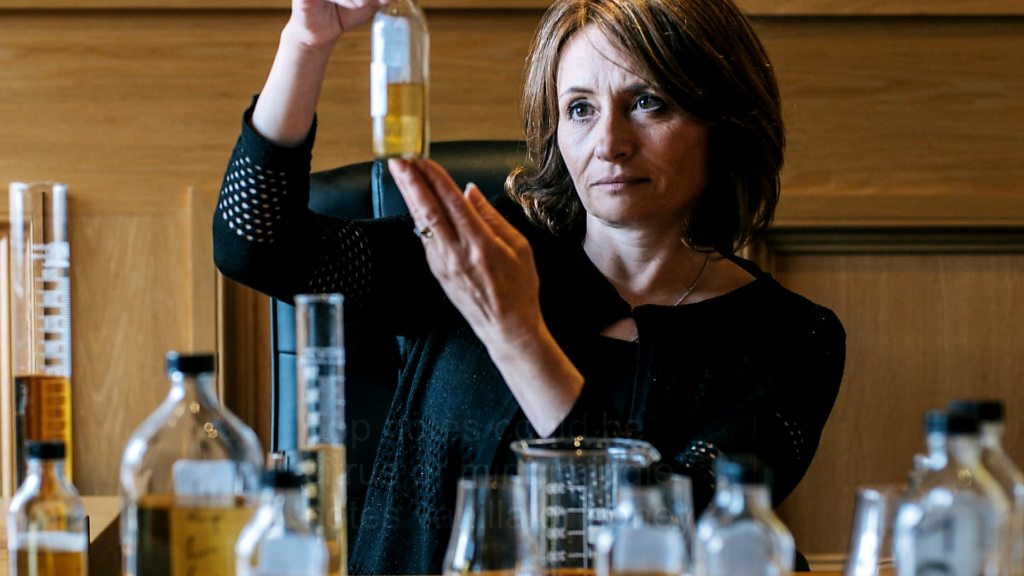 Rachel Barrie is one of the few women ever to hold the title of Scotch whisky master blender.
In her 26-year career, Rachel has sniffed or sipped 150,000 different whiskies.
She is a trailblazer in what was traditionally a male-dominated industry, having held the coveted title since 2003.
As arguably the most prominent woman in her field, Rachel can reasonably be described at the First Lady of Scotch whisky.
It's a role which requires a wide range of skills – not least in nosing or tasting thousands of casks of whisky every year to ensure consistency in existing products or to create new flavour combinations.
Rachel's passion for Scotch stretches all the way back to her childhood in Aberdeenshire, when she was introduced to "nippy juice".
"My first taste of whisky was at my grandmother's house when I was about seven or eight," she recalls.
"When I had a cold, she gave me a thimbleful of a hot toddy – hot water, honey, lemon and a little dose of malt whisky.
"It cured my cold."
She adds with a chuckle: "After that I happened to have a sore ear or sore throat probably every couple of weeks,"
What is a master blender?
Renowned whisky expert Charlie MacLean explains: "A master blender is crucial to the success of any whisky, whether single malt (which is composed of many casks of malt whisky from a single distillery) or blended whisky (a mix of between five and 50 malt and grain whiskies from different distilleries).
"As well as creating new blends, their key role is to make sure their existing creations are consistent in flavour from batch to batch.
"As Dr Jim Beveridge, senior blender of the Johnnie Walker whiskies, has written, 'blending is about ensuring consistency in a world of changes'.
"The changes he refers to relate not only to the fact that every cask matures its contents in a slightly different way, but also to stock availability.
"Blending cannot be done to a rigid formula, a recipe. But unlike a chef, who can taste and season accordingly, the master blender must rely on smell alone – and a phenomenal memory of smells."
Well-known brands
After graduating in chemistry from the University of Edinburgh, Rachel went on to build a stellar career, working initially as a scientist at the Scotch Whisky Research Institute before moving into production at the Glenmorangie Company.
In 2011, she joined Morrison Bowmore, where she developed well-known brands such as Bowmore, Auchentoshan, Laphroaig and Ardmore.
For the past year, she has been master blender for US company Brown-Forman's three Scottish distilleries – Glendronach and Glenglassaugh in Aberdeenshire and BenRiach in Speyside.
"As a master blender, I have to consider all the ingredients from barley to bottle, all aspects of quality," she says.
"There has to be a deep understanding of malts, of distilling, of technology, and it means sampling lots and lots – never enough though – of casks of whisky maturing in the inventory to decide how best to use that whisky."
Rachel says a whisky can contain 150 to 200 aromas, so she is careful about what she eats or drinks before the sampling process.
She says: "I have very sensitive senses – that's why I am in my job – so I tend to deprive my senses of intense smells or tastes.
"I never wear perfume – I find it quite overpowering – and I always avoid really strong spices. Raw onions – that's the worst thing you can have for tasting whisky."
'You can never sniff enough whisky'
But Rachel also points out that experience is key to her role.
"I think the more that you sniff, the more you build up a sensory data bank of knowledge, of perception and therefore you are able to be consistent," she says.
"You have this database of what's good and what's not. It's really training – you can never sniff enough whisky.
"I have had a lot of experience of calibrating my nose and my taste buds and I know what I am sensitive to and what other people are sensitive to."
Sampling whisky may be her day job, but Rachel says she also drinks single malts for pleasure.
She says: "When I was a student I used to get miniatures as a little treat to brighten up my day when I was studying. I couldn't afford a full bottle.
"Now, whether I am at home or out in a hotel or in a bar or on the other side of the world, I will always order a single malt Scotch."
Rachel argues that the Scotch whisky sector has undergone big changes over the last 25 years, not least in terms of female participation.
"The barriers have been broken down," she explains.
"There are more women than there have ever been in the industry – whether it is in marketing, brand ambassadorial roles, working in a distillery or on the bottling line.
"It was also extremely rare to find women in the blending side – if at all. In the past 10 years I have seen a few women develop into that role who are now having an influence on the taste of Scotch whisky."
'Diversity of tastes'
Rachel says the industry has also grown dramatically since she started, with consumers showing more knowledge and awareness of single malts than ever before.
"It's like the chateau wines in the 1980s, when there were only maybe two or three brands that were known throughout the world," she says.
"Now you have this diversity of tastes, individual wines that people know and love.
"I think the same is happening with single malt Scotch whisky.
"Whether you are in Japan or in the USA, an increasing number of people know what a peated or an unpeated Scotch is."
Whatever the future holds for the industry, Rachel says malt whisky will always feature in her life.
She says: "My philosophy in life is to do what you love and love what you do.
"I've managed to make my hobby my job, my job my hobby. It's interwoven and cannot be separated – you could say it's in my blood."