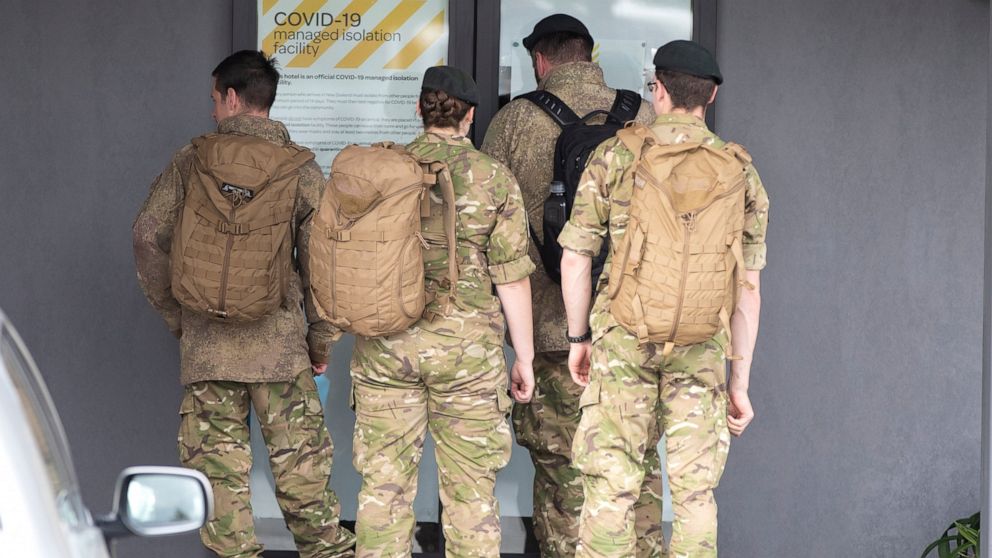 A Cabinet minister says Pakistan has witnessed a 140% increase in fatalities from COVID-19 in recent weeks due to widespread violations of social distancing rules
ISLAMABAD — A Cabinet minister says Pakistan has witnessed a 140% increase in fatalities from COVID-19 in recent weeks due to widespread violations of social distancing rules.
Asad Umar, the planning and development minister who oversees Pakistan's response to coronavirus, warned on Twitter "We will lose both lives and livelihoods" if people did not adhere to social distancing rules.
His comments Tuesday came shortly after the military-backed Command and Operations Center reported 14 deaths and 625 new cases in the past 24 hours.
Prime Minister Imran Khan had warned on Monday that Pakistan's big cities could face a second wave of COVID-19 in the coming weeks because of increasing pollution in winter. Pakistan has reported 324,084 cases, including 6,673 COVID-19 deaths.
———
HERE'S WHAT YOU NEED TO KNOW ABOUT THE VIRUS OUTBREAK:
— Angry Trump swings against disease expert Fauci and polls that show him trailing Biden in key states 2 weeks before Election Day
— Argentina is 5th country to surpass 1 million cases, and 3 more in Latin America are nearing the grim milestone
— Some progress said to be made on Washington's negotiations for a new coronavirus relief package, but the same core problems remain
— A World Series like no other opens Tuesday night with Major League Baseball relieved to reach championship of pandemic-delayed season
— Follow AP's pandemic coverage at http://apnews.com/VirusOutbreak and https://apnews.com/UnderstandingtheOutbreak
———
HERE'S WHAT ELSE IS HAPPENING:
LONDON — U.K. researchers are preparing to begin a controversial experiment that will infect healthy volunteers with the new coronavirus to study the disease in hopes of speeding up development of a vaccine.
The approach, called a challenge study, is risky but proponents say it may produce results faster than standard research, which waits to see if volunteers who have been given an experimental treatment get sick.
Imperial College London said Tuesday that the study, involving healthy volunteers between the ages of 18 and 30, would be conducted in partnership with the Department for Business, Energy and Industrial Strategy, the Royal Free London NHS Foundation Trust and hVivo, a company that has experience conducting testing .
Professor Peter Openshaw, co-investigator on the study, says that "deliberately infecting volunteers with a known human pathogen is never undertaken lightly. However, such studies are enormously informative about a disease, even one so well studied as COVID-19. ''
In the first phase of the study, researchers will aim to determine the smallest level of exposure needed to cause the disease. Researchers will then use the same challenge model to study how potential vaccines work in the body, the bodies immune response and potential treatments.
———
WELLINGTON, New Zealand — A number of fishing crew who flew into New Zealand on chartered planes have the coronavirus.
Health officials said Tuesday that 11 have tested positive so far and another 14 cases are being investigated.
The crew members have been in quarantine at a Christchurch hotel since they arrived, and tested positive during routine testing, officials said. The news could deal a blow to New Zealand's efforts to restart its fishing industry, which has struggled to find local workers to crew vessels.
Jeremy Helson, the chief executive of Seafood New Zealand, said all the men tested negative before flying to New Zealand. "While we await to see how many cases there are, the fact that they were all detected in quarantine shows the system is working well," Helson said in a statement.
The origin of the infected crew members wasn't immediately clear, although a number of fishing crew have been arriving in New Zealand in recent days from Russia and Ukraine.
New Zealand has managed to stamp out community spread of the virus.
———
NEW DELHI — India has added over 46,000 cases of coronavirus infection and 587 deaths in the past 24 hours.
With 7.59 million cases, India's total detected cases is second in the world, behind only the U.S. Although the number of new infections detected daily in the country has been been declining in the past month, independent experts have cautioned against laxity.
They pointed out that people not wearing masks or maintaining distance during the upcoming festival season, combined with cold weather, could lead to a surge in cases.
Indian Prime Minister Narendra Modi said Monday that India is strategizing to immunize its population by using a digital health plan, under which each person gets an identity card containing all health-related information.