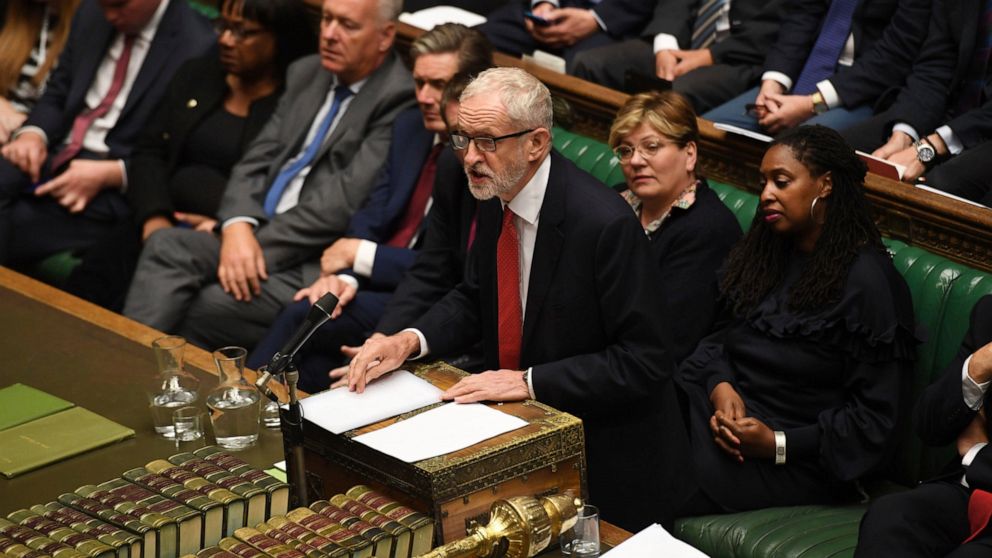 The Latest on Brexit and British politics (all times local):
12:20 p.m.
Sweden's European affairs minister says he is cautiously positive about the "concrete proposal" for a Brexit deal British Prime Minister Boris Johnson has submitted.
Johnson's proposal for a compromise withdrawal agreement has received mixed reviews from the European Union's other member nations.
But Swedish EU minister Hans Dahlgren told news agency TT on Thursday he thinks it's "good that one is prepared to discuss this so we can ensure the U.K. leaves the EU in an orderly manner."
Dahlgren added: "We all benefit from this."
Johnson's proposal focused largely on a way to maintain an open border between the U.K.'s Northern Ireland and EU member Ireland.
l. The U.K. proposes to do that by keeping Northern Ireland closely aligned to EU trade rules, possibly for an extended period.
———
12 p.m.
British opposition leader Jeremy Corbyn says no Labour Party legislator can back the new Brexit proposal submitted by Prime Minister Boris Johnson.
Corbyn said in Parliament that the new plan is just a "rehashed version" of previously rejected ones.
He said the prime minister is not acting in good faith and knows the proposal will be rejected.
Corbyn said the new proposal would gut European Union worker protections and environmental protections and set off a "race to the bottom."
Johnson would likely need some Labour Party backing to win passage of any new Brexit deal.
———
9:40 a.m.
British Prime Minister Boris Johnson will present his new Brexit plan to Parliament, a day after he presented it to Europe's leaders.
Johnson is expected in the House of Commons on Thursday to explain the eleventh-hour plan.
It contains major changes to the proposed arrangements that would regulate trade between Ireland and Northern Ireland after Brexit.
The plan has received a mixed response from European leaders and seems to fall far short of meeting their requirements for keeping an open border.
Johnson insists Britain will leave the European Union on Oct. 31 with or without a deal, but Parliament has passed a law requiring him to seek an extension if no deal is reached.
Johnson's position is tenuous because he doesn't have a working majority in Parliament.