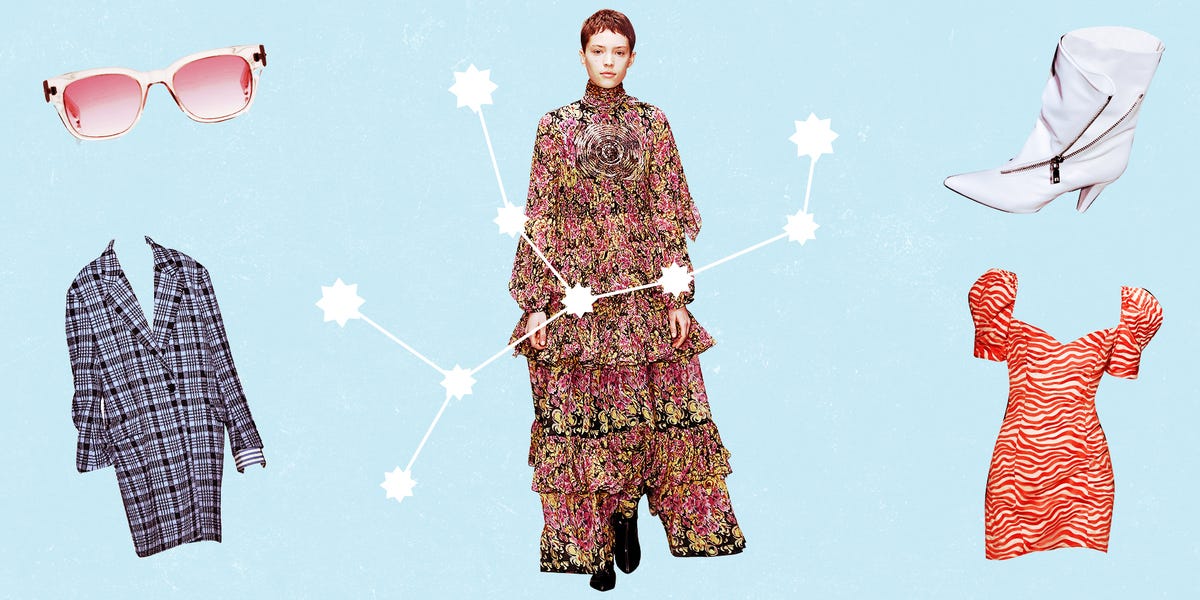 Bye-bye bikinis, hello blanket coats? Yes, it's true. That little chill is in the air and it's time for a seasonal wardrobe change. But with this fall's colorful styles, there's no reason to feel bummed about covering up. From Clueless-inspired plaid separates to shockingly bright animal prints, ELLE's resident stargazers, The AstroTwins, have picked the perfect fall trend for your zodiac sign.
Advertisement – Continue Reading Below
---
Aries
Sequins, brights, and boogie nights! A Studio 54 revival could erupt in your closet this fall, Aries—and who better than you to pull off a disco-era revival? Slip on a long-sleeved metallic dress or accessorize with a mirrored handbag. Kira Kira app not required to post these #OOTDs, but why not fire it up anyway for an extra-extra layer of sparkle?
---
Taurus
Would a '90s revival be complete without a nod to Cher Horowitz's iconic plaids? Ugh-as if! The colorful checks have popped up in collections everywhere, from Michael Kors to Christian Dior. Since you're neither a fashion victim nor "ensemble-y challenged," a wool coat, blazer or skirt in this tartan-inspired print will speak to your sophisticated tastes. Now, how to rig up Cher's iconic closet for a maximized curation station…?
---
Gemini
Advertisement – Continue Reading Below
Pick a color, any color? Oh, wait…you don't have to choose just one. (And that's always good news for mercurial Gemini.) Rainbow-hued tights will keep your fall "fashuns" bright and cheery, even as the days go grey. Better still, this colorful, mix-and-match strategy can breathe new life to the pieces you already own. Pair cobalt blue stockings with a printed dress. Brighten up basic denim with a pop of marigold. Consider this trend a modern-day update to the mood ring.
---
Cancer
You're an unapologetic creature of comfort, Cancer, and let's be honest: Rising out of bed during hibernation season is so not your jam. But (sigh) since it must be done, how about rolling right into the season's cozy blanket coats? This chic "outer armor" will keep you safe and snug when you need to push through the madding crowds or keep yourself ultra-warm. Swaddle up in a neutral-hued number or zip into a puffer coat with a unique print.
---
Leo
Electric-colored animal prints aren't for the faint of heart—and that's precisely the reason to adopt this outré trend. Beyond the obvious queen of the jungle metaphor, this look meshes well with your astrological forecast, which is calling for a passionate and fame-fueled fall. No need to stick to the cat family for every performance. Make a grand entrance in a yellow zebra romper, then step out for an encore in a swingy, giraffe-inspired overcoat.
Advertisement – Continue Reading Below
Advertisement – Continue Reading Below
---
Virgo
There's nothing planar—or remotely plain—about this season's prairie trend, which is bound to speak loudly of the salt-of-the-earth side of your personality. Landscape your fashion topography with hedges of ruffles and forests of lace. Traditional patchwork prints are also a befitting style metaphor for your multifaceted personality and dynamic range of interests. Pluck from a palette of creams, browns and saffrons—like those seen in the collections of Chloe and Isabel Marant.
---
Libra
Ahh, rose, the color of love—and a go-to for romantic Libras. Turn up the temperature this cuffing season with an amplified shade of hot pink. With your ruler, amorous Venus, turning retrograde from October 5 to November 16, you'll be feeling more "spicy" than "sweet," this fall anyway! Don't shy away from matchy-matchy, which suits your symmetry-obsessed sign. See what happens when you step out in head-to-toe fuchsia, whether you're draping a long coat over a pantsuit or coordinating a mini-dress with a hat and ankle boots.
Advertisement – Continue Reading Below
---
Scorpio
What's on your mind, Scorpio? That's a mystery to you sometimes—and you're not exactly keen on letting other people read you. While it may be second nature to throw on a pair of dark sunglasses, this fall, try shielding your field with the season's colored lenses. With amorous Venus weaving through Scorpio from September 9 to October 31, you may even peer through a rose-colored pair. Just make sure you double-check that vision once the love planet turns retrograde on October 5!
---
Sagittarius
Where's the next stop on your jetsetting world tour, Archer? Your free-bird soul will soar off on fresh flight paths this fall—especially after November 8, when your ruler, peripatetic Jupiter glides into Sagittarius for a year. Lucky for you, oversized bags are having a moment. Whether you prefer a bright piece, like Acne Studio's yellow suede hobo, or a classic in the spirit of Coach 1941's brown leather over-the-shoulder number, you'll have plenty of space in which to stuff your breezy, nomadic pieces and travel-sized cosmetics.
---
Capricorn
Advertisement – Continue Reading Below
Advertisement – Continue Reading Below
Leaning in? Always. Looking strong? That too. But this fall, you might hang a few NSFW suits alongside those corporate numbers. With risqué cutaways, corseting and ultra-high hemlines popping up, you can put a sultry spin on power dressing. While you might not wear these numbers to a standard office function (at least not without accompanying layers), they could be the perfect playtime pieces for your no-nonsense sign.
---
Aquarius
Shimmy into that acid wash, turn up your collar! The 80s are raging on this fall. With shoulder pads so oversized they are almost futuristic, this season's twist on the divisive decade will hit the mark with your quirky sensibilities. Color-blocked mini dresses and white pointy-toe leather booties: Why not? If nothing else, your vintage revivals will get some conversations started—and your social sign is always down to meet new people and make friends.
---
Pisces
Dreamscape or reality? That line blurs often for your ethereal sign, much like the swirling colors of fall's oil spill trend. This holographic sheen of fabric was sent down the runways of Maryam Nassir Zadeh, Balmain, and Christian Siriano—so mesmerizing. Call forth your inner mermaid with a voluminous, floor-length skirt. Button into a shimmering blazer to keep your work wardrobe fresh. Just try not to get too distracted by the hypnotic hues!