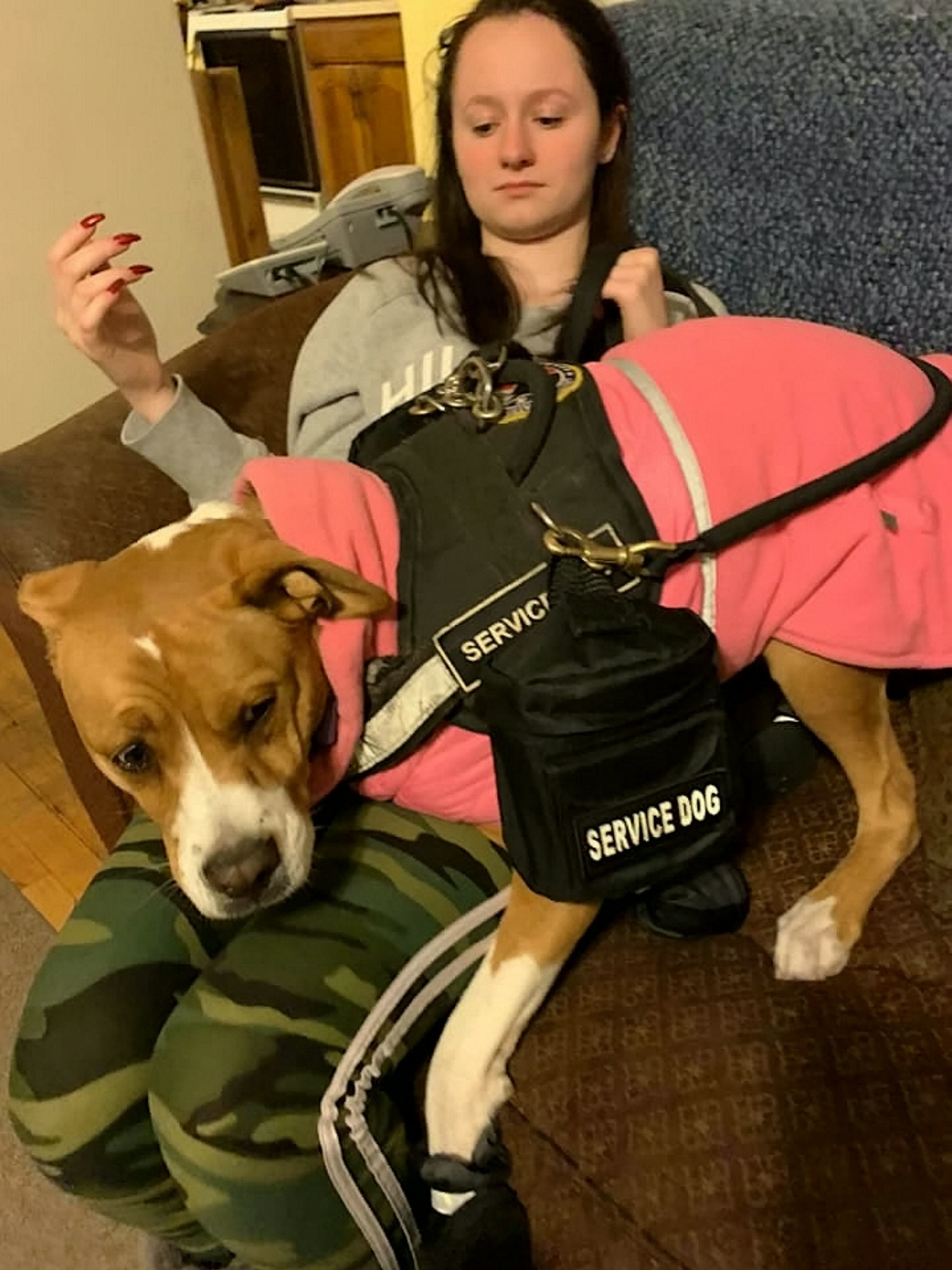 A 15-year-old girl who was forced to skip school and live inside a sealed room after she developed a life-threatening allergy to smells two years ago said she's been able to gain some normalcy after being paired with a service dog.
"Caiomhe has changed my life," Martine Baker, who was diagnosed with Mass Cell Activation Syndrome (MCAS), told SWNS. "I feel so much safer with her around, I am able to have a social life again. I lost a lot of friends after I developed MCAS, it's hard for people to handle, for them to watch me collapse and have to take my EpiPen and be rushed to the hospital all the time."
STYLIST SPOTS MAN'S CANCER WHILE BRUSHING HIS HAIR
MCAS can be triggered by different foods, exercise, chemicals, fragrances and stress. According to Mast Cell Action, it affects both children and adults and can mimic other conditions, which may lead to misdiagnosis.
Baker said her allergies started with hives, and then a sudden anaphylactic reaction that required hospitalization. The teen's mother, Loretta Leighton, said that the hives began occurring more frequently, and at one point she was being rushed to the hospital three times a week.
After one harrowing incident involving a skunk outside of her window, Baker was sent to live at a friends while her family sealed her room to make it safer, SWNS reported. She also has to keep the temperature low in her room, as the condition caused her to develop a sensitivity to heat.
MOM'S LIPS LEFT OOZING PUS AFTER LOW-COST FILLERS
Baker was eventually diagnosed with MCAS by a doctor in Massachusetts and put on stabilizing drugs. Thanks to Caiomhe, the medication and changes in the family's everyday life, Baker now only experiences an episode once every four to six weeks.
Caiomhe can smell when Baker is about to have a reaction before the teen knows, and can identify smells that may trigger her allergy.
CLICK HERE TO GET THE FOX NEWS APP
"It could be very lonely at times, but Caiomhe is always beside me protecting me," the teen, who also wears a mask to protect her from smells, told SWNS. "She makes me feel less alone, she even checks up on me in the middle of the night."