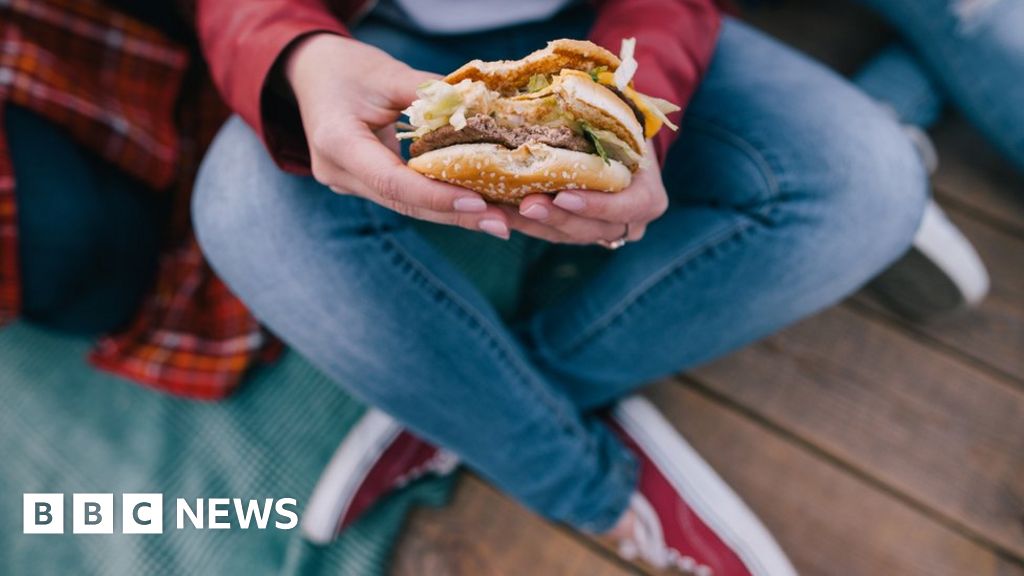 A whopping 73% of all restaurants in one part of Wales are selling fast food, it has been revealed.
Blaenau Gwent tops the UK league table – with 55 out of 75 outlets takeaway venues.
Wales has seen a rise of 48% in fast food outlets from 2010 to 2018, ahead of the UK average increase of 34%, according to the BBC Shared Data Unit.
Obesity specialist Prof Nadim Haboubi described the rise as a "disease" for Welsh communities.
Caerphilly has second highest proportion of take-away restaurants at 66%, and Rhondda Cynon Taff is number four in the UK with 63%.
Wales has had 670 fast food outlets open in the past eight years, with Neath Port Talbot seeing its numbers more than double from 50 to 105.
The numbers are based on figures from the Office of National Statistics.
Prof Haboubi is the chair of the Welsh Obesity Society and a bariatric physician at Aneurin Bevan University Health Board's weight management centre, based in Blaenau Gwent.
He told BBC Radio Wales that many of his patients rarely cook their own food, and called for better education and more intervention from governments and local authorities.
"Most people who come to my clinic don't cook. I think that is a tragedy," he said.
He said some people chose not to cook out of laziness, while others' lack of confidence and education meant they believe cooking their own meals is less affordable.
"It is not the businesses' fault, we have a societal disease," he added.
Ryan Hughes, manager at The Crispy Cod in Tonyrefail, Rhondda Cynon Taff
"There's a call for [take-away food]. And I think the reason for that is because people's lifestyles are busy and they're going for the meal which is quicker.
"Fish and chips can be healthy for you and it's a good natural product to have in your balanced diet.
"We do the correct methods and procedures to make fish and chips as healthy as possible.
"Our average fish and chip supper is just over 680 calories, and that's with fish chips and mushy peas."
In addition, the BBC data revealed:
In 2010, there were 30 fast food outlets per 100,000 people in Wales – that has risen to 65 in 2018 – higher than the UK average of 61.
Conwy has the highest number of fast food outlets per 100,000 people in Wales with 81.
Costa Yianni, owner of Eat Fit in Conwy
"It would be great if we had a bit more support for local cafes and local take-aways so if they could limit [the number in an area], I think maybe that is something they should look in to.
"I'm not saying they should never have fish and chips or a takeaway ever again, it's all about smarter choices and getting the balance right.
"There's nothing in the schools to educate people on what sort of calorie intake they should be taking."
Dr Julie Bishop of Public Health Wales said research suggested there was a relationship between the proportion of takeaway restaurants in an area and obesity levels.
"Obesity is the biggest public health challenge we face," she told BBC Radio Wales' Good Morning Wales.
But Dr Bishop said the problem was a "classic public health problem" where an economic benefit needs to be weighed against a public health harm, and proposed three ways of tackling the problem:
Make it easier for local authorities to object to the opening of fast-food outlets
Work with take-away businesses to provide healthy alternatives
And "reverse the trend" of people not cooking
"Because small changes for lots of people has a bigger impact," she added.
More about this story
The Shared Data Unit makes data journalism available to news organisations across the media industry, as part of a partnership between the BBC and the News Media Association.
For more information on methodology, click here. For the full dataset, click here. Read more about the Local News Partnerships here.